The TCN Celebrant Shop has three fabulous products for celebrants work - acid free and versatile.
Click on images for enlarged size.
Acid free clear plastic envelopes in two sizes - for A4 and A5 certificates:

These see-through envelopes are re-sealable.

A great way to protect certificates from spilled drinks and food at after-ceremony parties.

Are convenient for presenting certificates as one does not need to peek inside each to know who the certificate was for.

Great for all ceremonies.

Keep a supply on hand.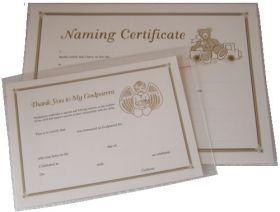 Acid free white envelopes in shiny Gold or Silver stamped foil with the text "Ceremony Certificate" in Edwardian Font with a pair of Rings - roomy enough for A4 certificates and memento ceremony copies

These are 100 gram quality envelopes in shiny Gold or Silver stamped foil with the text "Ceremony Certificate" in Edwardian Font to match TCN Templates.

Suitable for all marriage, commitment, wedding anniversary, renewal etc couple ceremonies





Acid free white envelopes in shiny Gold or Silver stamped foil with the text "Ceremony Certificate" in Edwardian Font - roomy enough for A4 certificates and memento ceremony copies

These are 100 gram quality envelopes in shiny Gold or Silver stamped foil with the text "Ceremony Certificate" in Edwardian Font to match TCN Templates.

These envelopes may be dressed with craft gold or silver outline stickers eg Teddies for naming ceremonies, Roses for Birthday ceremonies.

Suitable for all ceremonies