The Celebrants Network members all have access to free templates:
A4: Betrothal-Marriage; Celebration Marriage; Commitment; Partnership; Reaffirmation; Renewal; Wedding Anniversary; Naming; Coming_Age; Certificate-of-Adulthood; Birthday; Funeral; Memorial:

A5: Appreciation Couple; Appreciation Single; Family; Parent; GodParent; GodParentS; Guardian; GuardianS; Mentor; MentorS; Grandparent ; GrandparentS; _Great Godparent; Great GodparentS;
Here are some examples of ways celebrants may create your own certificates using:
Craft stickers - click on thumbnails to enlarge.
Remember: Different couples and families will have different tastes, and not necessarily the same as yours!

TThe Celebrants Network system allows for far more choice
NAMING Blank


NAMING with Corners

NAMING with Teddies

CELEBRATION OF UNION with rings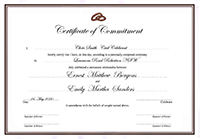 CELEBRATION OF MARRIAGE with Cupids (these stickers are not everyone's choice)

25TH WEDDING ANNIVERSARY with Rings (bottom)

... with Rings (top)



25TH WEDDING ANNIVERSARY with Corners

Clients photos - click on thumbnail to enlarge.

Making these personalised certificates is something really special.
Not able to be bought anywhere else - so 100% unique
And families love them
Baby Naming certificates - the baby, parents, godparents, great grandparents, god-brothers, god-aunties, etc

Coming of Age certificates - the person's baby photo and how they are now .. and even stages in between.

Birthday certificates - as above or photos related to the persons passions, hobbies or interests; or birthday theme

Engagement certificates - photos of the people as babies

Wedding Anniversary certificates - the couple's original wedding photos

Memento Copy of Ceremony - Motif in the header or footer of the pages
The Celebrants Network Members may access instructions on Adding an image to word file to create a truly personalised Certificate in the Members Only section.
The Celebrants Network make sure you are
logged in
to access.