Robyn Caine
20th March 1943 to 23rd May 2014

Funeral Service conducted Monday 2nd June 2014 by Susan Winters Civil Marriage and Funeral Celebrant. President of the Association of Civil Marriage Celebrants NSW & ACT (the association for whom Robyn was the Delegate to The Coalition of Celebrants Associations (CoCA) Inc.
Tribute by Rona Goold Civil Celebrant
TCN Inc Delegate to CoCA.
Thank you Susan, Bryce, Gavin and families for the opportunity to share my perceptions of Robyn Lynette Caine.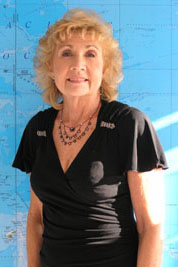 Robyn and I were appointed within 3 years of each other, and our paths probably crossed along the way, it was only in the last decade that I became aware of Robyn's role at a national level in the evolution of civil celebrancy towards being a full profession. And it was only in the last two years in serving alongside Robyn as an office bearer for the peak body CoCA, The Coalition of Celebrant Associations Inc, that I had the privilege of getting to know Robyn on a personal level as well.
I think it was W. Somerset Maugham who described our living, as if we are creating a tapestry by sewing one stitch each day in a coloured thread. When doing so, we are working with our face so close up that we see only a very small portion of the whole. And that it was only near the end of our lives, if we took the time to step back, that we could see its unique pattern or perhaps even the full picture we had created.
It's maybe not until the funeral or memorial, that one's community has the opportunity of gathering around that tapestry; where we as family, friends, co-workers and others can glimpse that complete picture too. Of course there is another level that none of us can see, including the sewer. That is the gauze frame and stitches made alone by inner forces of one's spirit and soul. That final tapestry, some religious faiths would say, can only appreciated by the divine.
Robyn, I hope, would agree with this analogy for my feeling is that we were 'soul-sisters' even though our personal styles were very different.
My first direct memories of Robyn were in 2007 when she joined the group within the national training system reviewing the course for celebrants. Robyn had lobbied for a place for the National Council, which represented many of the country's celebrants associations, but not all.
It was Robyn's insight into the government's aims for change, and her drive for unity that brought the National Council into being. The 2002 Explanatory Memorandum was Robyn's guide, outlining its aims for civil celebrancy to become a self-governing profession.
Robyn's style was as a consummate diplomat, an ambassador for a community of celebrants who are struggling to know who they are, what their common values are, and what to call themselves. A community Robyn intuitively knew as her kindred spirits. It seems diplomats are skilled in dealing with sensitive matters or sensitive people; and immensely tactful. (As I said our styles are different J)
Diplomats' personal views remain hidden, not because they are not present or not valuable, but because they know personal opinions and egos can get in the way of achieving the aims they are dedicated to. I did not know for example that Robyn was a Minister of the Christian Fellowship. We never discussed our personal faith as such, though she would have had some idea of mine.
In our time together Robyn and I shared seven trips to Canberra for CoCA meetings. We would meet at 7am at Sutton Forrest which meant her taking Tia to the kennels the night before, and rising around 3.30 am to be on her daily lung machine, dress and travel from Seven Hills to pick me up, before a further one and a half hour drive.
During the period on Cost Recovery, we met with two Attorney-Generals, three Political Advisors and twice with senior Departmental staff on CoCA's recommendations for increasing professionalism. We attended a full day Canberra workshop on professional development where we attempted to convey our needs as a celebrancy profession to Departmental staff.
In 2012 we also met four times with a project officer in Ryde for second review of celebrancy training. And once in Canberra with Departmental staff to explain the need for and up grade to, at least, the para-professional level 5, Diploma in Professional Celebrancy.
Robyn wanted civil celebrants trained and acknowledged within a profession in their own right. Civil celebrancy evolved "a human rights" and "affirmative action for women" beginning. The last decade has been very rocky as we all grapple with understanding - we are "professionals in private practice", not just businesses. The defining difference is that professionals are expected to have some ethics.
Robyn lived by those professional principles. When the time came for CoCA to present its case to the Senate Inquiry, Robyn stepped aside for others to represent CoCA's case to the National Parliament, yet came as our "team coach".
That makes around 15 trips to Canberra alone, the last one this February. Not easy with her health problems. And not easy from the Central Coast where Robyn had moved just before Xmas, and from where she travelled to Melbourne for her last CoCA meeting.
There were the more than twice weekly conversations on CoCA work, and recently more personal conversations about her health, her plans for living near the sea in retirement and her much longed for holiday in Fiji, which sadly was not to be granted her.
I hope this gives some insight into the amount of time, energy and passion Robyn gave our profession. This is only a snapshot of the last four years. Her National Council work would have been just as intense. For example, I know she worked with three Attorneys before my time.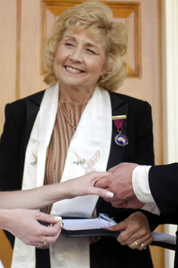 Robyn achieved her one of her dreams. For two years CoCA represented all the celebrant associations in Australia. That dream and her others she leaves for us.
I see three principles underpinning Robyn's life as a "Diplomat" – respect, unity and service. Robyn respected all people whatever their idiosyncrasies. That she understood me is proof enough of that. In all our time together I never hear her talk ill of those close her – her family and friends. In fact, I never heard her talk ill of anyone, though sometimes she would say she understood my frustrations with someone when I did!
We never discussed her political views nor her Christian faith, though I assumed the latter there, from the references to Christenings and the embroidered stole around her neck in photos on her website. I wear this scarf Robyn gave me today in her honour.

As regards unity, for Robyn CoCA was like a "United Nations". It did not matter whether one association was bigger than another. We all have equal votes. She drafted a constitution without a deciding vote for her Chairperson role for that would have given one association double votes. Robyn knew unity depended on keeping power relations balanced.
As regards the principle of service, I am sure others will add their perceptions and example of Robyn's service to others.
Was Robyn better than anyone else – I'm sure she would say No – just different. Were her achievements better than anyone else – No just - different.
Did Robyn have flaws? I'm sure she did as she was as human as any of us.

But it's hard to see those flaws with "diplomats", is it not? Certainly I could not name one.
I'd like to conclude with this personal tribute from Dorothy Harrison our new CoCA Chairperson.
"When Robyn's last Chairperson's AGM report was read to our CoCA delegates and Department representatives on May 22, we had little warning that we would be saying a final farewell to Robyn within hours.
Robyn's contribution to celebrancy has extended and intensified from her appointment on 26 November 1992. Because of her passion and dedication over the next 22 years - often at her own expense and in her own time - the work of the National Council expanded to form the Coalition. The vision of former Attorney General Lionel Murphy, way back in 1974, has lost some Government focus but gained major public acceptance in the forty years since the inception of the Marriage Celebrant Program. Robyn's vision had clarity from when I first met her in 1994. She wanted- demanded even- respect and improvement for all celebrants- not just for herself.
Her tactful diplomacy, her beautiful smiling face endeared her to others. Robyn's petite frame belied her generous heart and her backbone, which at times gave her pain, was actually made of steel.
Even with all her hard work and her busy life she still found time for thoughtful acts - little things that we will remember and cherish for years to come.
Robyn's love for her sons and their families; her recent joy at buying and decorating her new home, when I saw her in February are my most recent memories, which I treasure. Her courage and acceptance of what was to come was outstanding.
I sign off as she always did - love and hugs Robyn. Your colleague and friend Dorothy"
I'll now sign off likewise – love and hugs Robyn, our good and faithful servant.