Janette Ellis
Mornington Peninsula Celebrant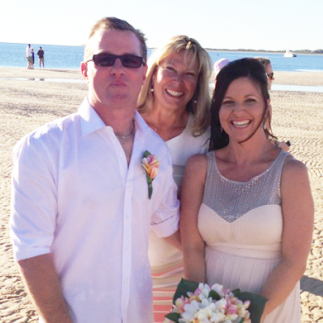 Celebrant background:
Janette is a wonderful, warm professional Celebrant Born in NZ, then moved to Australia when 10 years old. She loves the beach and any waterbased activity being a keen sailor and fisherperson.
Music is her second love along with her beautiful Vizsla pup who keeps her fit and active.
Why I'm a celebrant:
Infectious utter Joy I love the couples i meet and the honour of marrying them. The joy infectiously exudes around the day, ceremony and people. I Love my job and everything about it. I make people happy.
Treasured memories:
Marrying Phillip and Mandy in the Sand Dunes of Exmouth's Cape Range National Park and having their twins dive for the rings in aqua crystal water, whilst we all boiled waiting for them to surface . . . with the rings. They did and we all went on for many happy happy hours swimming and frolicking like teenages.
Tips :
Plan . . . . & have plan 'b' just in case, enjoy the journey whilst planning as well as your wonderful day. Smile and Relax
and I'd like to say:
Janette has featured in several magazines and was Voted - 'The best Celebrant on the Mornington Peninsula' Winner Aust. Achiever of the year, with over 16 years experience in tailoring sparkling, modern ceremonies to uniquely suit each couple - on the beautiful Mornington Peninsula
Areas serviced:
Mornington Peninsula, Perth, Exmouth & Coral Bay
Celebrant Town/ Suburb:
Blairgowrie