Peter Grant
Peter the Celebrant (Your Special Day)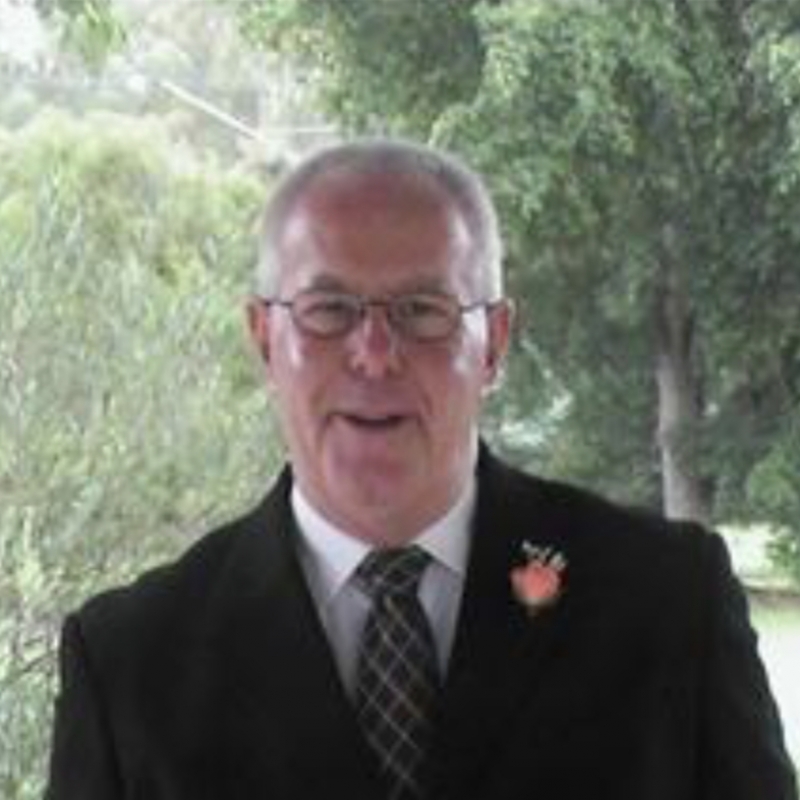 Celebrant background:
Celebrant background: I have worked with and alongside people all of my working life and delight in being part of a team that plans, prepares and conducts entertaining and memorable occasions. I have developed my professional skills through my previous background as a Regimental Sergeant Major in the Australian Army and as a National Business and Marketing Manager with a large manufacturing and sales company. I live in Ipswich and work alongside my delightful wife – Trish. We operate out of our home office in Eastern Heights. I was registered as a Marriage Celebrant on Christmas Eve 2009.
Why I'm a celebrant:
I was registered as a Marriage Celebrant on Christmas Eve 2009, however, operated on a part time basis for the first three years – due to my commitment to my career in private enterprise.
In 2012, Trish and I decided to resign from our corporate employment and prepare and conduct celebrations on a full time basis. We have thoroughly enjoyed our lifestyle change and have conducted many, many terrific Wedding Ceremonies across South-East Queensland and Northern New South Wales.
It is always a pleasure meeting and interfacing with nice people. We have made many lifelong friends and acquaintances through the ceremonies that we have conducted.
We do get to know our clients, their family and close friends and impart that knowledge to their guests during the ceremonies – making the occasion memorable, personalised and fun.
We prepare and conduct an average of 115 Wedding Ceremonies and 100 Funeral Services each year and do get a lot of repeat business from client family members andtheir friends – by word of mouth.
Treasured memories:
Most celebrations have special memories.The delight and happiness on the face of the bride and groom – and their parents – are reward enough for the effort that we put into making our ceremonies memorable.
One of the more memorable occasions to me personally was the delight in marrying Phil and Clare in a beautiful garden ceremony at their home in Brisbane.T
his ceremony was such an honour for us as in October 2005 I had suffered a major heart attack and was rushed to the Wesley Hospital to have quadruple bypass heart surgery. After my recovery in Intensive Care I never forgot the kindness of the very caring and compassionate Intensive Care Nurse who attended to my needs and helped me through my near death experience.That nurse kept me comfortable and kept Trish up to date on every step of my recovery.
I never, ever forgot being in the hands of Phil – the Intensive Care Nurse. Imagine to our surprise when Clare - the Bride-to-Be - contacted a wedding organisation looking for a male Celebrant for their special day.Who would have thought that the Intensive Care Nurse over 11 years later on, would now be in the hands of " Peter the Celebrant " as we assisted Phil and Clare and solemnised their very beautiful and meaningful Wedding Day – guiding them through every step of the process.
We have prepared and conducted an " on air " Wedding Ceremony that was broadcast across South-East Queensland over 94.9 FM Radio and are booked to conduct another one in June this year. - UHF Wedding was broadcast from the Peak Crossing Pub where the bride and groom were parked alongside each other in their trucks and made their vows over their CB radios ( as well as the FM Radio ) so truck drivers in the region heard it as well as on air listeners.
Married at First Light Wedding will be conducted and broadcast from the Branell Homestead at Laidley at sunrise in June and is a play on words of the reality show Married at First Sight.
Tips :
Don't be overly " traditionally " late as your guests do get impatient and it can ruin the atmosphere of the ceremony. Being more than 10 minutes late is an insult to your guests.
If you are having an outdoors ceremony, always – always – have a Wet Weather Plan.
Do not drink too much alcohol before your ceremony as there is nothing cute about a tipsy bride or funny about a groom that has had a bit more than he can handle. Do not allow your guests to get drunk – or even drink alcohol during the ceremony. It is about respect and pride.
Treat your Celebrant with respect.
and I'd like to say:
We sincerely wish all couples getting married all the very best wishes for your journey through life together as husband and wife.
Areas serviced:
Ipswich, Brisbane, Toowoomba and the Darling Downs, Warwick and the Scenic Rim, Tamborine Mountain, the Lockyer, Bremer and Brisbane Valleys.
Celebrant Town/ Suburb:
Ipswich