Linda Munster
Modern, Authentic, Authorized Marriage and Civil Celebrant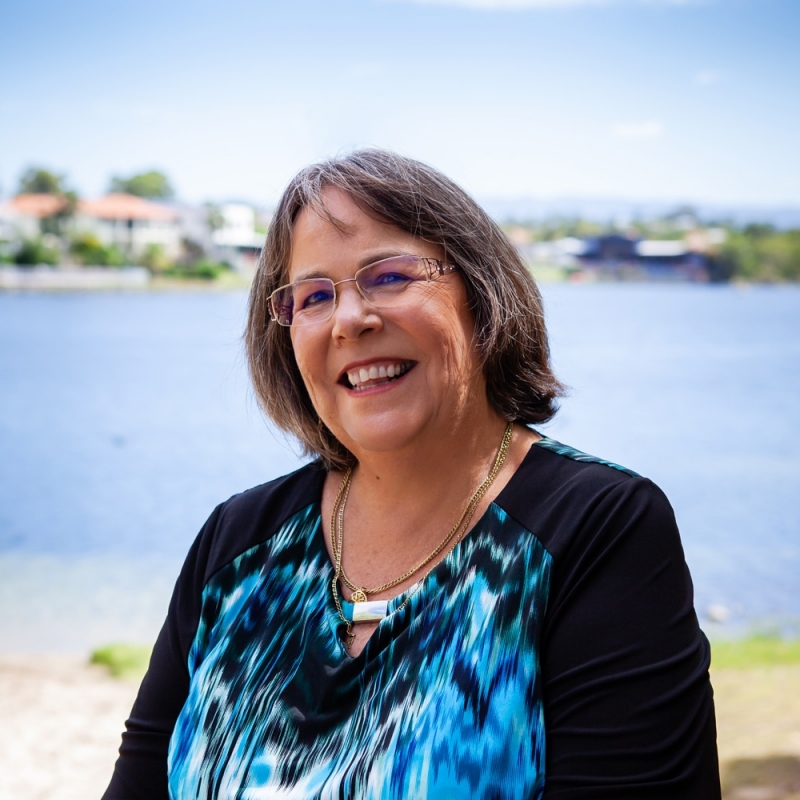 Celebrant background:
Life has a way of encouraging us to change course when we least expect it. After working as a Registered Nurse and Midwife for twenty years I found myself sidestepping into a Business focus.
This helped me to develop many varied skills eventually leading to work as an Event-Coordinator.
Surprisingly, along the way I discovered a passion for the written word and studied Creative Writing and Advanced Creative Writing at TAFE Qld. I continue to develop my writing skills and am working on my first book. I love storytelling.

Working as a Nurse Midwife helped me to develop compassion and communication skills which have been invaluable in all of my professional endeavours.
Developing my skills as an Event Coordinator revealed attention to detail as part of my personality so every aspect of your ceremony will be covered.
Why I'm a celebrant:
I love being a celebrant and helping people to celebrate all of life's special occasions. Celebrancy is the perfect vehicle for me to unite many of my passions - people, storytelling, writing, community, celebration.
Weddings are perhaps the most memorable of all ceremonies and for most people this is a once-in-a-lifetime event. The focus here is on Love and Commitment. The Marriage Ceremony shares a portion of your story so far and sets the stage for what is to come. A Marriage Ceremony may be celebrated in any venue or location. However, if you plan an outdoor ceremony please also have a back-up plan in case of inclement weather. Love is love and whether your partner is the same or opposite gender your love should be celebrated. Love is life and it is a privilege to be asked to officiate at a same-sex ceremony.
I am a compassionate and creative Celebrant who is passionate about creating a ceremony to lovingly celebrate any and all of Life's Precious Moments; Weddings, Funerals, Baby Naming, Renewal of Vows, Commitment Ceremonies, Significant Birthdays, House Warmings … you name it and I'll be happy to help co-create it.
I care about what you want and will do everything in my power to ensure your special celebration is memorable, modern, unique, fun and just the way you want it.
I have a passion for the written word, enhanced by Creative Writing and Advanced Creative Writing courses at TAFE, and I delight in creating unique ceremonies for every occasion.
Your story is brought to life in a way that honours and celebrates your relationships and this special occasion.
It is my great joy to facilitate the creation of personalized, authentic, meaningful ceremonies for your special occasions and to be available at your service beyond each new beginning in your life.
Call today to discuss your special occasion 0407 693 331
Treasured memories:
I love working with people of all walks of life and all for all occasions.
I have conducted a variety of Marriage ceremonies from the more Traditional to Elopement style weddings, to Ethnic Celebrations. Ceremonies have been held in grand halls at five-star resorts to parks, paddocks, backyards and a simple in-home wedding. The choice is yours.
One of my most treasured memories is being invited to conduct the marriage ceremony of Emma and Tegan. I have known Emma's family for many years and was her mum's midwife at her birth. I had the privilege of watching her grow into the beautiful young woman she is today. So, it was particularly moving that I should be chosen to officiate at her marriage to the love of her life. Both ladies looked stunning on the day as they said their vows in the old hall on the family's dairy farm.
I have officiated at a number of special birthdays (60s and 85) and each one has been fun and unique.
Working with families to welcome a new addition to the family is always a joy and flexibility is needed when the guest of honour wanders off on a whim.
Elopements too have been fun and special memories are held of a beautiful couple from Tassie who were holidaying on the Gold Coast and after 23 years together and two kids finally decided to tie the knot - the ceremony was held at 8am on the Southport Broadwater - just hours before their return flight to Hobart (they were having too much fun enjoying all the Gold Coast has to offer to fit it in beforehand). A lovely couple out for their early morning walk was roped in to be witnesses and a special connection was made instantly. It was a simple ceremony but with lots of heart and soul and above all else fun!
One of my very first ceremonies was a surprise Renewal of Vows for a couple who had been married for 50 years. It was organized by the husband with the help of his daughter and the wife was thrilled with the gesture. An intimate family affair, it was nonetheless a special and beautiful ceremony which touched everyone deeply. How special that after fifty years together they both wanted to do it all again!!
Tips :
Planning a Ceremony, especially a Wedding Ceremony, can be a daunting task but the key is to keep it simple.
Elegance can be achieved with minimal fuss and expense.
It is so easy to get caught up in all the commercial hype but, honestly, some of the most beautiful weddings I have been to have been the ones where love shines through and everyone has fun.
Always have a back-up plan for everything - flower malfunction - photographer unable to attend - wet weather - dress malfunction - musicians / DJ running late or unable to attend.
At the end of the day the focus needs to be on your relationship and the love that you share - everything else is the icing on the cake - delicious but not essential.
Celebrating Life's special Moments can often be forgotten. Life is meant to be LIVED. Love is meant to be CELEBRATED. Relationships are meant to be HONOURED. A special Ceremony to honour life's gifts brings much joy to everyone involved. Celebrate Life in all of its messy disguises.
Funerals can be a difficult time for families as they prepare to say their final farewell to a loved one.
Take your time.
There is no legal time frame in which to hold a funeral however there may be additional costs if the body needs to be stored longer.
Speak to your funeral director about this. Consider having a memorial service if the body is to be cremated and more time is needed.
There are no rules with regards to where a funeral must be held - for a small intimate funeral/memorial the family home might be appropriate. Alternately a community hall or park might also be a suitable venue.
and I'd like to say:
Above all else have FUN with your special day - go out of your way to create special memories - Memories are one of the few things we get to take with us when we leave this mortal life. They last forever.
Take time out to chat with your nearest and dearest before the ceremony - have a quiet cuppa early in the morning before all the chaos starts. Reflect upon why you are making this commitment or sharing this ceremony. Share your hopes and dreams for the future. Walk barefoot on the beach as the sun rises or sit on a high mountain ledge and take in the beauty of creation and breathe that into your hearts. Have a quiet cuppa in the garden. Let go of the need to control every aspect of the ceremony - some things are just out of your control and being a wedding or ceremony Nazi only adds to your stress levels. Yawn several times before the ceremony to relax your jaw and face muscles. Breathe!!! Laugh - it's good for the soul. Surround yourself with positive, loving and caring people who will support your decisions and choices and let go of the people who don't see things your way - you can't control them, only your reaction to their behaviour. Choose lightness and joy! Have No Regrets.
Areas serviced:
Gold Coast and Hinterland including Scenic Rim Region
Celebrant Town/ Suburb:
Beechmont