Roslyn McFarlane
Access Civil Ceremonies; "It's the little things that count"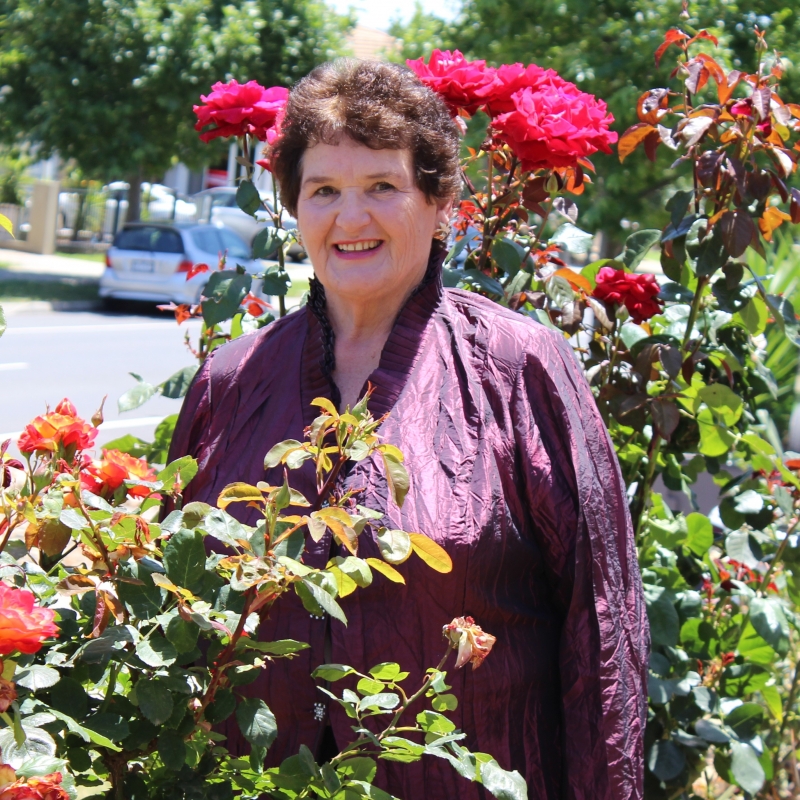 Celebrant background:
If I were a vegetable I would be a Zucchini,
It is a well known fact that I am a "Greenie".
If I were an Animal, a Koala I'd be,
Observing the people and life that I see.
If I were a car, I'd be a Rolls Royce.....
An Oldie but Goodie, that gives you a choice.
If you have read this far, i am sure that you Know it,
I am a far better Celebrant, than I am a poet.

My background is in Hospitality and Business. Over many years. I've learned the importance of Service with a Smile; The Customer is my Boss, There is No Substitute for Quality, Timeliness & Accuracy matter and a Friendly, Approachable nature with a Can-Do attitude is essential. It is my job to make your day as wonderful as I can.
Why I'm a celebrant:
I have always enjoyed working closely with people, and I consider it an honour and privilege to work with them through all of the transitional periods in their lives.
I love the theatre and music that accompanies any type of ceremony.I enjoy writing and believe passionately in the importance of Ceremony in any Occasion to add that extra dimension to it.
All Celebrants will undergo the same basic training but we are all different in many ways.
My point if difference is that I do thing differently. If you want to have something that is outside the normal I will be delighted to create something that is completely unique , but i you are more comfortable with the familiar then I am more than happy to do that too.
Treasured memories:
Every one of the hundreds of Ceremonies that I have conducted is a special memory.; But there are a couple that have really moved me.
The first was when a young Thai Bride asked me to walk her down the aisle because her parents were not here and she did not feel she knew anyone else here well enough to fulfil that role.I felt really honoured.
Another was when the Bride was escorted down the aisle by her young daughter. It was very special because the child had been born with a physical problem where she was not expected to ever walk. Mother and daughter both walked confidently down quite a long aisle.
Being a Family Celebrant is perhaps the best.; Being entrusted to conduct all of the Ceremonies a family may face.
One Couple has engaged me over the years to conduct the Funerals for both Mother and Father, their Wedding and subsequent Baby Namings; the House Warming when they bought their new home and most recently a Pet Funeral for their beautiful fur baby.
Tips :
For Weddings:
Make your own decisions and keep within your budget.
As much as our loved ones want to help and give advice, listen politely, act on it if it is a good idea, but otherwise say "Thank you , but I really do want to do XXX".& YYYY
If you begin to do what others want it ceases to be your Celebration. Breaking the budget is not a good way to start any marriage.
The most important part of a Marriage is the Bride and Groom, The 2 witness, The Celebrant and the promises they make to each other.
That need not cost you too much at all if you do not have a lot of money.
For Funerals:
Talk about it with your family; Tell them what you want; and have your affairs in order or at the very least your paperwork in organised.
Book a meeting with me to pre-plan your funeral and record your life story to make it easy for those you will leave behind
So often as a Funeral Celebrant I meet with families who want to do everything to honour their loved one but have no idea of what that person may have actually wanted. E.g did they want a Burial or Cremation, Religious or Civil Funeral Service, Flowers or Donations to charity and the list goes on.
Having the discussion with loved ones or leaving your clear written instructions can help ease the stress and decision making at a time when the family are least able to think clearly.
and I'd like to say:
It is very important or you to feel comfortable with the Celebrant you choose for your Ceremony. If you don't feel that instant connection and rapport during the initial phone conversation with them, call someone else!. All Celebrants are different. How we relate to you, and how comfortable we make you feel is more important than the fees we charge. Do not make your choice on Price alone. I would love to have a chat with you about your special needs and so that you can see if I am the right fit for you. Phone me on 0401275678, or better still, ring and make a time to meet with me at my home/office in Pakenham for a NO CHARGE-NO OBLIGATION meeting over a 'cuppa and a bikkie '.
Areas serviced:
Melbourne Suburban, Mornington Peninsular, Yarra Valley, Dandenong Ranges, West Gippsland
Celebrant Town/ Suburb:
Pakenham