Sue Middlewood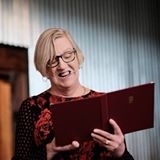 Celebrant background:
Sue is a celebrant in Bega serving the Far South Coast of NSW
I have been a nurse most of my working life. I found nursing rewarding especially in palliative care. On retiring I was delighted to find celebrancy was such a meaningful and important role. I am well educated with a Masters with Honours in Counselling.
Why I'm a celebrant:
I became a celebrant after the death of my son. I was unimpressed by the celebrant who conducted his funeral and thought I could do a much better job.
Significant life events require being managed with sensitivity, connection and skill as how they are handled has a lasting impact on those involved. I hope to be part of creating beautiful memories for people with any ceremony.
and I'd like to say:
Ceremonies are a really important part of our lives. They have the ability to connect us in important ways. Ceremonies unite people in ways not experienced in the every day world. Don't hesitate to celebrate those significant events in a way that is meaningful for you - it is good for you and the community!
Areas serviced:
Bega, Merimbula and FAR SOUTH COAST NSW
Celebrant Town/ Suburb:
Bega