Anita Pryde
Queensland - Bribie Island Celebrant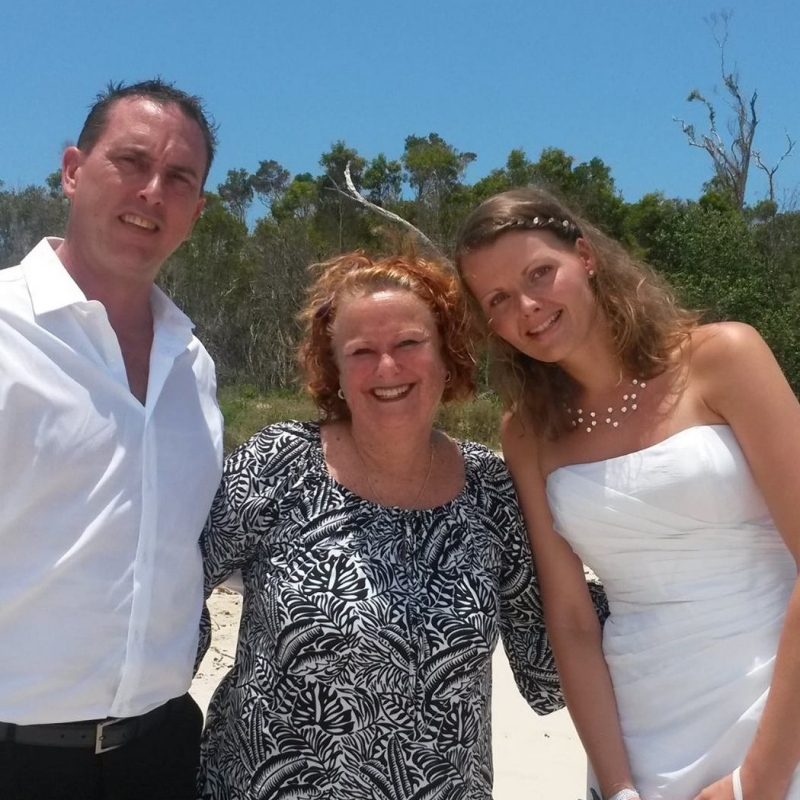 Celebrant background:
I have a background in education both in the school system and in Child Care, I have always worked with children. I have worked for Indigenous Priorities supporting Aboriginal Torres Strait Islander educators in rural and remote areas.
I have 3 children and 7 grandchildren. I enjoy gardening and the outdoors. I have two horses and like to ride whenever I can. I became a celebrant several years ago and love meeting new couples and learning about their love story!
Why I'm a celebrant:
I was asked by a friend who had recently eloped overseas if I would conduct a ceremony for them so their family and friends in Australia could celebrate their union. I had so much fun working with them, designing a ceremony and then facilitating their 'wedding' on the day. I decided I wanted to do more and so gained my qualifications several years ago. I haven't looked back.
I love meeting new couples and working with them to design a unique inexpensive ceremony which will be cherished always. I was honoured to officiate at both my son and daughter's weddings.
Treasured memories:
One of my favourite memories as a celebrant was a wedding I conducted beside a creek.
Guests gathered on one side of the creek while the Bride and Groom stood on the other side. Guests were entertained by a singer/guitarist. The theme of the wedding was 'Doctor Seuss' It was a very stress free wedding and the couple were surrounded by so much love from their family and friends. It was a beautiful setting and I will remember it fondly always.
Tips :
When planning a celebration don't get caught up in the small stuff!
It's more important to ensure you enjoy your day because it goes so quickly!
Make sure you take some deep breaths and be realistic about what you want your celebration to look like.
Always have a back up plan in case of weather events.
and I'd like to say:
Being a celebrant is so rewarding. There are so many different facets to this role including Weddings, Elopements, LIfe celebrations, Baby Namings and Renewal of Vows. It's a very happy job. Seeing the relief on a Grooms face when he sees his bride for the first time is a very special moment. Hearing couple's recite their vows to one another. Feeling the love that surrounds the couple. These are all the reasons that I love being a celebrant.
Areas serviced:
Bribie Island, Sunshine Coast, Sunshine Coast HInterland, North Brisbane
Celebrant Town/ Suburb:
Bribie Island