Lou Szymkow
The South Coast celebrant with a permanent smile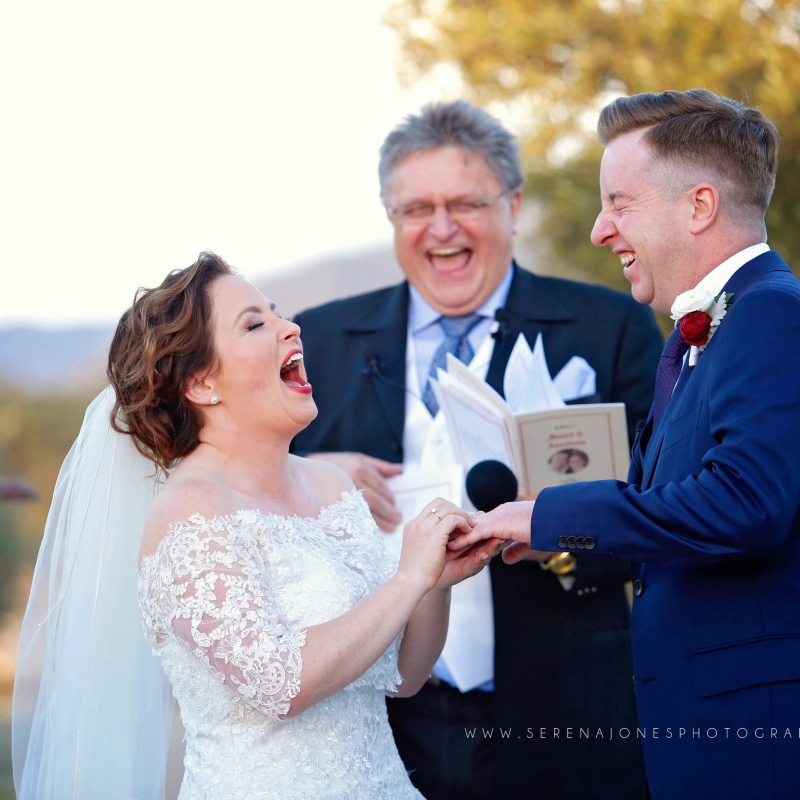 Celebrant background:
Weddings,, Namings & Blessings, & more…
It is your ceremony. Let's make it FUN as well as beautiful.
(I also perform beautiful Funerals and Memorials)
I'll work with you to make it easy to make your Ceremony will be one that you genuinely enjoy, as will your guests. I love what I do, as do all who attend my ceremonies.
You'll find what others say here: https://www.alifecelebrant.com.au/reviews/
My Weddings, Anniversary Celebrations and Naming Ceremonies are FUN.
My Memorials and Funerals, Celebrate the life lived.
All create memories.
One person has even had one of my poems tattooed but I won't show you pictures.
I am referred to as 'The Different Celebrant' because I help you create your own traditions but if you choose, we can utilise any of the myriad of traditions from different cultures or countries.
I even mentor other celebrants who regularly go to my webpage to find answers to difficult questions. Let me be the answer to yours.
I am the Match, Hatch, & Dispatch Celebrant there for the truly important events in life; the moments of Love, Life and Loss.
I am a Civil & Marriage Celebrant, authorised by the Attorney General's Office.
A Naming & Baby Blessing Celebrant and a Funeral & Memorials Celebrant… and did I mention I'm also an MC for any extra fee 😊
Why I'm a celebrant:
I love discovering and sharing in the most beautiful moments of life.
Everyone has a story and amazingly, people love my exploring and sharing and retelling that story.
I have over 30 years experience in public life, have been married for 44 years, am an accomplished public & motivational speaker, humanitarian, educator, poet, international traveller, & Master of Ceremonies and have been Awarded for my community service and my poetry..
Treasured memories:
Every Ceremony evokes joy and wonder.
I take a selfie with couples when we sign the NOIM and get tingles every time.
An incredible moment of joy and the first 'official' step of ther ceremony.
I have Bollywood danced, spoken in Polish, rubbed noses, hugged and kissed my way through many ceremonies while others have been beautiful because if their simplicty.
One of my strongest memories though, is when I sat across a table to finalise preparations and the bride who had flown across the world, asked about including her father in the ceremony and when I explained how we would do that, she had a tear in her eye and turned to her groom to say "Thank you, this will be more beautiful than I ever imagined". Then, as he leaned forward to gently & sweetly kiss her forehead, it appeared that time stood still. We were in a crowded building, but not a sound could be heard and no a sight could be seen, apart from the loving gaze they had for each other. I don't think I even breathed though it seemed like minutes went by before they turned back to me to resume the meeting.
Tips :
I have hundreds of tips on my webpage.
Just choose the Ceremony and use the drop down menus to find all sorts of amazing information to help you.
Hundreds of Wedding Questions Answered
Wedding – Marriage Celebrant
Wedding Ideas & Ceremonies
Wedding Poems & Readings
Wedding Songs
Writing speeches & Vows
and I'd like to say:
I am a Caring, cooperative and helpful person who will listen to you, as I am determined your ceremony will be uniquely yours, so that it is a memorable, fulfilling and an enriching experience. One that you will always remember for all the right reasons.
Areas serviced:
All areas but the NSW South Coast, Shoalhaven, Jervis Bay & surrounds, from the mountains to the sea
Celebrant Town/ Suburb:
Manyana