Pamela Harris
Not your average celebrant, I offer fun, authentic and memorable ceremonies for modern day couples.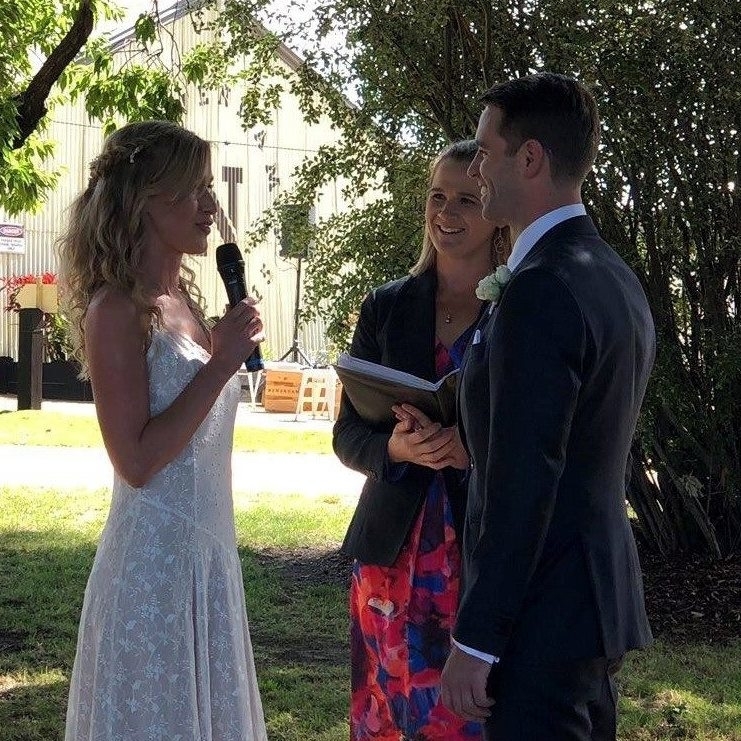 Celebrant background:
Having worked in a corporate context for many years, it came time to explore other, more meaningful work. When a friend suggested I would make a great celebrant, I began thinking... I've always been good with people and am genuinely interested in their stories. I also love the excitement and anticipation associated with weddings and find organising and planning events to be particularly fun. So WHY NOT?!?!
I'm only fairly new to celebrancy having obtained my certificate at the end of 2018. That said, I strongly believe that the skills I have acquired over the years provide me with an excellent toolkit to use to ensure you get the absolute best ceremony you could ask for.

My career to date has been strongly centred around customer service. I worked in a café for 6 years, before buying my own and operating it for 4 years. I then made the leap of faith from Canberra to Melbourne to try something new and found myself working for a Big 4 bank. I started in the branch, eventually working my way up to the corporate head office.
Why I'm a celebrant:
It was in Melbourne that I first had the desire to explore a different path and when celebrancy was suggested I made the decision to move back to Canberra in 2017, and it was then that I joined Microsoft, where I continue to work today. It was also in Canberra that I began my journey to become a celebrant, and what a fun (and sometimes challenging) ride its been.
Treasured memories:
My first ceremony as a celebrant - marrying my good friends in the Adelaide Hills. It was a beautiful day, a special couple and a fantastic party!
Areas serviced:
Canberra, Australia Capital Territory (ACT) and surrounding areas.
Celebrant Town/ Suburb:
Farrer
State:
Australian Capital Territory