ATCN Submission 1:

Focus: Using ceremony and commonwealth appointed civil marriage celebrants to raise community awareness of human rights issues at a domestic level.
Ceremony is one way of reaching a group of people, not just those individuals that are the focus of the event.
Ceremony, like theatre, uses many different forms of communication using all the senses – prose, poetry, music, lyrics, colour, movement, symbolism, group participation etc.
Thus ceremony and civil celebrants can contribute to cultural awareness of human rights, primarily in the areas of information provision and social support.
The recommendations of this submission are
The establishment of "Coming of Age/ Adulthood/ Full Australian Citizenship' Rite of Passage Process endorsed by the Commonwealth Government
The review of components of the existing Commonwealth Marriage Celebrant Program to incorporate human rights principles and better liaison with other sections of the Attorney General's Department.

Review of Happily Ever After brochure
Addition of Government Expectation on Marriage Statement

The expansion of the role of 'civil' marriage celebrant to incorporate other duties of as a HR community educator/ "civics ambassador" type (as in Recommendation 1) would serve to promote and support courteous and respectful attitudes and behaviour at all stages of a citizen's life.
The review of the Commonwealth Marriage Celebrant Program's appointment and review systems to incorporate the boarder role of Civil Educator Celebrant.
NOTE
:
* Article 1. All human beings are born free and equal in dignity and rights. They are endowed with reason and conscience and should act towards one another in a spirit of brotherhood.
Article 2. Everyone is entitled to all the rights and freedoms set forth in this Declaration, without distinction of any kind, such as race, colour, sex, language, religion, political or other opinion, national or social origin, property, birth or other status. Furthermore, no distinction shall be made on the basis of the political, jurisdictional or international status of the country or territory to which a person belongs, whether it be independent, trust, non-self-governing or under any other limitation of sovereign
** HR = Human Rights )
*** Civics =" the study of the rights and responsibilities of citizenship"
Ambassador = "authorized messenger or representative or unofficial representative: ambassadors of goodwill."
1. "Coming of Age/ Adulthood/ full Australian Citizenship' Rite of Passage Process endorsed by the federal government ie acknowledgement of status, information and/or ceremony for full citizenship by all Australian born 18 year olds
Background:

Public community based ceremonies provide powerful conscious and unconscious messages about social norms and expectations, transmit values and can inspire human beings to live more fully, responsibility and respectfully of others.
The lowering from the age of Adult Status from 21 years to 18 years for a wide range of rights and responsibilities, celebrated now in a time of much higher exposure to mass media marketing of alcohol, sex and other symbols of supposed adult status, has meant that what was once a clearer rite of passage to adulthood, has become less valuable.
For many teenagers, the attainment of age 18 means the right to buy alcohol and get drunk. There is very little focus on the other rights one has, in attaining adult status, and even less on the responsibilities that go hand in hand with those rights.
Because poor impulse control over behaviour can result from alcohol and other drug use, such use is linked to issues of overt acts of hostility thus affecting the rights of others.
eg domestic violence; child abuse and neglect; gender/ racial / homophobic based violence; assault, property crime etc.
The increase in "schoolies" week type activities could be seen as the result of our society's failure to provide a meaningful Rite of Passage into Adult community life.
"Leaving school" celebrations are more like 'funerals or memorials"
ie about leaving childhood behind
, than about a "Welcome to Community/ Full Citizenship' by the general community, that incorporates a whole array of other families, professions, trades, interest groups etc.
Just as the "Betrothal" ceremony has been downgraded into an "Engagement" Party, the "Coming of Age at 21" with its "Key to the Door" has likewise been downgraded to a "18th Party' – with much more focused on it being a "peer party", than a Welcome to Adulthood" or "Welcome to Community" as a equal citizens.
All overseas born Australians upon acquiring Australian citizenship are granted
A suitably decorative certificate to acknowledge their new status
A ceremony within which their new status is honoured, its rights and responsibilities affirmed
Information about Australian citizenship, human rights, electoral responsibilities and other related information
However all Australia born citizenship do not receive equal treatment as regards their full Australian citizenship – its rights and responsibilities.
Community education/ development strategies are needed to reinforce "civilised" behaviour, based on an understanding of human rights and the rights and responsibilities of adult citizens in Australia
George Williams (Foundation Director, Gilbert & Tobin Centre of Public Law, Uni NSW) states that ""Classroom teaching is not enough to instill foundational knowledge and values. If the Government is serious about Australians knowing more about how they are governed and being good citizens, it needs to take a broader approach. " …. (and) …. must be reinforced outside the classroom. …….
that …… " Most importantly, the Government should recognise the futility of educating people about being an active citizen when there are too few opportunities for them to become one. We need to make changes so that how we are governed reflects the values we are seeking to promote. We need more democratic engagement as part of a system based upon popular ownership, rather than a disconnected community."
Discussion:
As Australian society has become more secular, there has been an increased trend in using civil celebrants as a "neutral" person to facilitate and lead celebrations.
An "Aussie-born" Citizenship Ceremony could be developed in each electorate, conducted at least annually, for all those young Australians who turn 18. Alternatively such ceremonies could be family or local community based ones.
Obviously the demographics would affect how many and how often larger ceremonies could be held. Representatives from different schools could be involved in the planning and delivery of these ceremonies, but an important component of such ceremonies would be that they would be held in civic centres or venues that reinforce the diversity of the community into which young adults will now be entering.
Whilst some celebrants have conducted "Coming of Age" Ceremonies, they are still rare, and thus their infancy.
One aspect of such a ceremony could be the presentation of a Certificate of Adulthood or Certificate of Australian Citizenship.
Some Coming of Age certificates and Adulthood certificates have been develop, but the latter certificate would have more credibility if it was endorsed by the Australian Government.
For example: Coming of Age Certificate
http://www.aTCN.com.au/images/enews/coa.htm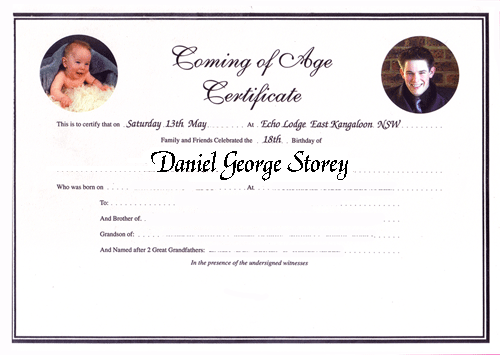 For Example: Coming of Adulthood / Australian Citizenship Certificate
http://www.aTCN.com.au/images/enews/cah.htm
NB. Text in Appendix 1 below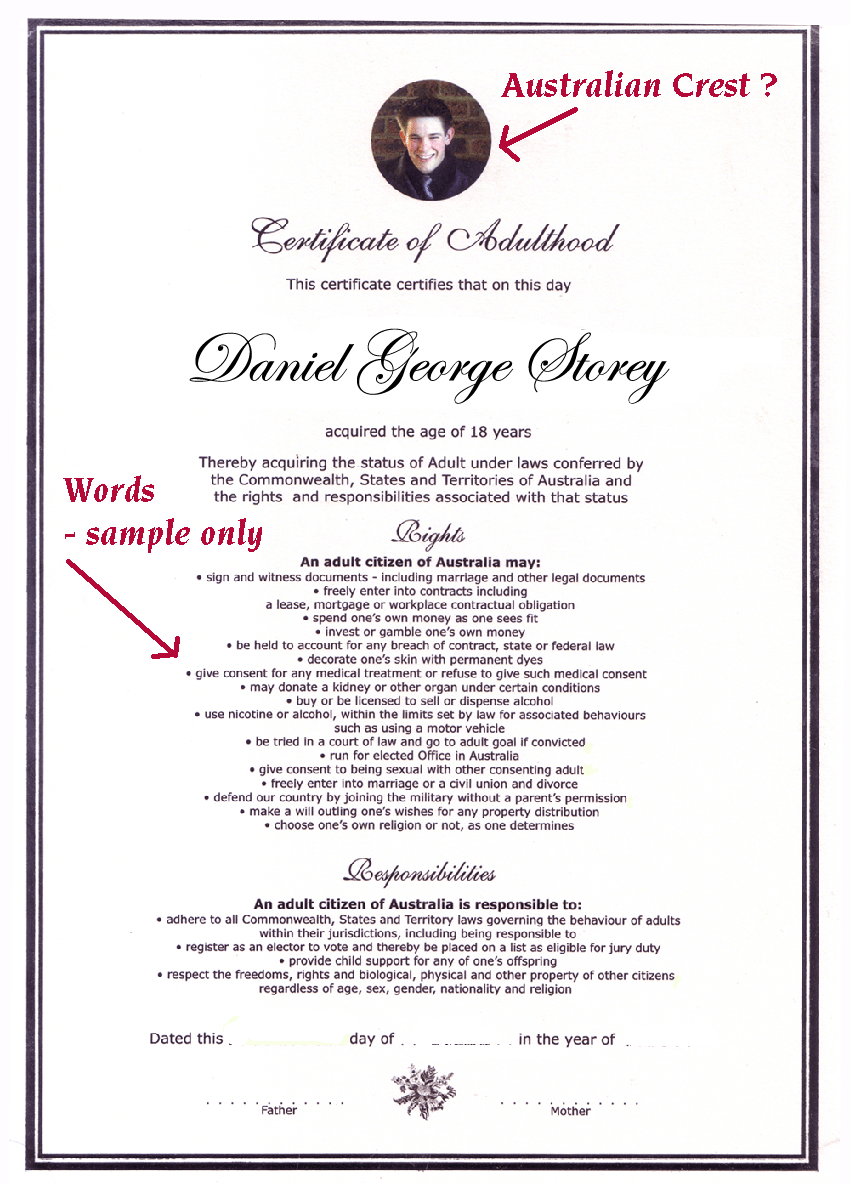 Competitions could be held within electoral areas for young people and adults to come up with designs for the borders of such certificates, or perhaps to individualise the Certificate Holders that they could be placed within. Thus the more that our community celebrations can be enhanced with meaningful words and acts, and participation of community leaders and others, then the stronger the message about how to celebrate responsibly and treat others respectfully.
The culmination of other human rights programs could be a "Citizenship Ceremony" for every Australian turning 18 years of age. Such ceremonies could be hosted and coordinated by the civil celebrants in that electorate, working in cooperation with their local federal and state MPs.
Specific Recommendations:
That the Federal Government
address this discrimination as relates to citizenship
produce Australian Citizenships certificates to be presented wherever possible in the context of a family or community based ceremony
expand the role of the Civil Celebrant to empower civil celebrants to be better informed about civil rights issues and include duties, such that rites of passage for Adulthood/ Full Citizenship, can be offered at a family level and at a community level
encourage a collaboration between municipal and federal government bodies to hold larger ceremonies for all 18 year olds 'Coming of Adulthood" status, as is currently done for Australian Citizenship ceremonies
2. The review of components of the existing Commonwealth Marriage Celebrant program to incorporate human rights principles and better liaison with other activities of the Attorney General's Department.
Revise Happily Ever After brochure
Initiate Government Expectation on Marriage Statement
Background:
Human rights abuses in relation to women and children (and some men) are often found within the context of domestic living arrangements. More people suffer physical, sexual, emotional and other abuse from people they know, rather than strangers.
Marriage is one such arrangement, as are civil unions (whether formalised or not) such as defacto relationships, same sex couples, carer-caree arrangements etc.
Therefore reviewing the civil marriage celebrant program from this a human rights perspective, and refining current tools, could enhance human rights awareness.
Civil marriage celebrants are responsible for providing information to couples on relationship education services.
Religious celebrants have a perceived (by the couple) right to discuss a couple's relationship at depth. Civil celebrants do not. Not that this submission aims to do that.
Rather that aims to empower the celebrant to discuss relationship education at more depth, and provide more information about successful relationship strategies.
Therefore a revision of the "Happily Ever After Brochure and a new document that raised more specific issues and that, like a Statutory Declaration, required signatures by the parties, would empower the celebrant to read and explain the document about to be signed, and encourage more attention to be paid to the information by the parties, if this were a requirement.
For example: A Government Expectation of Marriage document:
Text - Appendix 2
below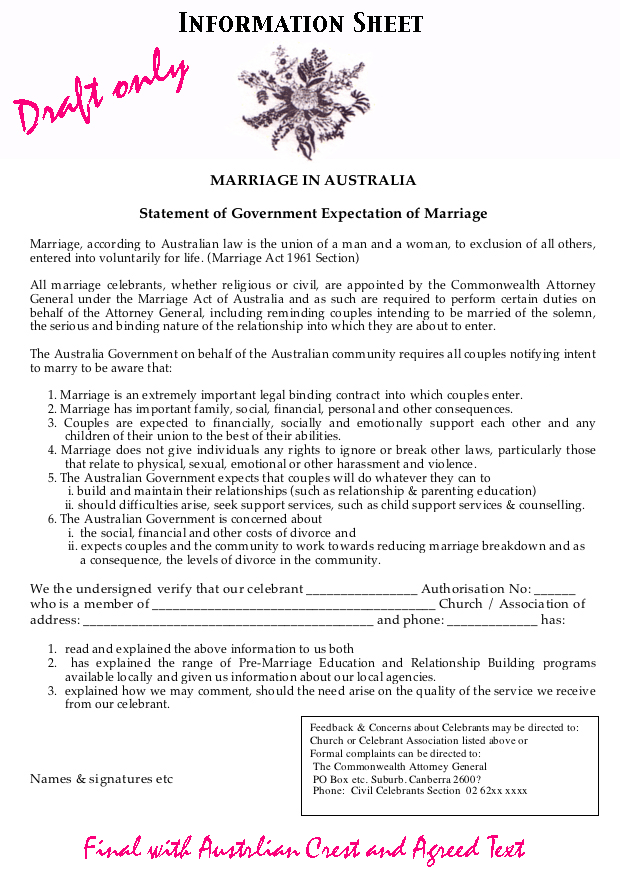 Note:
On carbonised pads, for example, so all parties could retain copies.

Discussion
Requiring couples to sign a document, similar to their Notice of Intended Marriage (Form 13) or their Marriage Declaration (Form 14), could serve several purposes. Not only would it alert some less informed or empowered individuals of their rights, it would also grant the celebrant the opportunity to discuss relationship education services with more authority.
Coupled with better training, via specific units to be incorporated in civil celebrant training, and a broader role in HR Community Education and Adulthood Status ceremonies, civil celebrant would be better skilled to discuss these issues and be more empowered to do so, by having this additional Government rmandate.
There also would be a role for celebrants, with the support of their celebrant associations, to develop a range of information strategies, such as information sessions for engaged couples, articles in local newspapers and magazine that could assist in raising public awareness of these issues.
3. The expansion of the role of 'civil' marriage celebrant to incorporate other duties of as a HR community educator/ "civics ambassador" type would serve to promote and support courteous and respectful attitudes and behaviour at all stages of a citizen's life.

Background
:
Education is a process involving many methodologies – not just schools based class-room style education.
Community educators that see their role at its broadest, are able to utilize a broad range of media ( internet local press, radio, television, magazines, talks at community groups (ceremony), books, pamphlets, videos) to communicate.
The role of independent civil marriage celebrant in Australia has evolved into the role of a "civil celebrant for all occasions" This is evidenced by the upgrading of commonwealth Marriage Celebrant appointment requirements from a single VET unit to the full 13 unit Certificate IV in Celebrancy from 3/2/2010
Civil Celebrants are developing and leading civil ceremonies for a whole range of rites of passage.
The independent civil celebrant in a democratic society, with an enhanced role and training, has a unique opportunity to:
inspire individuals, couples and families to build more harmonious supportive relationships
provide a framework through which individuals, couples and families can be supported during times of major changes in their lives
acknowledge times and roles past, articulating achievements, in learning from mistakes and moving on from failures and successes
provide a vision of future roles and relationships, to encourage and support change for optimum health of all concerned
inform and educate on issues related to marriage, family and community life, loss and grief, managing change, "civilised" behaviour in a modern day context, human/citizens rights and responsibilities.
There are opportunities for inclusion of statements that promote and support respectful caring relationships, appropriate to the context and the life stage of the people for whom the ceremony has been designed and for their guests.
As the poet, author and journalist Kerry Cue states "The right words at the right time can save lives"
Discussion:
Given the increasing secular nature of our Australia community, once people leave schools the person who is most likely to be chosen to "celebrate" their major rites of passage are civil celebrants.
This evolving civil celebrant role has many similarities with the role played by religious celebrants in community life, and is one that could be enhanced by participation in other aspects of civil life, such as coming of age, citizenship ceremonies, ceremonies for Australia day, ANZAC day, and other ceremonies of civil importance, and in participating in programs aimed at enhancing civil behaviours in communities.
Those similarities are, that much of the intent of the religious celebrants work is to support human beings in finding the "right" relationship with themselves, with others, with their community and their world, including their "God" however that is defined by the specific religion.
Therefore by expanding the civil marriage celebrant role to be involved in Coming of Age/ Adulthood ceremonies the civil celebrant's role work naturally evolve to include HR community education work within their communities.
4. Review of the commonwealth marriage celebrant programs appointment and review systems incorporate the boarder role of Civil Educator-Celebrant.
Background:
Origins of the Civil Marriage Celebrant Program were based on a human rights principle.
ie in providing a secular alternative to a religious ceremony for those Australians who had no religious faith.
The original appointment system was gender balanced and needs based per government electorate, the celebrant role viewed as a community service, and recommended by a government set fee.
There are a number of reasons why the Civil Celebrant Program would be a highly suitable program to utilise to assist in promoting human right in Australia
The Civil Marriage Celebrant Program is currently administered by the Commonwealth Attorney General
This training package sits within the Community Services and Health section of the national Vocational Education and Training VET scheme, where there are already training units in community information and education strategies. Thus units on Human Rights and their applicability to citizenship, marriage and other life roles could be developed and delivered within that structure
The Attorney General has a number of related responsibilities such as Family law, that if integrated better with the Civil Marriage Celebrant program would form the basis of a more comprehensive Civil Celebrant Program which would incorporate a "Coming of Adulthood/ Full Australian Citizen" rite of passage.
For example the Attorney General just launched an It's Your Right information package to be made available for new citizens studying English.
The Coalition of Celebrant Associations, a newly formed peak body, that the Attorney General has established to assist in the development of the Commonwealth Marriage Celebrant program, has 14 member associations with state or nation-wide specific focus, marriage specific or all ceremonies focus etc and so have a broader interest and experience than just marriage.

Furthermore, commonwealth appointed marriage celebrants already perform duties requiring the same skills as the tasks that would be required in the recommendations 1 to 3 above.
Discussion

The components of a Revised appointment and maintenance program for Civil Educator- Celebrants could include
establishing essential training and fit and proper person guidelines for appointment. Such guidelines to include prior work as a celebrant.
appointing Civil Celebrants upon recommendations from Electoral Celebrant Advisory Committees
Re-establishing a clear division between appointments as either civil appointments or non-aligned religious appointments ie no longer appointing celebrants as both civil and religious celebrants.thus the applicant thus would be required to affirm to which authority where their primary loyalty lay.
A "grandfather" clause for all existing marriage celebrants appointees. ie all existing Civil Marriage Celebrants to retain their appointments for their current roles, but be granted the opportunity to upgrade to Civil Educator Celebrants.
A moratorium on all appointments whilst the program is revised. Then all new appointments made under the new Civil Celebrant Program. NB This would still allow people to become celebrants for all other ceremonies, other than weddings. Rather encourage people to be experienced in delivering ceremonies before being appointed to conduct weddings.
Civil celebrants being involved in schools and community based programs aimed at promoting good-will, courtesy and respect for all human beings.
The recommendations for the level of community need, and the specific personnel for appointment of Civil Eductor Celebrant, could be made by an Advisory Committee established in each Australian Federal Electorate for that purpose.
Civil celebrants being involved in a Citizenship Ceremony program ie the regular holding of ceremonies for all Australian born people who turn 18 years, and for all overseas born people being granted Australian citizenship rights In a similar way to the way the Marriage Act requires some minimal requirements to be met, guidelines for such ceremonies could be formulated by the AGs. The specific components of the ceremony would left for local communities to develop in consultation with the Civics Ambassador/Civil Celebrant Advisory Committee, local celebrants and representatives of local communities.
The role of Celebrant Associations or networks of associations would be to advise the AG on celebrancy related issues such as celebrant training, OPD, current implementation and any future changes to the Marriage Act and Regulations
Conclusion:
This proposal may seem ambitious and rather short of detail. It is not. It must be remembered that the current availability of civil ceremonies, not just for weddings, has developed in less than 40 years.
This is a remarkably short period of time in terms of social change for a program, based on human rights, that required minimal support by government.
It is a tribute to the knowledge, expertise and humanity of a large number of Australian celebrants that our society has ceremonies where all citizens regardless of religion, race, gender, age, ability etc can come together as one group and be treated with equal dignity and respect by the celebrant.