Australian Citizenship Day is celebrated annually on 17 September. This date was chosen because it is the anniversary of the renaming of the Nationality and Citizenship Act 1948 to the Australian Citizenship Act 1948.

In 2001, Australian Citizenship Day was launched as a result of recommendations by the Australian Citizenship Council to increase community awareness of Australian citizenship. Australian Citizenship Day now provides a main point for citizenship-related activities and celebrations.

The Commonwealth Department of Immigration and Border Protection is responsible for promoting Australian Citizenship Day and the use of Citizenship Affirmation ceremonies to communities, community groups and schools. Its website www.immi.gov.au contains ideas and resources for Citizenship Affirmation ceremonies.

Here is some information from the Commonwealth Department of Immigration and Border Protection website:
Australian Citizenship Day is a special day to reflect on and celebrate being an Australian citizen which is more than a legal status. It is our common bond that represents our shared democratic beliefs and gives us a sense of belonging and pride in our achievements as a nation.

All Australians are encouraged to value their Australian citizenship and the contributions that citizens make in shaping the nation.

Active citizens strengthen Australia by working to improve their local community. Australian Citizenship Day is a day to recognise the contributions of inspiring citizens in our community.
One reason for their growing popularity is that, unlike migrants who have chosen citizenship, people born in Australia may never have had the opportunity to take part in a ceremony that shows their pride in being Australian.
Citizenship Ceremonies
These are very special events as they not only fulfil requirements under Australian citizenship law, but they also provide an important opportunity to officially welcome new citizens as full members of the Australian community.

An Australian citizenship 'Affirmation Ceremony' often follows a citizenship ceremony, which gives everyone present an opportunity to publicly affirm their loyalty to Australia.

Then the final step in the journey to become an Australian citizen for most people, is to make the Australian Citizenship Pledge.
From this time forward

I pledge my loyalty to Australia and its people,

whose democratic beliefs I share,

whose rights and liberties I respect, and

whose laws I will uphold and obey.
Citizenship ceremonies have both personal and legal dimensions. Citizenship brings with it significant rights and responsibilities, including the right to vote, stand for public office, and travel on an Australian passport.

In keeping with other Commonwealth official occasions, the following national symbols must be present in a citizenship ceremony.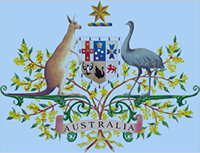 Commonwealth Coat of Arms
Image Source: www.border.gov.au

The Australian National Flag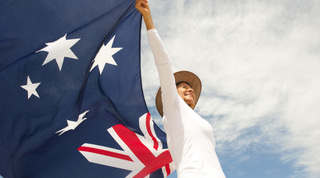 and
the Head of the Commonwealth Government.
Aboriginal and Torres Strait Islander flags may be displayed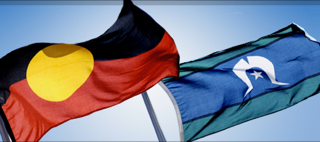 Australian National Anthem must be played at the end of the ceremony

These are some descriptions of how some new Australian citizens were feeling after their citizenship ceremony:
'overwhelming pride'
'accepted'
'like I belong'
'this is officially now my home'
They could have just been given a piece of paper stating that they were now citizens, but the ceremony is a public declaration from Australia to each of them and them to their new country of acceptance.

If you would like to add ceremony to an important event in your life, click FIND on our main menu.