"Australians recognise 25 April as a day of national remembrance, which takes two forms. Commemorative services are held across the nation at dawn – the time of the original landing on Gallipoli, while later in the day, former servicemen and servicewomen meet to take part in marches through the country's major cities and in many smaller centres.

Commemorative ceremonies are more formal, and are held at war memorials around the country. In these ways, Anzac Day is a time at which Australians reflect on the many different meanings of war." Australian War Memorial.
Role of Civil Celebrants
When planning an ANZAC service, remember that independent civil celebrants can be contacted to offer their services for such an important event. Civil Celebrants in Australia may have their own personal religious or sprirtual belief systems. However their role is to speak and act in an inclusive way so that all present can share the values and support that coming together in ceremony provides.
The National Ceremony
"At the Australian War Memorial the National Ceremony commences at 10.15 am in the presence of people such as the prime minister and the governor-general.

A typical Anzac Day National Ceremony may include the following features:
an introduction
a hymn
a prayer
an address
the laying of wreaths
recitation
the Last Post
a period of silence
the playing of either the Rouse or the Reveille
and the National Anthem.
After the Memorial's ceremony families often place red poppies on the Tomb of the Unknown Australian Soldier or beside the names of relatives on the Memorial's Roll of Honour, as they do after
Remembrance Day
services."
Reference: Australian War Memorial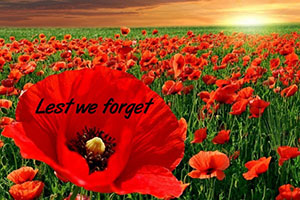 Lest We Forget:
Our previous generations paid for our freedom with their war service, their wounded-ness and their lives.
Many did so to secure peace for their children, grandchildren and future generations.
Others give service in peace time to keep that peace. Some of these people also pay the ultimate price with their life's blood.
War is the last choice and many believe that war should never be used for aggression, only protection of our peoples and our values, rights and responsibilities - freedom, democracy, equality, and 'mateship'/ loyal friendship.
Anzac means different things to different people:
Anzac Day means different things to different people. . Some have actually served in wartime, while others have a close family member who has. In this recording, five people of varying ages, share their thoughts and feelings about Anzac Day.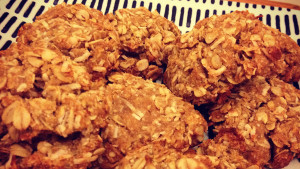 MP Rowan Ramsey has put some useful information on symbols on this ANZAC Day Brochure which may be download

The Dawn Service
Poppies
The ANZAC Biscuit (click the image for a healthy recipe)
The Ode
The Last Post
Minutes Silence
Reveille and Rouse
'For The Fallen' poem
This lesson plan for students identifies some other aspects of ANZAC Symbols and traditions
Slouch hat
Rosemary
Red cross emblem
Wreath
Simpson and his Donkey
Australian or New Zealand flag
Medals
Contact TCN if you would like more information about TCN celebrants