17th September each year is Australia's Citizenship Day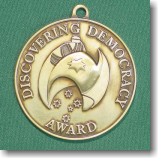 Australia, unlike many other countries, does not have a rite of passage for its children to be welcomed into adulthood.
Ceremony is the traditional way cultures impart their values and expectations of their members.

Citizenship ceremonies in Australia currently do this for non-Australian born people - young and old - but not those who are born as citizens here on Australian soil.
TCN Inc proposes that all 18 year olds and their families have the opportunity of the equivalent of an "Australian Citizenship" or "Coming of Adulthood" ceremony where the rights and responsibilities of those attaining full citizenship will be highlighted and given appropriate solemnity.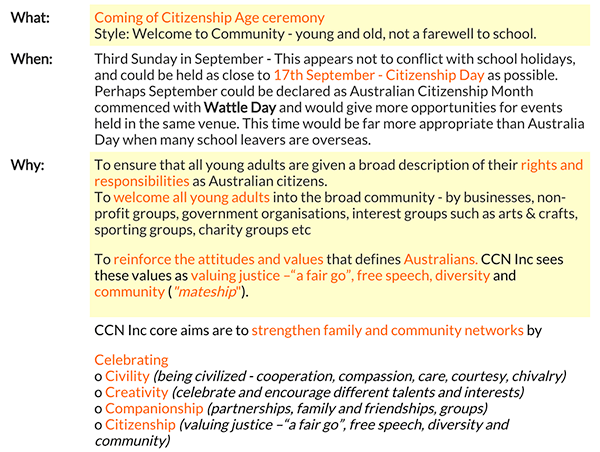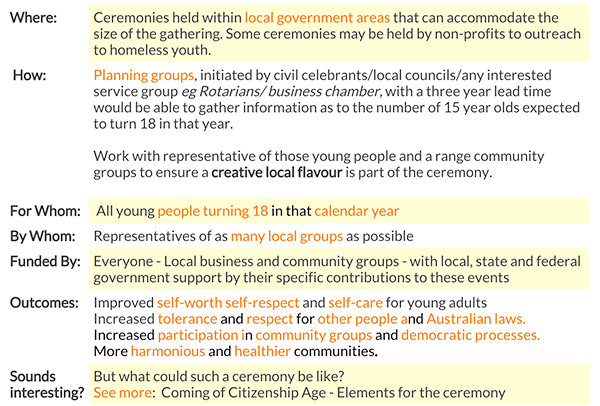 Australia born people have no such equivalent ceremony - most likely because Australia did not have control of its own Citizenship by law until 17th September 1948.
The closest ceremony for this purpose is Australia has been Australia Day - which is divisive for our first nation peoples and the 21st Birthday or Coming of Age ceremony, where the rights of adulthood were granted ie "The Key to the Door". This literally, once a upon a time, was when the young person was presented with their own key to the family home :-)
However, with the lowering of the drinking age and voting age during the Vietnam War in the 1960, there is confusion in our culture as to when to celebrate this rite of passage into adulthood. Consequently our country is not giving its young people an appropriate rite of passage, and "schoolies weeks" have resulted defacto from this need. Increased interest in ANZAC day ceremonies by young people already demonstrates a ceremonial need in young people searching for a sense of their own national identity.
All peoples need appropriate boundaries, ie Responsibilities as well as freedoms ie Rights, and to be encouraged to uphold both with positive affirmation and rewards (eg Australia Day honours etc. media reports about bravery etc).

Laws attempt to set the lower limits social behaviour by defining what is not acceptable, but hopefully laws are not the only motivator for people.
Most people as social creatures want to be held in high regard by their peers. Not knowing what will gain respect and high status - what their responsibilities are - can contribute to a sense of failure and alienation.
We are not "instant" adults.

It takes a life-time to develop maturity and wisdom - from trial and error - from learning from one's elders - from their leadership - from passing on the torch to the next generation.
Commencing that journey with a community based cermonial acknowledgment of one's adult status is an important first step we can give our younger generations as well as reinforcing those goals through their family networks.
For more information: contact Rona Goold Media Spokesperson TCN Inc
An analysis of the school holidays - especially for school leavers - and trial HSC exams - shows the appropriateness of this date.
CITIZENSHIP DAY = SEPT 17
SCHOOL holidays for 2015

ACT SEPT 26 - OCT 11 LAST WEEK SEPT.
NSW SEPT 22 - OCT 6 SECOND LAST SEPT
NT SEPT 26 - OCT 4 LAST WEEK SEPT
QLD SEPT 19 - OCT 5 SECOND LAST SEPT
SA SEPT 26 - OCT 11 LAST WEEK SEPT.
VIC SEPT 19 - OCT 5 SECOND LAST SEPT
WA SEPT 26 - OCT 11 LAST WEEK SEPT
TAS ? SEPT 26 - OCT 11? LAST WEEK SEPT