Reception Speech


CAROLINE

Thank you for sharing today with us
People have travelled from Perth, Hobart, Adelaide, Adaminaby, Canberra, Cowra, Cootamundra, Sydney.

Pretty well everyone accepted our invitations.

That makes us feel very honoured and humbled.

You have all embraced our concept of the Wedding Orchard with gusto.

We have apparently enough trees to cover the eastern Seaboard and beyond.

For Lynne and I it is a unique way to plant something that continues, reminds us of everyone who is dear to us and continues to grow with us in our farm life.

The plants will stay with us in pots until we buy our farm down here, at which time the orchard will be planted.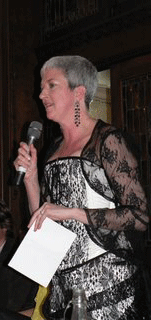 My sister could not be here today – recently moved to New Zealand – and I thank Daniel – eldest nephew – for making the trek to represent the family. Fiona is a naïve artist and has painted us a large painting of the Wedding Orchard which is fabulous.

Haven't seen it yet, but I know her style and it will be magnificent.
Lynne and I made the decision to go down this somewhat formal path for a host of reasons and I would like to share those with you.
For gay people in this country and all other countries where our right to have our partnerships formally recognised is not accepted, we have mixed responses to the question of gay marriage as a whole. Some see it as an unnecessary adoption of an essentially heterosexual tradition. Others see it as an issue of inequality that should be righted. For the most part I see these arguments as clouding the real issue which is that as human beings who live within the same social context as everyone else, our gay relationships should be seen as something worth celebrating within that context.
Growing up in the 60s and 70s, the issue of being gay was hidden from view. My friends talked of walking down the aisle with the man of their dreams – I didn't, but didn't know why. For most of us growing up in that era, I suspect there is an element of denial when it comes to how our attitudes to marriage evolved. It didn't apply to me so part of me hardened towards the institution as a whole. I did not crave it, did not dream of it, did not support the extent to which it underpinned the social fabric of our society.
As the laws forbidding our way of life slowly crumble away we seem to face new battles about the extent to which our lives should be celebrated.
Australian laws it seems are lagging much of the rest of the world, but most of our society is long past thinking that gay marriage should even still be an issue. We hope that the Rudd Government will put an end to much of this legislative inequality in the near future.
But for now, Lynne and I made a considered decision to pursue our rights under the laws of a different jurisdiction. As a British citizen I have that right to avail myself of their laws. Her majesty embraced civil union reforms as long overdue and something in that progressiveness appealed to us. There is also something appealingly absurd about having our union formally recognised by the laws of one country and then to walk out side the British Consulate in Sydney and have that union mean nothing under Australian law.
Such is the state of flux that surrounds being gay in these times.
Do Lynne and I need to formalise our commitment to each other?
Probably not.

Will it make a difference to how we view ourselves?
Maybe.

Will these 2 year olds grow up knowing that our union is legitimate somewhere?
Absolutely.
They don't see an issue and I hope they never will.
We are both blessed with family and friends who want the best for us and who are genuinely excited that we can do this and have taken this step.
We do it for us because we want to and because the Queen of England says we can. I'll drink to that.
And to my wife, I say this: I can't think of someone I would rather be with or somewhere else I'd rather be.

You have shown me sides of myself I didn't know existed.
You have extended my family with yours and to your credit, embraced a very different view of what is possible in life.
Lyn, I love you and thank you for marrying me.
Ceremony Copyright:
Caroline Marsh 16/08/2008
For more information:
contact us