Civil union and celebration of union ceremony

Celebration of Union: Caroline and Lynne were joined in a legal partnership under British civil law the week prior to the ceremony of celebration of their civil union. This was possible in Australia as Caroline held British citizenship.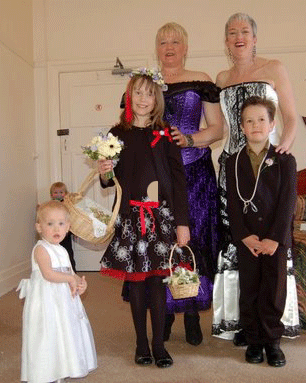 Extracts From Celebration of Civil Union: Caroline and Lynne

Celebrant Rona Goold

Caroline and Lynne enter escorted by their brothers K & J.
Welcome

You are warmly welcomed here today to celebrate with Lynne and Caroline as they declare their love for one another.

As a symbol of their love, and their commitment to each another, Caroline and Lynne went to the British Consulate in Sydney on the x month year and entered into a Civil Union that is legally recognized now in the United Kingdom.
Whilst not yet recognized as marriage by Australian law, Lynne and Caroline, view this step with the same respect, seriousness and commitment as marriage.

Today they wish to affirm this life-long commitment to one another and celebrate their union and their love in the presence of the people they care about the most, so they thank you all for joining them on this special day.

In doing so Caroline and Lynne remember family and friends who have passed on but who they know are present in their minds and hearts: F & E M ; A & B; B ; G & D N.
Introduction

>>>Snip >>>

As a celebrant, I see marriage as the point where two people who have come from different directions and found their two paths traveling close together, make the conscious decision to merge these into one and to travel together in life.

This does not mean an end one's individual interests. Rather, it means you make a commitment today to stay on that path together.

And I know Lynne and Caroline: you both see this ceremony and the vows you are about to take as this, as a firm grounding for your future relationship as you face the various challenges life brings your way.

Any promise or commitment we make is important. However when we vow those promises publicly we give them and those who receive them more power, honour and respect.

>>>Snip >>>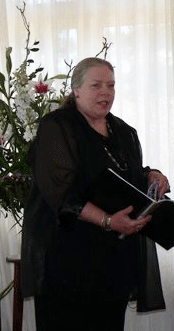 Legalities

Many people understand our road to becoming more civilised has many twists and turns. Much gets lost in the mists of time.

For example, in western Christian tradition, it was not until about one thousand years ago that commoners were married, and a century later before priests were present at those ceremonies. Previously marriage was primarily reserved for those with wealth. This common law history is reflected in Australian Law.

So whilst I am required by my Commonwealth appointment to ensure that we all understand that the ceremony is not a marriage as defined by Australian law, I would like to also ensure that more people understand that ministers, priests and civil celebrants do not marry couples.

Couples are married by the vows or promises they make to live in a life long relationship, and their commitment to honour those promises as best they are able.

That life-long commitment between a man and a woman, called marriage, is witnessed then recorded on the behalf of the federal government.

To me this arrangement also reflects psychological or spiritual truths.
That love bonds us to one another, not law.


That we need to be willing to submit to the call of love in our lives and to the power of our inner truths and needs, provided they do not harm or wound the life force we have all received as a gift


That our inner and outer worlds are powerfully inter-related, so that making a public declaration of an inner intent serves to strengthen and empower our spirits to live that more completely on every level.
To me, that is why the commitment Caroline and Lynne have made and affirm today, being witnessed by your love and support for them, is so very important. This public declaration grants them wholeness and freedom to live their truth.

We traditionally symbolise wholeness with a circle or a square. We symbolise eternity as an unending loop. Precious metals that last unchanged not only also symbolise infinity, they symbolise the pricelessness or worth of that wholeness.

Rings exchanged symbolise all those aspects. Today Lynne and Caroline also wish their rings to symbolise their love for their family and friends, and the love and care you have for them which upholds them both as individuals and as a couple.

I am going to ask that we circulate their rings, so that may all be held by each of us – to grant them our warmth and our best wishes for them now and for their future.

(Y & A to hand rings to each side of the room and make sure everyone, row by row gets to hold the ring to make their wish)

Union Of Families – M & H and B & B

Caroline and Lynne see their joining together in a life long commitment as something that also joins their families. As a symbol of this unity, the families are invited now to accept their union into one family.

Who speaks for the M /H families? Families say "We do"

Who speaks for the B /B families? Families say "We do"

Does everyone here now accept their union into this circle of family and friendship? "We do"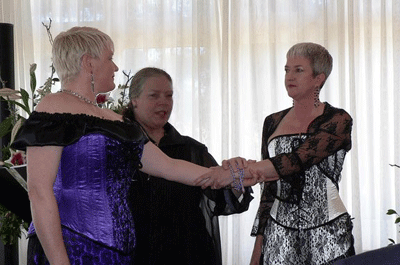 Tying the Knot Ceremony

>>>Snip >>>

Exchange Of Vows:

Thank you. So now, before you seal your love by affirming your vows, I remind you to be present to this moment and to be present to the love between you and around you.

L: I Lynne take you Caroline as my partner in life >>>Snip >>>

C: I Caroline take you Lynne as my partner in life >>>Snip >>>
Ring Exchange

May we have the rings please ?
(Y & A to collect the rings and give to Rona)

On Lynne and Caroline's behalf, I thank you all for being here for them. For symbolising that support with your touch.

Caroline and Lynne: Know this.

The ring you exchange today has been touched by your love and by all those dear to you today. Wherever you are, at any time of night or day, or sadness or joy, you only need to hold your ring to be reminded that you are not alone, that you are loved and you are supported by this love of love and friendship here today.

These rings symbolize the cycles of life; may they remind you both of the simplicity that is life, a state of constant change and development.

Poem Reading

By Jennifer
Declaration Of Union:

Ladies and Gentlemen: Caroline and Lynne, as your family and friends, we are honoured to have witnessed your vows, your giving and receiving these rings, and your commitment to love and care for each other for the rest of your lives.

You may now seal your union, and as you know it in your hearts as your marriage, with a sign of your affection.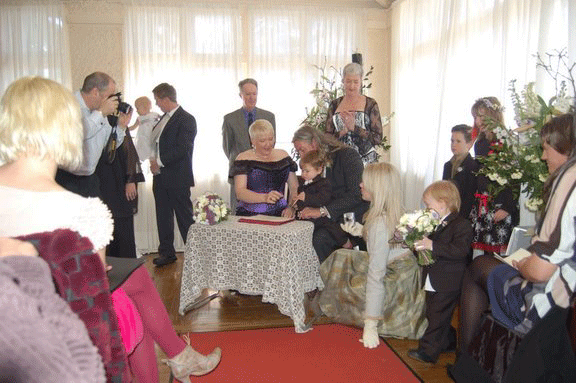 Signing of the Register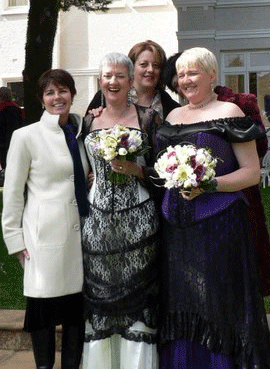 Singing by A

Presentation of the Certificate

Reading

By M - The Prophet by Kahlil Gibran

Conclusion

In the traditional way we will be now upstanding whilst Lynne and Caroline take the first stroll together as a couple joined both by British law in their Civil Union and by the power of their love as affirmed by their vows and our celebration with them today.

Family and friends, I now present to you our newly joined life partners: Lynne and Caroline.