Ceremony Copyright:

Jason Tuazon-McCheyne & John Terry Moore 30/08/2008

Reproduced with permission

RUSSELL BAUM & JOHN MOORE

Good afternoon ladies and gentlemen, and welcome to the celebration of Russell and John's 25 years of partnership.

My name is Jason Tuazon-McCheyne; I'm here today with my partner Adrian and our two year old son, Ruben, at Russell and John's specific request.
Russell and John see our family as the new generation, and we see them as being part of a brave group of people who have paved the way for people like ourselves, allowing us to reach our full potential and make our contribution to the community.
Russell and John however, insist that today is not so much about them; because they certainly don't consider themselves to be perfect, or even unique.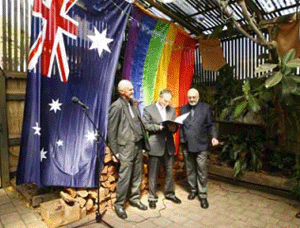 They point to other couples such as
Tony and Walter, John and John, Don and Bill,
and many others who have spent much of their adult lives together; ----- they salute them and other same sex couples in the community who have quietly and calmly participated in Australian life and made a great contribution in the process. But they also point out, that in years gone by, negative public opinion has caused many same sex couples to be discreet for their own protection. That has been a great shame, because in the same period, young people have desperately needed role modelling in this very important segment of our society.

So ladies and gentlemen, Russell and John want to use this celebration today to remind young people that it is possible for same sex attracted people to have loving, meaningful and long term partnerships in this brave new world!!
That at last the timing is right to live the lifestyle they have been born with.
Russell and John
hasten to add that they and other same sex attracted people aren't here on a takeover mission; they see themselves proudly as part of the greater Australian society and they feel they are most privileged to live in the best country in the world!! They argue that ghettos, such as the Castro in San Francisco whilst they are colourful, are very inward looking and don't engage with the general community. Consequently, they are not a harmonious solution!

Russell and John believe that integration, not separation is the solution to a strong and cohesive Australian society which draws on the colour and the culture of same sex people, and diversity in general.
Russell and John
also ask you to look around the room today and note the number of ladies in attendance. A hundred years ago, women could get married but they couldn't vote!! Gay people could vote but they couldn't get married!! And the struggle is still not over!! Obviously, the emancipation of both groups have been linked, and they continue to nurture each other in mutual support. No wonder the girls and us consider ourselves family!!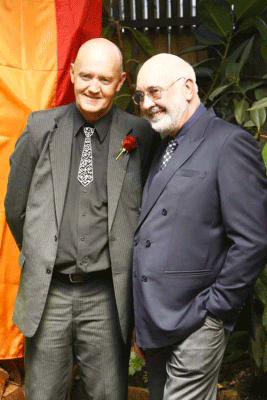 Ladies and Gentlemen, as you know, there is a serious side to today's function.
As a Funeral Celebrant,
John
has buried young people who have taken their own lives because of homophobic attitudes and actions in the community. By the time they get to
John
of course, it is simply too late. Sadly, Coroner's Offices everywhere confirm that a significant percentage of suicides under 30 years of age are directly related to sexual orientation issues.

Russell and John sense that the timing has never been better to drive the message home to the greater community that homophobic attitudes and behaviour are simply not acceptable in our society and that we should never underestimate the harm that it causes young people.
What is encouraging is that in the last two years, there has been a remarkable change in attitudes from young people themselves. In today's world they are facing less pressure from their own peer group, but homophobia still exists in many of their parent's generation. Almost all kids, of all sexualities and backgrounds understand that same sex attracted people are born to be so; not made that way by any other influence. Those kids are angry that some of their parent's generation still reject these issues out of hand, creating unnecessary and painful family situations, sometimes driving young people away from the family structure permanently, and into harm's way as a consequence. As from time immemorial, the only choice young people have is whether to live the lifestyle they have been born with, or to live a life of denial and double standards, hiding their true selves away.
Ladies and Gentlemen, your attendance here today is warmly acknowledged by Russell and John. You are here because, in your own way, you have each made a contribution to their partnership and their life together that is deeply appreciated.
But the common bond that ties you all together, and which you all share is that you are all great communicators!!! So we now ask that you continue to make a further contribution --- not just to John and Russell's partnership, but to the lives of same sex attracted people around Australia. To help remove the stigma and the danger caused by homophobia in the community by becoming their ambassadors in the following manner:
Firstly, please take your personal copy of today's ceremony which is available in press release format and circulate it as widely as possible.
Secondly, when you overhear a homophobic comment in conversation, however innocently made, please gently but firmly correct them and ask them to understand that a more caring and friendly environment for young same sex attracted people may actually save a life one day.
And finally, many of you belong to service, sporting and other community clubs, so please feel free to circulate this material amongst your fellow members.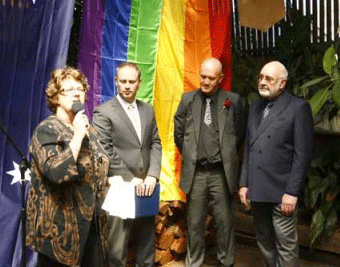 Obviously, parents are the prime target for the message we are trying to convey. Young same sex attracted people desperately need the reassurance, affirmation and support of their family group

Russell and John
acknowledge that the success of their partnership and the many others like them are due in no small part to the love and support of their families.
Let us say to all parents, and to the community at large, that if they reject the sexuality and emotional issues of their kids, then they face raising maladjusted, unhappy and unfulfilled kids at best, and potential suicides at worst. The time has come for commonsense; to put aside dogma and division, and just to love and protect these kids, regardless of their sexuality and lifestyle.
Music; and a pause ----- Orders of Ceremony to be handed out by staff
Sally Cant sings or recites to signify the change of tempo

CEREMONIAL INTRODUCTION
Ladies and Gentlemen
, today is a celebration of two men who are in every sense a couple and who have journeyed together for a quarter of a century. It was Sunday October 2nd 1983 when their paths first crossed and on the following Thursday
Russell
moved in with
John
!! One could say it was reasonably instant attraction!! And of course they have never looked back.
They met in an environment that is very different to today.
Whilst the outright antagonism of Australian society towards gays had lessened by the 1980's, it was still a most patronizing environment, where perhaps it was smart to have gay friends, but to give them equal rights as couples?? Most certainly not!!
Same sex couples continued to feel badly about themselves as a result, many never came out to their families because they feared rejection, and as a consequence their partnerships suffered.
To admit you were part of a same sex partnership or were even same sex attracted could still have a negative effect on one's career prospects, and consequently flow on to the quality of that couple's existence.
Regardless of anti-discrimination legislation.
It is a matter of record that
Russell and John
both refused to play that game, to deny their status, because they have always been proud of themselves as a couple. As a consequence of their honesty and openness, they have both had satisfying and fulfilling careers, whether they have been working in the corporate world or for themselves.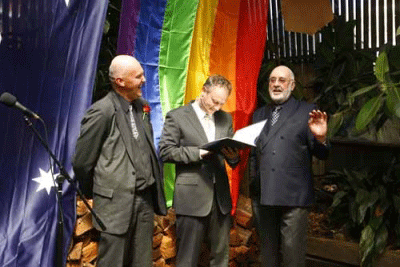 I sat down with John and Russell and I asked them what they loved about each other.

John said since the moment Russell came along he was aware of his unselfish nature; that everything he did was for the common good of their partnership. That Russell held their family structure together which helped him concentrate on business issues. That he is loyal (he gets that from his mum), he is a great participator and hard worker, and that they have always been on the same team together.

That Russell loves him just the way he is, and that he has an insane sense of humour!!
Russell said that he feels reassured because when he thinks of something, John already knows about it!! He says he loves their cuddles at night, how they can lay together and talk.
That they are great at communicating and they work together so well. That John also has an equally insane sense of humour!! And that he is a very kind person who thinks of others before himself.
But ladies and gentlemen, both of them, individually and collectively, confirmed my deepest suspicion --- that almost instantly, upon meeting each other, they had become each other's best friend!
And friendship, ladies and gentlemen, in case it had escaped your attention, is the greatest asset any couple can possess in a long term partnership!!
Russell and John
, it is what you have achieved, together, as a couple, since you decided to join your lives together, that is now so noticeable!!
Yours is a partnership that works, because you have worked hard at it.
You have taken an already strong partnership and you have improved on it! You have brought the best out in each other, working together, supporting each other, maximising the individual strengths you each bring to the partnership with a most unselfish attitude.
Because of that attitude, your partnership continues to have unlimited potential, and you should both be very proud of what you have achieved together.
Your expectation of today's ceremony is correct; you understand it is not a safety net, but a formalisation of what you already have, a wonderfully warm and affectionate partnership.
It is your loyalty to each other and your focus on your partnership that truly sets you apart.
We thank you for the pleasure you have given your family and friends as a loving couple, and a terrific partnership!
We salute you and we wish you every happiness for the future!

FAMILY TRANSITION CEREMONY
Family and friends, Russell and John want to formally thank both sides of their immediate family group; for their 100% support over the last 25 years.
Their immediate and complete endorsement of their partnership, has, they believe, been a significant factor in their success as a couple. The family group, in 1983, when
Russell and John
first met, were outspoken and very much ahead of their time because they spoke out publicly on a frequent basis and they have held the line ever since. The following ceremony honours their participation.
So ladies and gentlemen, using the symbolism of wine, we now celebrate the final transition (after 25 years!) of two individual people from their respective family group, into a new family group, which is theirs alone.
The formal blending together of two people into one life, one destiny. The smaller glasses represent Russell and John, and the large glass is the Cup of Life, their own family. We pour the two into one, and then we ask them to drink to their future together. It is an ancient Celtic custom to "drink from the common cup", meaning their joys will be doubled and their sorrows halved!
Celebrant's assistant approaches with a silver tray bearing three glasses
From two lives there is now one life.
From two people there is now one family, and one home.
(Celebrant offers glass to Russell first, then John)
Russell
, drink to your life together!
John
, drink to your life together!

EXPECTATIONS OF PARTNERSHIP
Now I, Jason Tuazon-McCheyne, a Civil Celebrant,
Call upon those present
To bear witness to the celebration of this partnership.
Before you, Russell, and you, John, make your vows to each other in my presence,
And in the presence of your family and closest friends,
I acknowledge publicly the loving nature of the partnership
Which you are about to formalise.
The promises which you plan to make, are to yourselves alone,
Formally excluding all others,
And are entered into with the desire, the hope, and the firm expectation
That your partnership will last for life.
THE ASKING
Formalisation of your partnership is entered into, therefore, believing the very purpose of our life is the pursuit of happiness, and understanding it is your partnership on which depends so much of your future contribution to our society. If then, you two are prepared now to confirm each other as life companions, please indicate the same by joining hands.
(They join hands, facing each other)


Do you, Russell, and you John, each pledge yourself to the other that you will continue to be a kind, faithful, affectionate, tender and true companion all the days of your life together?'
(on the count of three ONE TWO THREE)
Russell and John together: We do!!
THE VOWS
Celebrant:
John
, please repeat after me: I call upon those present to witness
That I
John,
take you,
Russell,
As my lifelong partner.
To continue travelling around the world
Until the money runs out.
I promise to care for you,
To honour our partnership,
And to always take the garbage out on Tuesdays,
For the rest of our lives together.

Celebrant:
Russell
, please repeat after me:
I call upon those present to witness
That I
Russell,
take you,
John,
As my lifelong partner.
To continue to cook for you,
And spend our money as quickly as possible.
I promise to care for you,
To honour our partnership,
And to always be outrageous,
With an air of mystery
For the rest of our lives together.

EXCHANGE OF GIFTS
Celebrant:
Ladies and Gentlemen, Russell and John have elected to exchange gifts to signify their union. May we have the gifts, please?
(The rings are placed in a silver tray, held by the Celebrant's assistant)
Thank you. Russell and John, these gifts are the symbol of your chosen status with each other. May they form a bond of love that allows you freedom of expression. May they represent all that is good in your lives, and may your lives be enriched as a result.
(Assistant now offers John the tray, he selects Russell's ring, and slides it on his finger)
Celebrant: John please repeat after me:
Russell, I give you this ring
A symbol of my love.
Let it always remind you
Of our past memories,
Our present happiness,
And our future together.
(Russell now places ring on John's finger)
Celebrant: Russell, please repeat after me;
John, I give you this ring
A symbol of my love.
Let it always remind you
Of our past memories,
Our present happiness,
And our future together.
DECLARATION
Ladies and Gentlemen,
today's ceremony has been yet another small step in a process that many nations around the world have already embraced. That same sex couples and families deserve to be treated equally as citizens and are entitled to the same legal and cultural protections that opposite sex couples take for granted.
The end result of this journey will be full equality and it will be of benefit to all in our community and we look forward to that day with vision and hope.
I congratulate
John and Russell
for having the courage to not only stand up and be counted in this important process, but also for their concern for the younger generations growing up in our midst. But today all of us have had the opportunity to participate in something special.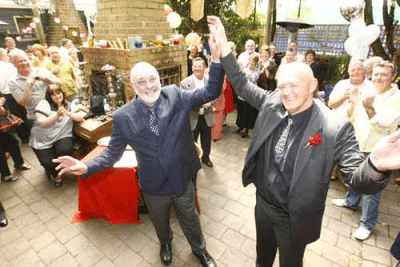 Thank you Russell and John for letting us share in your marriage today.

Your celebration of your love and your family.

It is an honour to be here with you.
I now pronounce you partners in life together.
Please celebrate with a kiss!
Congratulations John and Russell. Signing of the Certificate of Partnership. Presentation of John and Russell to crowd.

Ceremony Copyright: Jason Tuazon-McCheyne & John Terry Moore 30/08/2008

For more information, contact John and Russell:
This email address is being protected from spambots. You need JavaScript enabled to view it.