Your marriage vows are very important. Giving one's word is a powerful action to take.
Any promise or commitment we make is important. However when we vow those promises publicly we give them and those who receive them more power, honour and respect.
This is partly why there must be at least two witnesses in addition to the authorised celebrant.
Yes there are a couple of legal statements that a civil celebrant must ensure are said. But there is a lot of room to move!
Take your time to consider your vows.

Time spent giving thought and care to the promises you will make on your wedding day, making sure they are honest and meaningful, is one of the most valuable things you can do for your wedding ceremony and your future marriage.
Writing your own vows has increased in popularity for this reason.
It is not too hard to do.
Simply take time to think about what you consider is really important for your husband or wife or partner to be or do for you.
And conversely what you consider your responsibilities to your partner and your marriage or relationship.
Make a list of words or phrases.
Do this individually, then discuss with your partner.
Your celebrant may assist you in writing those for use in the ceremony, including the legal component, or have examples for you to choose from, which reflect your needs and values
Another suggestion for strengthening your marriage or union
A surprise 'words of affirmation*'
During the ceremony - before you take your vows - you could prepare a statement (or a list) of why you are choosing this particular person to promise to love for a lifetime. No one one is perfect, but everyone has qualities that can touch our hearts.
Why qualities does this person have that endear them to you?
These can be emailed separately (remember to delete from the sent folder if you email) and your celebrant can print these on a card for you so you do not need to stress about remembering them on the day.
The content of your vows or words of appreciation is what is important. Getting married is not a memory test, though it is important to remember you are married or committed to your loved one :-)
It is the very fact that your wedding day and the ceremony can be a very emotional time - quite understandably as it carries huge importance - that telling someone how and why you love then can be very powerful.
It is a time when most people feel vulnerable and have open hearts - so a great opportunity to pop some beautiful words of appreciation in there!
* An example
Joseph's words of appreciation

Lisa, since we met each other it has been pissing down continuously,
However
Not only have I learned to dance in the rain with you
but I have learnt to swim in the puddles.
U can now take your foot off my head
As I am here for you always


Lisa's words of appreciation

Joseph, there are many reasons why I want to marry you here are just a few

1. you are thoughtful and kind to Ella and I
2. You are funny and you have this great big loud laugh that only a woman who loves you could love ....
oh and your mother
3. You run your own race
4. you have these cute little routines and habits that annoy but wouldn't want you to change
5. you dance with me in the rain, soak with me in the sunshine
6. Most importantly, you get me!
Last but not least - gotta love that Scottish accent and love a bloke in a skirt (kidding a kilt)
You are awfully cute and you give great feet massages !!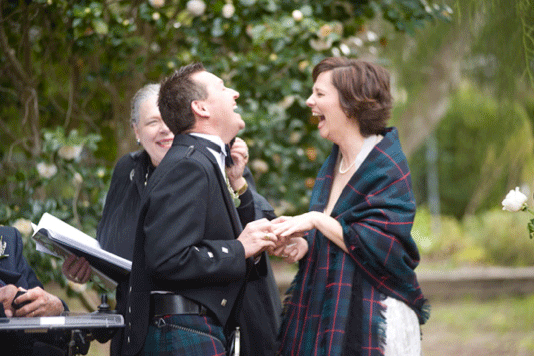 Photographer: Martin Bult.