Let's face facts!
Over 60% of marriage celebrants1 do 9 or less weddings per year. That is a gross income of about $7000 pa.

Nowhere near a part-time or full-time professional wage.

And in many cases, it actually costs celebrants more to do the work than they receive.
The 'wedding cake' is simply not large enough for all these celebrants to have a healthy slice each.
More advertising does not make the cake bigger!
So many marriage celebrants waste money on paid advertising on commercial wedding websites or commercial celebrant directories trying to get weddings that just are not there.
The Celebrants Network Inc as a non-profit association, puts the money paid for membership back into services to assist you to:
expand the range of celebratory services you offer and to


promote your celebrancy practice/business.

Membership includes your celebrant directory listing and information for the public on our website.
The Celebrants Network considers the best way for you to promote your services is through 'word-of-mouth' or direct contact with the people in your community who could use your services.
In other words - Networking and Community Outreach.
This may take more of your time than paid ads, but is much more likely have better results for you, if you are well prepared and have good resources.
Community Outreach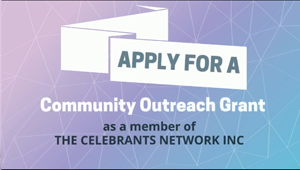 The Celebrants Network initiated its Community Outreach Grants Program for members to apply for grants worth up to $500 as well as one major grant worth up to $2000.
There are a large number of community events that civil celebrants could participate in under The Celebrants Network's umbrella.
The Celebrants Network has initiated its Day of Love for the 1st September each year.
Since 2016 The Celebrants Network has run this as a Facebook Project with Love quotes, ceremony credits, sharing stories of how love is important in our lives.
Members are encouraged to hold special activities on this day, contribute to our online Facebook presence and share our posts on their own social media pages.
The Celebrants Network members are also involved in activities for the Dying to Know Day project.
The Celebrants Network's insurance and non-profit status can mean lower project costs.
To support members efforts above, The Celebrants Network uses social media and other marketing tools.
Contact us if you'd like to know more.
Reference
1. Marriage celebrants program review survey results 2019 Question 3.