The Celebrants Network sells these pamplets for you to add a label with your contact details.
These are tools for members to use
for their individual clients, and/or
to support your community talks, networking with community organisations, expos and clients.
- click on images to enlarge
Celebrants do more than weddings and funerals
It's Time to plan your Final Farewell
Memorials: The New Funerals?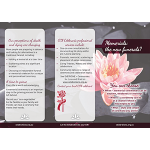 The Celebrants Network members only products - login to purchase!
Please contact us with any suggestions
PR Tools under review
Do you have suggestions for the style, colour, font, text, images etc. of these leaflets or an additional one in the series?
Celebrants to suit your style - does not say what that style may be!

Act now before your final farewell - to promote pre-funeral ceremony planning

OR
Perhaps you are a Network member and would like to apply for Our Community Outreach Grant to redesign one of these, or have another Target Group and Celebration in mind?
Either way please contact us