These REGISTER FOLDERS are one of our most popular products.

The Celebrants Network recommends purchasing a CEREMONY REGISTER folder as this will be more versatile for your other ceremonies.
Register folders are
an alternative to hand-written marriage register books
light weight
ensure better security of couples' and families' records and
allow all forms to be typed rather than hand-written
providing more professional documentation to be produced.
Motif: Rose or pair of rings or none.

Text: Marriage Register or CEREMONY REGISTER (you specify)

Note - Starting out a Ceremony Register may be more versatile.
For sale to celebrants only via The Celebrants Network Shop
These buckram cloth products are long lasting and durable, but do need a little care, especially if you have the padded variety.

NOTE: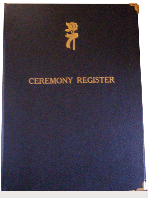 The numbers in the Canprint Pink Books of Forms 14/16 have not been relevant for over 10 years.


These registers were originally designed for Online BDM Registration and are now useful for Celebrant software program


The Celebrants Network Members have free access to marriage form templates


A4 paper is now able to be used in all states, most prefer printing back to back on 100 gsm paper.
Using a Ceremony Folder instead of the Marriage Register Book - Click photo to enlarge
Open folder

Plastic sheets ensure textured fabric does not affect signatures
Place the first Marriage Certificate (form 16) in folder under the corner tabs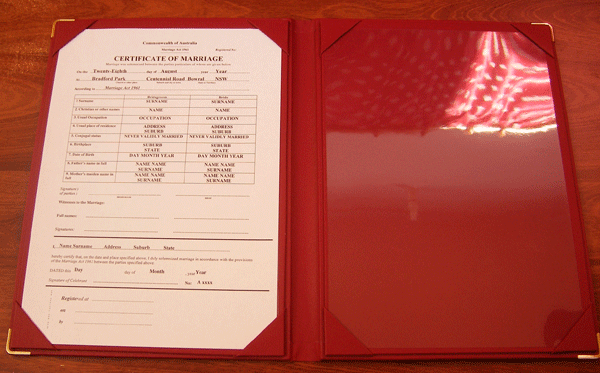 Fold second Marriage Certificate (form 16) and place on top of the first form 16 as shown

This is to protect the privacy of the couple's information from photographers and others taking photos of the signing. It is recommended that the couple check the details on Form 16 at rehearsal/ before the ceremony and check the forms are theirs by lifting the top form before signing.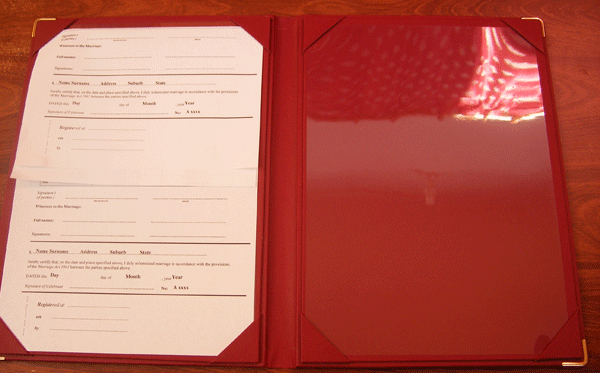 Place form 15 in other side as shown, Both Marriage Certificate signed in this position

Note:
A decorative Our Marriage Vows or Celebration of Marriage Certificate can be placed under the Form 15, if you wish to provide one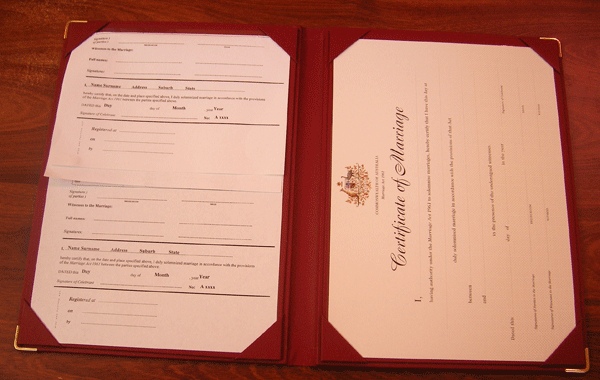 Fold the folder back to front and turn - position for formal photography shots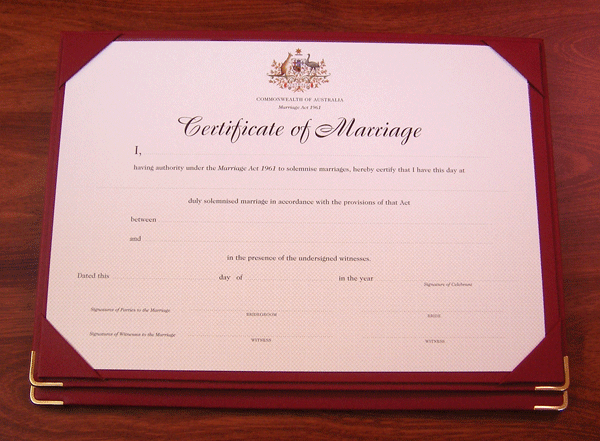 For album style registers, ie ones that hold a number of ceremonies and look more like a book,

- see Albums- Celebrant or Presentation and request the wording you wish for the title.
- see Register Folders for files for a general Ceremony Folder or Album style Register

CARE OF YOUR MARRIAGE OR CEREMONY REGISTER

Take care to ensure pens etc in your briefcase don't press against the fabric. If small dents do happen, your register can be gently rubbed with a clean cloth whilst warming it with a hair dryer or gently ironed.

Any cleaning product will clean them up (not metho or turps, they dissolve the material but is useful for putting any Colour on a worn spot).

Vaseline will put a shine back in the material and make it water repellent and also clean dirty spots

If any brass corners get lost, let us know and we can send a replacement out.

Any PVA glue will fix any parts that may occasionally lift off with extensive use or age