Info

Marriage equality and celebrants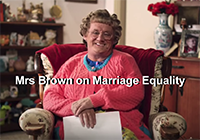 This section was established to explain some of the thinking behind why TCN supports same sex marriage and to address concerns that some civil marriage celebrants have with the prospect of the definition of marriage being changed to enable same sex as well as heterosexual marriages.

A 2015 CoCA survey found that 80% of civil marriage celebrants would happily marry same sex couples; 6.5 % would accept same sex clients if legally required to do so; 10.5 % would consider discreetly refusing - be 'unavailable' and only 3 % would resign.
More information related to this topic can be found here.