Our apologies. Some forum images here have not yet been updated to match the new mobile friendly format. This notice will be removed when completed.

Tthe User Control Panel Section has some information on Private Messages with updated images.

Contact us if you have any hassles.

The TCN web-based Forums system in essence has a Mail Program, like your Outlook Express or similar, inbuilt in the User Control Panel.

Also see the section here on Private Mail which looks at reading, composing and deleting messages.


Remember to LOG IN

* Click on FORUMS

* Click on User Control Panel*

* Click Board Preferences tab

The default settings should be as below.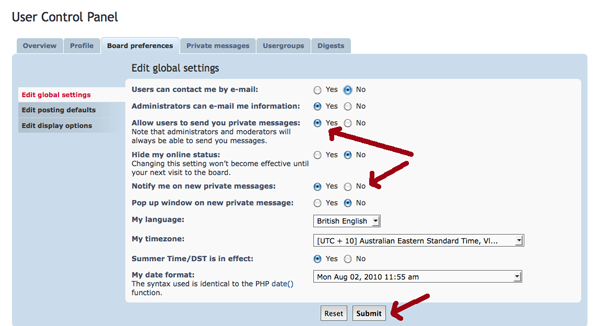 Normally Forums are set for no email to stop spam and their use where the general public can access a Forum, as is the case in the non-Members Forums.

However the TCN website allows for individuals to contact each other internally inside the website via private mail, which can not be accessed by other users.
That is why "Allow users to send you private messages" can be set as Yes

Likewise "Notify me on new private messages" can be set as Yes.

Note: You may also set your timezone settings etc whilst here:

This aspect maybe useful for SA, NT and WA members.

Also for our international members.