Watch this video


and/or follow the instructions below:
To follow as the posts come in with an email to your email box like subscribing to Facebook groups, you can subscribe to certain forums and/or posts
If you want this instant service, our web-based forums can do that.
On the other hand, if you prefer to stay logged in and not subscribe - see the video Use Webmail with a Simple Digest as a reminder of new posts on the Forums.
When set-up
this service sends you a link to the new post by email

login first (to go exactly where the post is)

you click the link

and read

you can reply instantly by clicking REPLY POST.
To Subscribe to a Forum:
1. Login
2. Click FORUMS
3. Click into the Forum you want by clicking on its name.
4. then scroll to the bottom of the Forum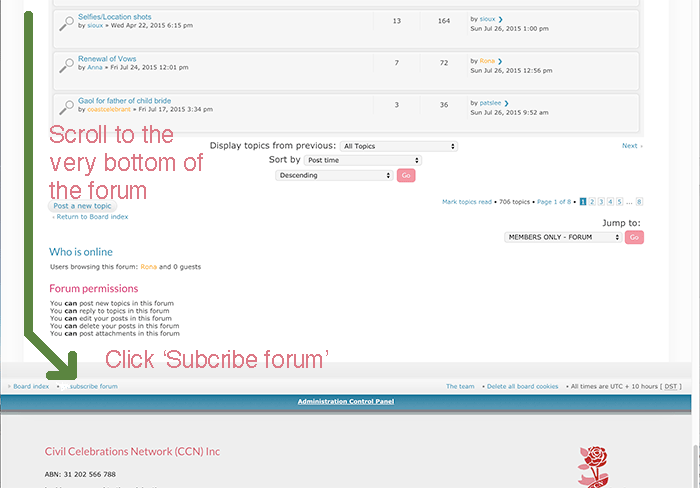 When clicked 'Subscribe to forum' you will receive a link back to see your changes

May look a little odd, but this means you are subscribed to the forum.
To un-subscribe, click on the words 'Unsubscribe fourm"

You then will receive all the posts to the forum when anyone makes a new post.
To Subscribe to a Topic:
Some busy celebrants would like to choose which topics to follow as they come in, and only scan their Daily Digest for new Topics that they could be interested in.
So the same process as described above, can be used to subscribe to an individual Topic rather than all those posted in a Forum
1. Login
2. Click the FORUM where the Topic is that you wish to follow
3. Scroll down
4. Click on the Topic you want
5. Scroll down to the bottom of the Topic Posts
6. Click Subscribe Topic
WHEN DONE, the bottom of the page have "Unsubscribe topic"

Later if you wish to Unsubscribe later, repeat steps 1 to 6, then click the words "Unsubscribe topic"
Any hassles please let us know