Info

Celebrating special days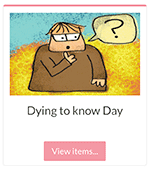 Dying to Know Day is the 8th August each year.


Once sex was the taboo topic. Now seems like death has risen to take its place.
Dying to Know Day aims get us up-to-speed on the latest trends and talking together so we can support each other when the invevitable happens.
TCN is supporting this initiative as civil funeral celebrants have a lot to offer individuals and families in preparing as well as in honouring the lives of our loved ones who have died.