There are lots of places to check out names for new babies.
Use your search engine function for popular boy or girl names with places like the Births, Deaths and Marriages Registry services.

For example, a search of the Online Victorian Justice Department for popular names since 2010 has these results.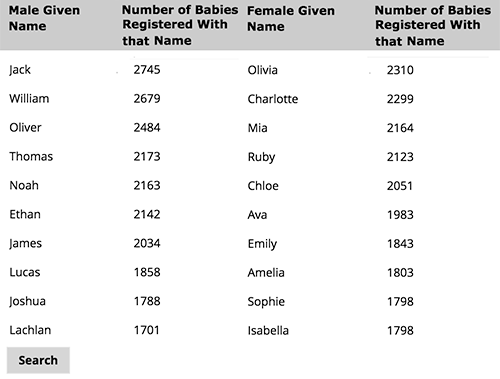 Essentialbaby.com.au and Kidspot.com.au are two websites that also carry such information.
With Prince William and Kate's first child, we wonder when George will start appearing in the Top Ten?
Prince George of Cambridge (George Alexander Louis) born 22 July 2013 and his sister
Princess Charlotte of Cambridge (Charlotte Elizabeth Diana) born 2 May 2015.
Well seems George is not that popular anyway - and with Charlotte it seems the Royals followed the general public rather than vice versa.