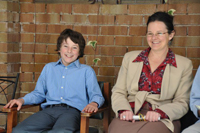 Mother Monica wrote to TCN about the Coming of Adolescence conducted by celebrant Rona Goold of Robertson NSW and prepared a short video about the ceremony..
TCN members can see details of this Coming of Adolescence Age Ceremony in Members Resources - Samples of Ceremonies
"So yesterday was the first anniversary of the coming of teenage years for my son.
He started High School this year has adjusted extremely well to the changes. He enjoyed his birthday celebration last night with just myself, his grandfather and the neighbours (an extra 5, to make up the numbers, and because we like them a lot).

I took the opportunity to remind him of the ceremony last year and the special theme we used. Each guest at the ceremony was asked to read a quote from Lord of the Rings. The piece I read last night was a reminder of the journey ahead…

The road goes ever on and on
Down from the door where it began
Now far ahead the road has gone
And I must follow if I can

Persuing it with weary feet
Until it joins some larger way
Where many paths and errands meet
And whither then? I cannot say

-Tolkein

I asked him this morning if he enjoyed it and he replied yes although he did feel a little embarrassed, I think that was emotional, which is a good thing, especially amongst friends.

The ceremony really was a rite of passage which will stay with him through his life (especially these growing into adulthood years). As a parent I believe the themes that were explored in the ceremony are the themes of a boys growing up years and they give good advice for his future and the tumultuous feelings of this time. Talking about some issues through these themes can help him find his own solutions.

Themes that were addressed were:
Care and community - to remind him of all the people around him who have had a stake in forming his character. They, including family, have helped raised him.
Change and courage - to acknowledge the changes in his life as the focus shifts from his family to his peers, preparing him for the challenges his future will bring, enforcing that decisions made using wisdom and fairness, are the best for a happy and fulfilled life as an adult.
Challenges and creativity - a reminder to always be compassionate to his inner child.
In the ceremony, 4 tools were then presented to Tas as symbols of the things he will need on his journey to manhood.
The Bag of Pentacles symbolises paying your way in life. This encompasses things received by luck, inheritance as well and things received through labour. These things are not all material.
The Cup of Fortune representing feelings, like fluids they can move and flow, be stirred or remain still. The idea behind this is that one must take care to build and preserve this inner cup, not to spill or waste feelings or throw them in others faces but to be kept for sharing with family and friends.
The Sword represents the cutting edge of the mind, it is a symbol of masculine energy. It can be used for protection or for hard decision making. Not to be used in aggression.
The Wand or the caduceus has two snakes entwined representing opposites. It emphasises the need to have balance in making judgements in your life, and therefore is a symbol of wisdom.
I remember fondly that he was so intent on receiving these gifts from the men in his life. The expression on his face was completely serious and on each presentation he connected with the words being spoken to him. It was a special moment for me as a mother.

With so much thought put into this ceremony and being surrounded by some of the people who have had an input into his life (and there are many people to thank) it was a day he and I will remember for all our lives.

Thank you Rona for all the effort you put in to making this such a remarkable occasion for our family.

Monica Engel

Photos from our recent trip to India before Tas starting high school this year."