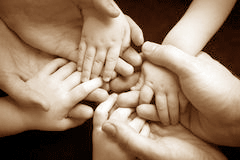 Party with a Purpose* is a party that includes a clear focus on the purpose of the party.
This project of The Celebrants Network encourages families to
enhance the celebration by adding a ceremonial touch to Birthdays, Anniversaries, Coming of Age and other family celebrations or parties
The Celebrants Network celebrants can work with families to plan, coordinate and present a suitable ceremony - this part could be a surprise. This ceremony would usually occur early in the proceedings. Families might prepare a DVD presentation, guests might participate with music, poetry and stories, the celebrant's role would vary according to the family's needs and the ceremony can finish with moments such as "cutting the cake", offering a toast or presenting a gift.
The party or celebrations would then continue with food and refreshments as usual.