Info

World Celebrants Week 2021
WORLD CELEBRANTS WEEK
15 - 21 NOVEMBER 2021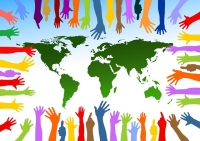 World Celebrants Week is a fun, collaborative, global awareness-raising event.
It is an opportunity for celebrants to share the joy of being a celebrant and to inform the general public about all the wonderful ceremonies that celebrants offer.
The Celebrants Network Inc has been on this path for many years as you can see from all the information on our website. We have information for the public, for celebrants as well as member- only pages.
We also share lots of information on our social media (click the icons on the header at the top of the page to join us on our socials pages - make sure you like and follow us to stay up to date)
Our activities during World Celebrants Week will be on our social media pages, on our blogs (see and subscribe to our Blogs by going to the BLOG tab above) and for our members we'll have competitions on our members-only pages.
If you are planning a ceremony you can find one of our fabulous celebrants in your area by clicking on the FIND tab above
And if you are a celebrant or a celebrancy student we would love to have you as a member - have a browse around the website, call 0434 699 415 if you have any questions and click on the JOIN tab above to become part of our welcoming inclusive group.
Remember to use the hashtag #WCW2021 when you are posting about ceremonies, being a celebrant or about your favourite celebrant. Lets celebrate World Celebrants Week with the whole world.