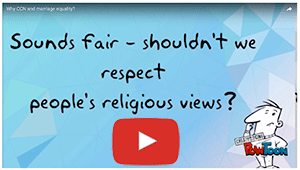 The TCN Inc celebrant based non-profit association supports same sex marriage as TCN Inc's constitution is based on civil and human rights and the role of civil ceremony in a civilised society.
Our members support civil and human rights including being respectful of people's religious views, provided those views are respectful of the views of non-religious people.
Fortunately Australia's Marriage Act 1961 allows for couples with religious beliefs to be married by religious celebrants, who under Section 47 are not required to marry any couple that their religious beliefs do not support.

TCN Inc is a member of The Coalition of Celebrant Associations (CoCA) Inc, the peak body for celebrant associations. CoCA remains neutral on the question of same sex marriage as it advises government on issues related to independent civil and independent religious celebrants.

In 2012 CoCA decided it is best to leave the question of legalising same sex marriage to the will of the Australian people as determined by the democratic processes of government.
In 2015 CoCA conducted a national Survey of Commonwealth Independent Celebrants, and based upon those results, submitted thissubmission of the peak celebrant body, the Coalition of Celebrant Associations (CoCA) Inc to the Select Committee.
This submission recommended:
no exemptions for independent Subdivision C

civil

celebrants.


only if the government decided to grant exemptions for Subdivision C

civil

celebrants, that such exemptions be for


only current Subdivision C independent civil celebrants, not new celebrants, and
only upon application to the Commonwealth Registrar for an exemption (as only 3% of the 2015 CoCA Survey of Commonwealth celebrants indicated they would resign if the definition of marriage were changed to include same sex couples).
the defintion of marriage be between two adults