Have you done a Google search on Child Marriage Statistics?
The results are very confronting:
From UNICEF
: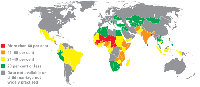 Child marriage, defined as a formal marriage or informal union before age 18, is a reality for both boys and girls, although girls are disproportionately the most affected. Child marriage is widespread and can lead to a
lifetime of disadvantage and deprivation.
UNICEF data released in 2014 show that, while prevalence has decreased slightly over the past three decades, rates of progress need to be scaled up dramatically, simply to offset population growth in the countries where the practices are most common.
Worldwide, more than
700 million women alive today
were married as children. More than 1 in 3 – or
some 250 million
– were married
before 15.
Girls who marry before they turn 18 are less likely to remain in school and more likely to experience domestic violence.
Young teenage girls are more likely to die due to complications in pregnancy and childbirth than women in their 20s; their infants are more likely to be stillborn or die in the first month of life."
A click on the map would seem to reassure Australians this is not a concern to us.
But is that really so?
Increasing there are stories in the press about child and forced marriage happening in Australia:
How could a 13 year old girl living in Australia believe she could be legally married to a 25 year old man, when she could not?
This is a problem of civil law in the Australian Marriage Act, not of a specific religion. There is a wide range of religions and religious groups
excepted
under civil law from using
all
the same
basic requirements that civil ceremonies
and celebrants
mus
t use.
The Australian Marriage Act has the legal inconsistencies that allow child marriage or forced marriage to remain hidden.
In Australia, the Marriage Act 1961 requires

Same conditions
for
all couples
to
apply to be married
in Australia but the
Same basic rules do not
apply to
all
wedding
ceremonies
and
all
celebrants.
For example,

not all

religious wedding ceremonies require
the couple to give consent in the ceremony
the witnesses, the bride and groom, and authorised celebrant to be in the same room
the ceremony to be in a language understood by the parties to the marriage, the witnesses and the quests
the celebrant to give a definition of marriage according to Australian law
the religious celebrant to be authorised by law
the religious celebrant to state they are authorised by civil law, when conducting a valid marriage
the celebrant, if not authorised by law, to tell the guests that the couple are already married according to civil law.

What sections of the Act are relevant?
Sections 45 and 46 (consent, declaration of the authorisation of the celebrant, definition of law according to law) are required of civil celebrants.

However the Marriage Act allows Recognised Religions to use their own religious marriage ceremony/ rite rather than Sections 45 and 46 that are required of civil celebrants. That is, there is no requirement that the religious ceremony contain all the same elements listed above that are required of civil celebrants.

Sections 45 and 46 could be required to be included at the beginning our end of the ceremony, without interfering with the church rites.
Section 95 makes it offence to marry people who are not of marriageable age

Media reports suggest that the religious celebrant and/or underage parties to their religious marriage were not aware that their marriage was not valid according to law.


Section 101 makes it offence to purport to conduct a marriage valid under Australia law

This does not apply to religious law under Section 113.


Section 113 does not require the religious celebrant to declare to those present that the couple are already married under Australian Commonwealth law.

Civil celebrants must make it clear to the parties and all those present, that the marriage ceremony does not confer legal status in Australia. Or the civil celebrant is making an offence under the Act and can be penalised accordingly.

There are religious ceremonies being held by unauthorised religious celebrants before a civil marriage, which is an offence under the Marriage Act, rather than after the civil marriage.

Section 113 does not require the religious celebrant to declare to those present that the couple are already married under Australian Commonwealth law.


Section 39 requires Commonwealth marriage celebrants to be trained in marriage law and do compulsory professional development in changes to marriage law.

This includes all independent civil celebrants and independent religious celebrants, but not state officers or the ministers of Recognised Religions.

This means 99% of all religious marriage celebrants are not required by the Act to be trained and updated in Australia Marriage Law, as is mandated of civil celebrants.
Public education about marriage in Australia would be easier if the same rules applied.
That is so the couple, the witnesses and guests to a marriage would all be clear as the legal nature of the wedding ceremony being conducted.
Marriage started as a civil/ secular relationship in western culture, and continues to be so under our laws.

Whilst Child and Forced Marriage is complex issue, one basic strategy in conjunction with others, is:

a simple revision of sections 45, 46 and 113 to clarify and make public the conditions for valid marriage in every wedding ceremony conducted in Australia, whether religious or civil!

See: CoCA: Examples of amended Sections 45, 46 and 113 of the Marriage Act.

Asking all marriage celebrants to adhere to some basic rules in all wedding ceremonies, whether civil or religious, is not too big an ask to minimise the risk of child and forced marriage in Australia.