Simone Cresp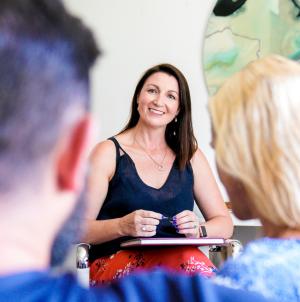 Celebrant background:
I have a background of event management, advertising and law, and spend much of my time working with our local and school communities. I am a mum to a couple of wonderful and busy children, and have recently taken up study again, venturing into the field of Psychology, a lifelong dream.
I've been a registered Civil Celebrant since 2009, and have been delighted to take part in many ceremonies during that time, including many for my extended family and friends.
Why I'm a celebrant:
My inspiration to become a celebrant, came from my own disastrous ceremony. When I arrived at the park where we were having our ceremony, our celebrant was nowhere to be seen. As it turns out, he'd been out for a boozy lunch, forgot he had a wedding that afternoon, and had a lovely afternoon nap on the couch. We managed to get him to the park – 2 hours later – and we do have a very funny wedding story, but the stress we endured is not something I would wish on any couple.
Treasured memories:
I think every wedding I perform provides me with something special to take from it, and that's the beauty of this role. Every couple is different, as is every ceremony. To this day, I still feel butterflies at the beginning of every ceremony. Such a special time to share in the lives of those I'm blessed to work with.
Tips :
Outdoor Weddings
For some couples, garden and beach weddings are the natural choice, and offer a less formal environment than a traditional church wedding. Many of you may be fortunate enough to have your own beautiful garden, or have a family member or friend who is willing to host your ceremony for you. For those of you who don't, you must remember to contact the local council and enquire whether there are any restrictions or associated fees.
Children
There is nothing more delightful than to include children in your wedding. If they have a role to play, consider having a 'rehearsal' with them before the wedding. This may help settle their nerves. For your own peace of mind, ensure that there is a person who is capable of their care and needs during the ceremony as you'll be too busy to take charge!
and I'd like to say:
Honestly, in my opinion, the ceremony should reflect you as a couple. Of course I'm there to guide you and give you examples, but the best ceremonies are the those that tell your story. And don't sweat the small stuff. I know it sounds cliche, but on the day of the event, the little things really don't and won't matter.
Areas serviced:
Melbourne Metro, Mornington Peninsula, Bellarine Peninsula, Yarra Valley
Celebrant Town/ Suburb:
Port Melbourne