Scholarship & Workforce Development
We have presented this submission in three parts
PART 1 - Submission - what is displayed here
PART 2 - Attachments
PART 3 - Appendices
I've loaded parts 1 and 3 for reading, and can send the whole submission should any Committee member require this. I have send a full copy to our Treasurer.
R Goold
O – PROJECT DETAILS
Goals:
(the long-term aims of the project - what ultimately do you wish to achieve)


NAME of Project: Party With A Purpose
The Celebrants Network Inc Goal:

To influence the ways Australians celebrate for the better.
The TCN Inc is a non-profit association for civil celebrants and other citizens who support TCN Inc Objectives. See Appendix 1 and
http://www.partywithapurpose.org.au
The TCN Inc "Party With A Purpose" Project will:

Community education –
educate the Australian community about alcohol, its use and its harms.
make this project accessible to the Australian community by using a web-based approach through the TCN Inc. website http://www.PartyWithAPurpose.com.au
Raise awareness of the harmful effects of drinking, especially in relation to celebrations.
The harmful effects of teenage drinking and the need to delay the onset of alcohol use until the late teens or early twenties (given the latest research into brain development).
Promote the concept of a "Party With A Purpose" that Australians can change the focus of 'celebrations' from its accompaniments (drink esp. alcohol and food) to the purpose for people gathering together, whether that is
* a family or community occasion or
* to raise money for charity, or
* both
by adding an inclusive 'ceremony/event' that includes a range of performance arts and active participation by as many people as is appropriate.
Community engagement –
engage the Australian community about alcohol, its use and its harms.
Build networks with the non-profit sector, that always needs extra funding (donations) and where many organisations are aiming to prevent or minimise harmful consequences related to alcohol use.
Build networks with the small business sector that are being increasingly encouraged to be "good corporate citizens" by donating to charity. In particular,

Engage the Womens Network Australia (WNA) to support and promote the PWAP project. The WNA is over 20 years old, has over 20,000 members nationally and has weekly e-newsletters, monthly events in most major cities, and a quarterly magazine for members and subscribers.
Build networks with younger adults through web based strategies eg Forums, Tips and Stories And JSocial Software, and where possible with teenagers who are interested in performing arts and visual / literary arts.
Engage the civil celebrants, especially TCN Inc (approx 90 members) and its ATCN Division (approx. 550 celebrants) with supporting and promoting the PWAP project. The Australian Celebrants & Celebrations Network (ATCN) was launched in July 2008 and has an active daily Forum servicing this Network's 660+ celebrants in every state and territory.


Raise funds for TCN Inc celebrants and others to promote "Coming of Citizenship Age" ceremonies.
Make the Party With A Purpose (PWAP) website self- funding.

This Party With A Purpose Project will be directly supporting Australian communities by resourcing them with civil celebrants by engaging, educating and supporting them in their roles – not to "respond to harm" but to be part of a primary prevention approach to minimise the level of drinking related to celebrations.

The PWAP Project is primarily a program of community education and engagement.
Civil celebrants are engaged with their communities
. The modern civil celebrant is an independent professional offering:
ceremonies and celebrations for significant life events
to honour all people
with the aim of celebrating love and life and honouring loss
upholding the values that inspire and support people to live meaningful positive lives in the face of adversity
and that promote caring, creative, respectful and harmonies relationships at all levels of society.
As such Civil Celebrants are uniquely placed in the life of a community.
Civil celebrants form connections with families:
Over 60% of marriages are now being done by civil celebrants, and
50% of funerals in some part of the country, eg Melbourne, are done by civil celebrants
Namings for couple's children, and now increasingly ceremonies for Wedding Anniversaries, Renewals, Commitments and Birthdays.
Therefore Civil Celebrants
perform a community development function in our society, by the nature of their role in interacting with families at times of change (which are stressful whether the change is positive or negative)
have the potential to indirectly educate families and their communities about how to celebrate in healthier ways i.e. less alcohol and high sugar/ high fat foods.
One of the TCN Inc long term goals is to establish non-alcohol focused national rite of passages ("Coming of Citizenship Age" ceremonies) for all 18 year olds
as family based ceremonies for individuals and community based ceremonies to be held on the 3
rd
Sunday afternoon of September for Citizenship Day which is the 17
th
September each year.
Activities:
(what you will be doing as part of the project)

Note: This TCN Inc website was established in a basic form using Joomla open source software website with content pages, SOBI2 directory, News and Forums functions.
Using our "Party With a Purpose" (PWAP) website – http://www.partywithapurpose.com.au the TCN Inc will
Community education –
educate the Australian community about alcohol, its use and its harms.
Review available FARE materials and where appropriate, develop party, alcohol and related content material for the website to support the rationale for:
a. having a "Party With A Purpose" especially as regards the need for healthy entertainment and "refreshments"
b. "Coming of Adolescent Age" ceremonies with examples
c. "Coming of Citizenship Age" ceremonies with examples
d. Develop, print and distribute PWAP promotion material for distribution via civil celebrants, non-profits and small business networks. (For example: DL leaflet 600 x 100 copies (as chart = $ 3,300) plus postage per each of 300 packs for distribution (3 kg satchel parcel $11.20 = $3,360) = $6,660 assuming small business networks will pay for the postage. NB We think DL would be the best size, but consider some flexibility, with FARE approval, may be required when this part of the project is developed.
http://www.colourcorp.com.au/psbrochureA5.aspx

Community engagement – engage the Australian community about alcohol, its use and its harms.
a. Conduct a LOGO design Competition for Under 25s for the PWAP website to engage the under 25 years Australian community to enter. Three Prizes $ 500, 2x $250. Deviant Art website may be a possible source of entrants; also the TAFE system where young people are doing graphic design.

. b Then register the PWAP logo and name as a Trade Marks as required by FARE. Hopefully by FARE or jointly between TCN Inc and FARE. LOGO to be used by approved participating celebrants, groups, businesses, non-profits, other organizations etc on their websites with links back to PWAP.
Re-style the PWAP website using a more 12 to 25 year friendly Joomla template format.


Establish a) Charity and PWAP Events Calendar using
b) JEvents Joomla extension software
and
c) loading the events program as currently collated by Our Community Pty Ltd
.
Permission has been granted by Our Community P/L for PWAP to use this information from:
http://www.ourcommunity.com.au/calendar/
Entering the organizations (estimate 2000) on the Give Now website into the PWAP website, to further develop the PWAP non-profit organizations directory that can be sponsored by individuals, small groups or businesses or others and checking the organisation's agreement to be listed.
Directly link the PWAP website to the Give Now website by
a. creating a link via a "donate now" item from the PWAP entry to its corresponding entry in the www.givenow.com.au and
b. creating a system to assess traffic to www.givenow.com.au via the number of hits on GIVENOW links on the PWAP website

Permission has been granted for this linkage to be done by Our Community to link the PWAP directory of non-profit organizations with the Give Now website (http://www.givenow.com.au) of the Our Community Foundation, so that each PWAP entry has a "Donate now" link directly with the matching web-page in the Give Now website. See Appendix 2.


Encourage civil celebrant and small business websites to sponsor non-profits and charities on PWAP. In particular
a. our TCN Inc and ATCN network members and other celebrant through current networks
b. Women's Network Australia (WNA) which has approx 20,000 small business members nationally
c. joining PWAP with WNA, place ads in 4 magazines and 12 x 1monthly e-newsletter.
Sponsoring fees would grant the sponsor a back link to their own website, and the fees raised for the sponsored entries would go to the TCN Inc


To establish an online community of individuals and groups willing to use the PWAP concept by adding the Joomla-based JomSocial software platform for building social networks and community websites.


Establish a Google+ and Google Maps etc entries for PWAP.


Make PWAP self-funding and raise income for promoting Coming of Age Citizenship Ceremonies.
Outputs: (what you will produce during the planned activities)
Note:
The Foundation will normally seek ownership of intellectual property, but as a minimum requires a world-wide, non-exclusive, royalty-free licence for use of the project materials including the right to sub-licence.
A Party With A Purpose Trade Mark (text and image) for linking this project to the wider community.
The TCN Inc would welcome a FARE partnership in this project to increase its reach and effectiveness by using the PWAP logo and materials developed via its funding.
A network of non-profit organizations, civil celebrants and small businesses supporting the Party With A Purpose concept
– linked via the PWAP logo
– to www.PartyWithAPurpose.com.au
– revamped as youth friendly website,
– with using a new PWAP Trademark Logo.
Capacity for groups and individuals engage with each other to share their success stories, via our Community PWAP Forums and via Stories and Tips using our existing SOBI2 directory software in text, photos and video (youtube) formats.
Alcohol & Celebration Related Web-based materials on
– Celebrations and healthy celebrating
– Alcohol Effects
– Teenage Drinking
– Brochure to promote PWAP concepts and Project.
A system for promoting funding raising as part of a party activity, promoting non-profits & charities and delivering donations to non-profits with
– PWAP website linked to the GIVE NOW website, that is set up to take donations.
– a comprehensive Non-profit Directory
– a comprehensive Events Calendar .
– providing information and engagement for gifting funds to non-profits as part of a Celebration.
Increased funding for PWAP and non-profits.
Outcomes: (what the measurable results of the project are expected to be)
The following are quantitative measures:
Text and A/V materials on celebrations and healthy celebrating available on PWAP website
PWAP Brochures developed and distributed
NB recognition of FARE funding on all promotional materials, including digital and print-media items
An Events Calendar with a minimum of 300 number of events listed
A system for promoting donations to non-profits linked to the GIVENOW website which is set up to process donations online, with over 800 non-profits linked
increase in the number of non-profit entries in the directory to over 800
increase in sponsorship of non-profit entries in the directory
Increased traffic to PWAP website.
Increased traffic to Give Now website.
NB. Whilst at this stage, the TCN Inc can not directly measure the actual donations made via the PWAP, the TCN will be able to measure the number of hits on the Give Now buttons on the PWAP
increase back-links to PWAP website
the number of applications by celebrants, small businesses and others to use the PWAP Logo
increase in the number of Stories and Tips on the PWAP website related to this project
increase in numbers of posts on the PWAP website.

The TCN Inc expects to provide other information as part of its Reporting requirements.
Impacts:
(longer term individual and organisational, social, policy, attitudinal, economic impacts)
Individual, Social and Attitudinal:
The TCN Inc aim for its Party With a Purpose website is two fold.
1. To change the focus of 'celebrations' in Australia
from its accompaniments (drink esp. alcohol and food) to the purpose for people gathering together, whether that is a family or community occasion,
to raise money for charity or to have a special family occasion by adding a 'ceremony/ event' that includes a range of performance arts and active participation by as many people as is appropriate.

The aim is extremely long-term. However, there are examples of where a single strategy to achieve one outcome can have positive benefits in other areas.
For example:
The Random Breath Testing Program. This established in the early 1980s was designed as a single strategy to reduce the number of people drinking and driving, and thus reduce the overall number of accidents, physical harm and death related to drink driving.

However that single strategy did give those attending parties, probably for the first time in Australia, a socially acceptable excuse for not drinking heavily or to not drink at all.
The Civil Marriage Celebrant Program. This was created in 1973 to give marrying couples a non-religious alternative to religious or registry office weddings. The authors of that program did not envisage civil celebrants offering civil baby naming ceremonies, nor civil funerals. Nor at that time, was the issue of same sex couples even on the political agenda for changing the Marriage Act to include same sex adult couples.

Yet 40 years on, over 60% of marriages in Australia are being done by civil celebrants. Also there is a growing trend in the evolution of civil celebrancy in Australia for ceremonies to be designed to meet the personal needs of the couple or the group, with increasing emphasis on participation of those family and friends present. For example, civil ceremonies are one of the few places where non-religious poetry and prose is used in public life, usually read by participants.

The TCN Inc aims to
• encourage this trend to use the creative talents and skills of those present
• bring a more interesting and meaningful mode of celebrating life changes in Australian society
• encourage a "Free to Choose" approach to food and drink.

The TCN Inc Party With A Purpose Project would focus on the Slow alternatives to FAST Food and Drink J i.e. "Slow" food and "Slow" drinking and/or "Low or No" alcoholic drinking.

The TCN Inc also believes that
• adding a ceremony or celebratory event at the beginning of a celebration,
• replacing all the speeches and official tasks are not usually interesting and engaging
• giving guests the opportunity to leave then when they choose to go
is a better way to celebrate than
• guests being trapped often with people they don't know and
• with unhealthy foods and drinks to pass the time.
2. To raise money to support the work of the TCN Inc
, currently all volunteer, so it can continue to promote Coming of Citizenship Age Citizenship ceremonies for all 18 year olds.
This is a shorter-term aim. The TCN Inc considers that there is an opportunity for a Government initiative in this area that could:
Provide support for family based Coming of Citizenship Age Citizenship ceremonies, and
An annual Coming of Citizenship Age Citizenship on the third Sunday of September to coincide roughly with Australia's Citizenship Day

The TCN Inc plans to apply for grants from the Commonwealth Department of Health Community Initiatives Grants in the new year, to develop materials, draft ceremonies and to trial and film a sample Citizenship Ceremony as an example of what could be achieved in creatively designed locally based ceremonies.
Organisational and economic impacts
1. Non-profits and charities are under increasing pressure to find new ways to fund their work. However individuals and families are under increasing "donor fatigue" when it comes to being asked to donate to this or that cause, by unsolicited call at dinner time or the button/ pen seller in the streets. A gift to one charity results in numerous letter asking for more!
This strategy is aimed at:
• giving individuals, families and groups another way of donating
• encouraging active participation, rather than a passive, and
• taking the initiative in gift giving for non-profits and charities.
Therefore PWAP project which is linked with the Give Now website should increase the donations to the non-profit sector.
2. Utilising the potential for civil celebrants to influence the way Australians celebrate.
The original 'community service model" with fees set by the government in the 1970s, was undermined by an open-market economic rationalist approach to civil marriage work in the early 2000s. The result is that the vast majority of civil celebrants now subsidise their celebrancy work.
Their motivation to provide meaningful ceremonies at key times in people's lives come from a desire to serve families and communities as professional ceremonialists.
PWAP Project would
1. Support civil celebrants as vehicles for distributing information about this community project and influencing the way people celebrate that is in line with celebrants historical roots,
2. Increase the TCN Inc's capacity to support celebrants in their broader work by bringing in donations to our network. The TCN Inc will be taking steps in 2012 to apply for DGR status.
Policy
In the Australian context, in the short term, the TCN Inc does not see governments supporting a move to raising the legal drinking age to 21. To do so, would require considerable community education of the impacts on the young person who commences drinking early and/ or at high amounts.
The latest brain research is that young people need to be encouraged to delay the onset of drinking and to keep their drinking levels within healthy levels when they do drink. Their parents are also in need of information and support if such encouragement is to be successful.
The Peel Royal Commission in UK in 1896 came about after a century of high overall alcohol consumption as the result of industrialisation. So it takes a long lead-time for change. Also the effective strategies of the past era are not appreciated by the next generations because they cannot see the problems that were removed by the effective strategy. ;-)
Negative campaigns can have unwanted side effects, especially in those groups most likely to need the information. Positive approaches are more likely to succeed and PWAP aims to build upon positive alternatives, but with using PWAP and ceremonies for youth as ways to provide community information.
IF Coming of Citizenship Age ceremonies could be supported by various sectors of government – Departments for social inclusion, youth, health, human rights, immigration and citizenship and the Electoral Commission – so that a formal government initiative could be developed and delivered, then there could be some impact at government policy level.
Timeframe:
(Please allow The Foundation processing time of up to 12 weeks)
Project start date: 10 / 4/ 2012 Finish date: 31/ 10/2013
SECTION THREE – EVIDENCE
(Expand as necessary)
Evidence of need:
(explain how the project addresses organisation needs, client needs, community needs in relation to harm from alcohol?)
"community needs in relation to harm from alcohol"

PWAP Project:

Australia has a culture of heavy drinking related to celebrations of many different types.
Numerous research and other reports on alcohol and other drug taking behaviour highlight problems in relation to the cost:
to the individual, to their family and friends and to their community, and
to their employers and/ or welfare system, health and legal and other services and programs whether government run or funded, non-profit and/ or community based services.

Youth drinking behaviours are of concern not only for the longer term impacts of drinking at an early age and the patterns of drinking that may be established, but also for the major harm done by alcohol related risk taking behaviours, accidents, unwanted sexual, violence, and other behaviours, and certain cases death.
3 factors determining the initial use of alcohol and other drug taking behaviour, and its reinforcement:
• the nature of the drug (alcohol) • the person • the context or environment
The environment includes the drug (alcohol)'s
• Availability
• Accessibility and
• Social/ cultural norms and attitudes.
Availability and accessibility determine the level of consumption in a specific community or country.
The level of consumption of alcohol overall in a community will determine the overall level of physical harm.
For example, during Prohibition where the overall level of consumption in America was decreased, the overall level of liver disease and other alcohol related health harm was reduced. However, making alcohol illegal increased the amount of alcohol related crime causing other types of harm.
The social/ cultural norms and attitudes, in particular, attitudes to high dose/ binge drinking, anti-social behaviour whilst intoxicated and to abstinence, affect styles of drinking and related harm in communities.
That is,
countries where high dose / binge drinking is tolerated or encouraged, anti-social behaviour excused and abstinence viewed as unacceptable, there are high rates of alcohol related violence, accidents and other harm.
countries where high dose / binge drinking is discouraged, anti-social behaviour not tolerated and abstinence is acceptable, have much lower rates of alcohol related violence, accident and other harm.

It is possible to have communities
where there is an overall high level of overall alcohol consumption, and thus health related harm, but
low levels of alcohol related violence, accidents and other harm
because social or cultural attitudes do not support binge drinking and anti-social behaviour when intoxicated. For example Italy and France have traditionally fitted this classification.
Australia has both
a high level of overall consumption AND
social/ cultural norms and attitudes where high dose/ binge drinking is tolerated or encouraged, anti-social behavior excused and abstinence viewed as unacceptable.
Social/ cultural norms and attitudes are often expressed in celebrations, given alcohol's role as a social drug. Australians tend to focus more on the accompaniments to celebrating (the drink & food) than on the purpose for the celebration, and ensuring that aspect has due style and meaning. i.e. We tend to have a booze-up and throw a few words in the middle at most of our birthdays, anniversaries and other life milestones.
Funds Raised by PWAP for promoting Coming of Citizenship Age ceremonies:


The TCN Inc and its Australian Celebrants & Celebrations Network (ATCN) division views the role of the modern Australian civil celebrant as a complex and evolving one. See Appendix 3.
As part of its vision, the ATCN and TCN Inc have made some submission over the last 3 years promoting Coming of Citizenship Age ceremonies. See
http://www.civilcelebrationsnetwork.org.au/submissions
Many countries and societies do regard the Coming of Age as an important time for community celebration. See Appendix 4.
The TCN Inc is keen the to develop and promote the "attaining of adult status at age 18" as a government supported Coming of Citizenship Age project. Currently the focus on attaining Adult Status is on drinking Alcohol and being more irresponsible than not. Schoolies week and Bali trips with emphasis on drinking for school leavers are examples of the latter. Professor Sandra Jones, from the University of Wollongong's Centre for Health Initiatives has done some initial research into the drinking behaviours of young people during Schoolies Week", that verifies concerns about the drinking of these School Leavers.
Client needs
"Party with a Purpose" is a 'primary prevention' approach to alcohol use and related problems, so TCN Inc does not have specific "clients" as such, rather our services are aimed at the general community via different websites aimed at different sectors.
The TCN Inc sees the role of the modern civil celebrant as one fulfilling a community development/ community education role in the areas of social inclusion and in influencing the ways Australians celebrate. This does not mean that civil celebrants view themselves in this light as yet J.
"Party with a Purpose" will mean
by adding a "ceremony to the celebration", the guests will be more emotionally and spiritually engaged and thus less bored. As a consequence, it is assumed less need for alcohol and other less healthy ways of celebrating, especially if the ceremony is inclusive, interesting, meaningful and participatory
by adding a "fund raising" role with some associated activity, less money will be available to be spent on food and alcohol that's usually involved.
How will TCN Inc provide this ongoing support, after the foundation's funding ceases?
Since beginning in March 2008, the TCN Inc and ATCN has had the Party with A Purpose project as one its aims. The PWAP website was set up two years ago as part of its strategic plans, and has supported
the "Celebrants for ALL Occasions" model for celebrants work, and
the concept that the more celebrations, that celebrants facilitate and develop with families and their communities, will bring about a different style of celebrating
and expects to be continuing this approach for the next decade or more, whether the TCN Inc receives funding from FARE or not.
However funding will allow the TCN to progress this project much sooner than possible without.
Evidence of effectiveness:
(briefly describe why you believe this proposal will be effective)
The TCN Inc considers this strategy will be effective in influencing the ways people to celebrate for the better because:

The Party With A Purpose Project:
is not a single one off plan, rather part of an ongoing TCN Inc plan for how civil celebrants can assist families to celebrate important life events
is a web based service so accessible to a large proportion of the Australian community
will engage young people in the design of the logo and encourage participation in the PWAP's Community Forums, Tips and Stories
will engage a large number of civil celebrants as the TCN has access to over 600 members in its networks; and via the ATCN's quarterly e-Magazine to over 6000 civil celebrants
will engage with small businesses via the Womens Network Australia (over 20,000 members)
will engage with non-profits via Our Community's Give Now and current connections with the Associations Forum. Both of these organizations serve a wide range of non-profits and charities.
aims to be self-supporting in terms of this specific project's funding raising and distributing web-based information.
Civil celebrants:
are knowledgeable about the importance of ritual and rites of passage and many are already shaping the way Australians celebrate some family events
are members of their own local community networks and as such can provide a channel for distributing information
are often parents and grand-parents themselves and thus have direct concerns about younger generations.
Alcohol and other Drug Prevention principles are being utilised:
Positive focus - PWAP is a catchy slogan supported by the TCN Inc slogan of "Let the Celebration be your Gift" that also encourages group decision to give an event rather than individual material gifts.
Balanced Approach – whilst the PWAP website will have a youth friendly style, the content and focus will have a "family-friendly" all ages approach to the range of harm related to alcohol use, food and other substances related to Celebrations.
Community education and engagement focus – PWAP will involve a broad range of community members not traditionally viewed as "Health/ Welfare" community workers.
Organisational Structure, Effectiveness and Efficiency
The ATCN (now a division of the TCN Inc) and the TCN Inc have since March 2008 developed
- an online network of over 600 civil celebrants nationally (third biggest association in Australia)
- developed 5 main websites and 3 associated websites
- has over 1650 people registered on the ATCN website
- supported an online Forum with to date a Total of 1091 topics and 5305 posts
- supported celebrants with low cost quality products via the ATCN Celebrant Shop.
- secured Ongoing Professional Development discounts for members
- initiated a group celebrant copyright policy via the Copyright Agency Limited
- provided access to group celebrant insurance plans, for those who so chose.
- distributed 13 national celebrant e-magazines
- provided extensive information to celebrants via
www.aTCN-celebrants.com.au
- provided extensive information to the general public via
www.askacelebrant.com.au
- published a number of DL brochures for celebrants to distribute as part of the community outreach
see:
http://www.aTCN-celebrants.com.au/aTCN-shop/category/102/celebrant-pr-leaflets
- run a "Gold Rose Celebrant" Promotion on
www.askacelebrant.com.au
- is in the process of establishing a Funeral Sub-committee to support the role of civil celebrants
in their loss and grief related work via
www.funeraloptions.com.au
- revised the TCN Inc basic constitution to encourage a participatory approach to organization
and management of the TCN Inc., opened TCN membership,
- has its first election of its National Committee and established its own website
www.civilcelebrationsnetwork..org.au
Whilst the TCN Inc is a young organization, it has been efficient in utilising web based technologies on a relatively small budget, volunteer staff and using the services of casual contractors for book-keeping, web-development, shop management and product distribution.
We believe we have a high standard of credibility in our field from those celebrants who have used our services and who have a broader view of their celebrancy role.
Celebrancy Peak Body:

The TCN Inc has had a delegate to the Coalition of Celebrant Associations (CoCA)
www.coca.org.au
that is recognised by the Attorney General's Department as the peak body for celebrancy in Australia, since May 2010.
Our current delegate, Rona Goold, has worked within that Committee
as Voting Moderator and
is an active participant in distributing information about CoCA to all celebrants whether members of an association or not, whether civil or religious. See: http://www.askacelebrant.com.au/national-e-magazine/coca-news
is involved in the COCA working party developing CoCA's submission to the Federal Attorney General's Department on the recently announced celebrant registration fee and 'reforms.
Prior to then Rona Goold
was the celebrant representative on the VET Industry Reference Group IRG that reviewed the training of civil celebrants in Australia. That IRG recommended the upgrade of qualifications for the appointment of marriage celebrants from one unit of the Certificate IV in Marriage Celebrancy to the full Certificate IV in Celebrancy. These new appointment criteria became effective early 2010.
was on the management Committee of the Australian Federation of Civil Celebrants from 2001 to 2007, and she
has an extensive background of involvement with non-profits in aged care, disability and alcohol and other drug areas
also has extensive experience in a range of roles in the alcohol and other drug field at local, state and national levels. Her resume is available if considered relevant.
The TCN Inc considers its demonstrated track record as itemised above, means a FARE grant would be efficiently and effectively utilised by us, not only during the grant period, but also in years to come.
Expected knowledge:
(what new knowledge can the project reasonably be expected to generate?)
With the rapid change of IT, this project being predominantly web-based may help to identify
how to connect the general public and especially younger Australians, and how not to!
how to encourage people to take responsibility for the ways they celebrate and looking after each other when they do
the more successful ways of sharing information on alcohol, drinking and its effects.
However the TCN Inc also expects to find new knowledge it did not expect to receive, that may be both positive J and negative L
The Foundation's mission: (
how will this project support the strategic objectives of the Foundation?)
The TCN Inc considers the PWAP project will support the FARE Objective of
"helping communities to prevent and reduce alcohol-related harms"
by promoting alternatives ways of celebrating to reduce the drinking associated with celebrations
"engaging Australians in conversations about our drinking culture"
will provide online forums for dialogue about PWAP events and its aims as well as off-line in the promotion of the Project.
What's in it for the Foundation? (
what other information or opportunities will be available to the Foundation?)
TCN Inc considers that FARE will:
be able to access a broad range of community members and workers not normally accessed through traditional alcohol and other drug agencies.
be able to use the Party with a Purpose Trademark for many years to come, in a variety of ways to distribute information about alcohol, its affects and ways to reduce harmful impacts in the Community.
Materials and resources arising from the project will carry the FARE acknowledgement, recognition of funding on all promotional materials. This includes both digital and print-media items
Copies digital and print-media items will be made available to FARE.
Use of project materials after the project is completed is desired, and with appropriate acknowledgements to TCN Inc and Party With A Purpose where possible.
At this stage the TCN Inc. does not anticipate a public launch as such. However should the TCN Inc. be able to organise such an event, in consultation with FARE, using its own resources or monies from other grants, then Fare would certainly be involved.
Likewise TCN Inc would welcome FARE participation in any public events, publicity or media activity the PWAP project generates, and would be invited to be involved in such activities including media activity and speaking opportunities
If successful you will be required to provide the Foundation with draft copies of relevant publication and media material for the Foundation's approval 14 days prior to dissemination.
You must give the Foundation at least two weeks prior notice of any public launch or event involving the project and which is funded in part or in full through funds received from the Foundation, and give the Foundation the opportunity to attend and if the Foundation wishes, to give a formal speech or presentation at the launch or event.
SELECTION CRITERIA FOR GRANT FUNDING
Applications for funding must satisfy the following selection criteria:
· Relevance to FARE's community education and engagement strategic goals = YES
· Need for the proposed project and demonstrated benefits to the local community or priority group = YES
· Evidence of meaningful engagement and participation by community groups in planning and delivery
· Value for money, including realistic costs and a clear explanation of the budget = YES
· Significance and benefits of the proposed project to FARE, the applicant and broader community, and a demonstrated commitment to sharing outcomes = YES
SECTION FOUR – EXPENDITURE DETAILS
(Please see the FAQs 3, 6, 7, 8 and 9 for details of the Foundation's funding)
· Total budget proposed:
Grants are capped at $20,000 excluding GST. Whatever amount is sought in the project proposed budget requires justification of each of the proposed expenditure items.
· Administration and organisational overheads are to be capped at a maximum of 15% of the project budget.
· Capital and equipment costs are to be capped at a maximum of 15% of the project costs.
· Salary and superannuation costs are to be capped at a maximum of 50% of the project costs.
· All expenditure items should be shown exclusive of GST.
NOTE: The TCN Incorporated is not registered for GST, nor is it expected to be in the next 3 years, unless successful with a Department of Health Community Initiatives Grant or the like.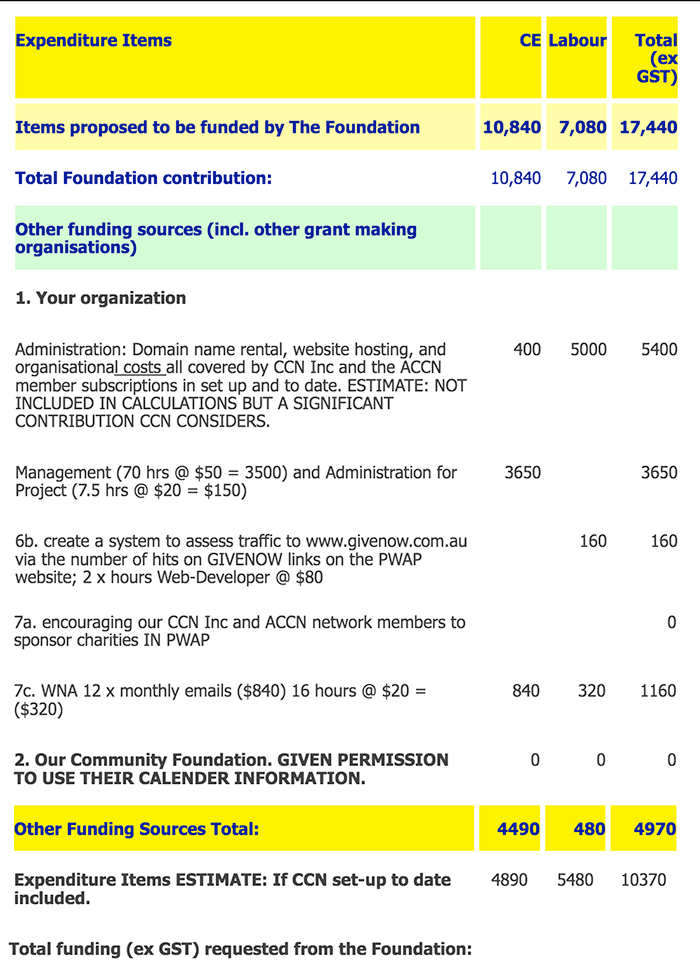 Total funding (ex GST) requested from the Foundation:


SECTION FIVE – SUPPORTING DOCUMENTATION
Please supply
one copy only
of the following documents to support your application:
q Proposed project (expanded description if needed)
Provided in Sections 2 and 3
q Agreement with other partners in the organisation or running of the project
Provided in Section 1
q Copy of Incorporation Certificate – Community groups and organisations will be required to be either an incorporated body or the legal equivalent
Attachment 1 + 7
q Most recent Annual Report / Financial reports (audited) of applicant body
Attachment 2
q Management Committee list and contact details
Attachment 3
q Copy of your Organisation's Intellectual Property Policy (if one exists)
Attachment 4 - TCN has website Terms and Conditions and Privacy Policies attached, but not an Intellectual Property Policy as yet.
q Supporting documentation showing applicant's capacity to manage the project.
Attachment 5 (or see Section 3 Effectiveness above)
q NOTE: A COPY OF THE TCN Inc CONSTITUITON CAN BE DOWNLOADED FROM:
http://www.celebrations.org.au/TCN-constitution/1140-revised-constitution-2013
NOTE: the ATCN which was originally set up as a soletrader business by Rona Goold was gifted to the TCN Inc at the end of June 2011. The TCN Inc is not required to have audited statements in NSW as a Tier I association with income below $250,000. Should you require our accounts to be viewed by a licenced accountant, we would be happy to comply.
APPENDICIES
:
Appendix 1 The Celebrants Network Inc
Appendix 2: Correspondence from Alan Matic of Our Community granting approval for using the Our Community Calendar and linking PWAP website to the GIVE NOW WEBSITE
Appendix 3: The TCN Inc and its Australian Celebrants & Celebrations Network (ATCN) division view the role of the modern Australian civil celebrant.

Appendix 4:
Funds Raised by PWAP for promoting Coming of Citizenship Age ceremonies:
SECTION SEVEN – CONSENT
I confirm that the details contained in this application and its attachments are true and correct.
I confirm I have
read all the documentation
and obtained copies of the relevant fact sheets, advertised criteria and funding round priorities.
I agree to my application being forwarded to the Foundation Directors and other appropriate parties to enable them to assess my application against the selection criteria.
If my application is successful I agree that a description of the project, amount of funding, project outcomes, reports and organisation details may be:
Placed on the Foundation website, which is accessible over the internet;
Used in media releases and other publications about the Foundation;
Provided to organisations or individuals who may be interested in replicating the project elsewhere, with a view to contacting you for information and/or advice; and
Published in the Foundation's Annual Report.
Signed: Rona Goold
Position: TCN Inc Chair and ATCN Coordinator (Both Volunteer)
Date: 30/ 11/ 2011
Signed: Deborah Chaplin
Position: Treasurer TCN Inc.
Date: 30/ 11/2011
Note: ORIGINAL SIGNED COPY OF THIS PAGE WILL BE SENT IN TODAY'S THE MAIL.