Appendix 1.Family based 'Coming of Citizenship Age" ceremonies.
The personalised 'Coming of Citizenship Age" family based 'Coming of Age" ceremony with the presentation of the 18 year olds Coming of Citizenship Age Certificate, Electoral and Citizenship Rights and Responsibilities Pack by a government authorized Citizenship celebrant.
The distribution of a Citizenship Pack for all eighteen year olds including a:
Coming of Citizenship Age Certificate


Voting Information Pack with Electoral Roll application


Citizenship Rights and Responsibilities Pack


Other resources as appropriate
could be sold via Canprint to authorised Citizenship celebrants so be a self-supporting scheme

NB special funding could be available for disadvantaged communities or youth etc.

The TCN Inc recommends the appointment of Citizenship Celebrants, with required training and other pre-requisites. This would be a relatively economical and effective social inclusion strategy for the Government to implement, as it would utilize existing resources and be partly or wholly self-funded.

The Commonwealth Marriage Celebrant program could be expanded and/ or utilized for those marriage celebrants who would like to take up this additional work.



Approximately 70% of Commonwealth appointed celebrant come from the health, welfare, teaching or some other community service type industry.

Family based ceremonies allows for personalization in ways not possible in larger ceremonies eg. Personalised certificates that could accompany the main one.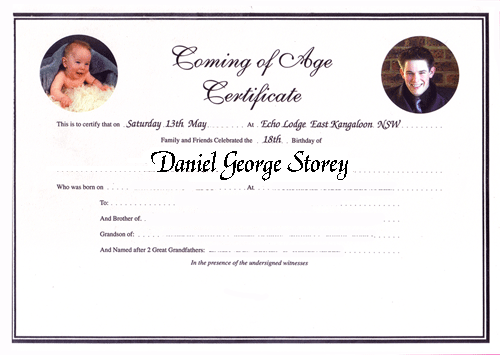 The Government Issued Coming of Citizenship Age Certificate would be more generic.

ie the Australia Crest instead of the photo as shown here.


Sample wording such as

Certificate of Adulthood / Australian Citizenship


This document certifies that on this day

Chris J Citizen

acquired the age of 18 years

Thereby acquiring the status of Adult under laws conferred by the Commonwealth, States and Territories of Australia and the rights and responsibilities associated with that status


Rights

An adult citizen of Australia may:


Rights such as:

- witness legal documents

- enter into contracts ie leases, mortgages, work place contractual arrangements

- invest, gamble and/ or spend one's money as one sees fit

- consent or refuse medical treatment without parental consent

- donate a kidney or other organs under certain circumstances

- be licensed to sell or dispense alcohol and other drugs under certain conditions

- use nicotine and alcohol within the limits set by law for associated behaviours

- be tried in an adult court of law and if convicted go to an adult goal

- run for elected Office in local, state and federal government

- give consent for being sexual with another consenting adult

- freely enter into marriage (or civil union where available) and divorce

- defend one's country by joining the armed forces without parental consent

- make a will determining the distribution of one's property

- choose one's religion or not, as one sees fit

Responsibilities:

- to adhere to all commonwealth, state or territory, local government laws relating to the behaviour of adults within their jurisdictions including being responsible to:

• register as an elector to vote, and thereby placed on a list as available for jury duty

• provide child support for any of one's offspring

• respect the freedoms and rights and the biological, psychical, psychological and other property of other citizens, regardless of age, sex, gender, cultural background, nationality and faith or religion


Dated this day ____________________of in the year of _________________

Signed: ________________________

Commonwealth Authorised Civil Celebrant


NB Rather than mother/ father as on the sample certificate on the next page, there could be two lines for Witnesses

Sample : Coming of Citizenship Age Certificate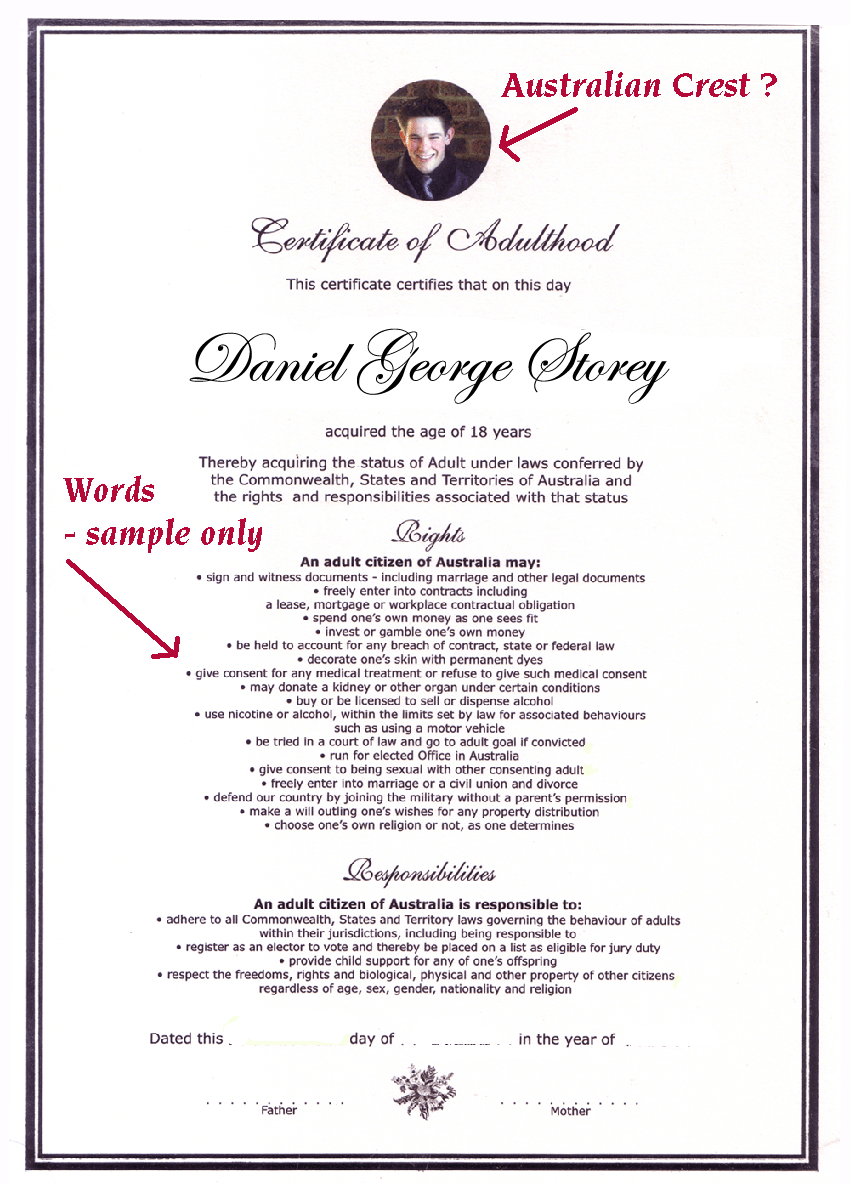 Appendix 2.

Annual Citizenship Day - Welcome to Community - Ceremonies on or near Australia's Citizenship Day - 17th September each year.

The development of local community based ceremonies, at the village level, to be held eg on the 3rd Sunday of September.

Theme: Celebrate with Citizenship and Diversity

Sub-themes: Celebrate:

· Civility (being civilized, ie, cooperation, compassion, care, courtesy, chivalry)

· Creativity (to celebrate and encourage different talents and interests)

· Companionship (partnerships, family and friendships groups)

· Citizenship (valuing justice –"a fair go", free speech, diversity and community

This idea for a rite of passage into adulthood has come about from sensing the lack of formal recognition for the acquiring of adult status in Australia. This was once supplied by the 21st and the "key to the door". The slide to 18 has left many confused.

The need for recognition by default now expresses itself in "Schoolies Week" and other such many young people attended events.

It seems to many of us in the TCN that it is our responsibility as adults to reclaim and re-frame a "formal" recognition process that is inclusive of all Australian citizens as they turn 18, whether they are Australian born or not.

After all this is one area where one could claim so reverse discrimination. Overseas born people are given and participate in a Citizenship Ceremony, but there is nothing for those who are Australian born!

So this would be the place to honour all our Australian citizens - and especially our indigenous ones - and to develop a ceremony that is uniquely Australian. eg Welcome to Country and Indigenous Music and Dance could be an aspect.

This proposal


Such a ceremony could include
Welcome or Acknowledgement of Country


The National Anthem


Introduction - Brief history of Citizenship Day


Presentation of messages from federal government and other politicians (DVD)


Dance, musical, choral, or like performance by local group or the 18 years olds


Presentation by or behalf of the 18 years olds


Welcome to community symbolic gesture - acknowledgement of different roles, employment, interests etc.


Presentation to 18 years olds of Citizenship badge


Taking of the Oath by all present


Concluding group singing of 'We are Australian"


NOTE:

1. Each year's ceremony would have different elements - emphasis on creativity and participation in the preparation and delivery of the ceremony.

Whilst certificates have their place, they are rather "old hat" for young people who apparently receive them all the time now. Also a badge builds upon the growing expression of young people to be involved in Anzac Day ceremonies. The design of the badge could be a national competition open to under 30 year-olds. In fact these could be available for all people prepared to have a "citizenship affirmation" ceremony and thus worn annually when their own children grow up.

This medallion was found on this website and we liked its design

http://www.evright.com/medals/custom.asp



However their website has no clue as to its origin. But googling found this website - :

http://www.afssse.asn.au/democracy/awards/index.htm


2. The presentation by the 18 years olds could commence being prepared form 10, as the last two years are rather crowded academically. Perhaps this is an opportunity for youth who are more visual and performing arts oriented to prepare digital and other presentations for their Citizenship Day year.

3. Bronwyn Taylor, now a political advisor to Tanya Plibersek, Minister for Health had a number of great suggestions for resources such as decorative stamps etc. Unfortunately we have been unable to contact Bronwyn in time to add her suggestions into this proposal. However Bronwyn would be able to be contacted via the Minister for Health at Parliament House.

Participants would include:


representatives of various levels of government


DVD presentation of a message from the Prime Minister, Minister for Immigration and Citizenship, local Federal & State MPs, Local Mayors


representatives of local community non-profit associations


all young adults turning 18 that year


families and friends of the 18 year olds


Organising Committee would involve a Citizenship Celebrant and representative of various community groups.
In 2009, the Coalition of Celebrant Associations, the national peak body of celebrant associations set up as a consultative body at the request of the Attorney General, supported these two motions:
Exploring strategies for broadening the role of civil marriage celebrants to meet related objectives under the Federal Attorney-General's sphere of responsibility.


· The development of community based "adult Australian Citizenship" ceremonies for all young people turning 18 years of age.


Appendix 3.

Suitable units in the Vocational Education and Training system. Examples of such units would be

UNIT • Human rights, Discrimination and Citizenship
Evolution of separation of church and state; Human Rights' history and examples of the ways belief systems about the meaning of life and causes of human behaviour have and still do impact on the treatment of women, people with disabilities, people with mental illness, people vulnerable to life style pressures etc.; History of social organization; Main styles of government in various countries; Citizenship its development and differences in different types of government; Rights and Responsibilities of Citizens in a secular multicultural society

UNIT • Spirituality, Religion and Community
Relationship between belief, faith, knowledge and behaviour; Civil Spirituality, Secular beliefs, New Age and other Forms of Spirituality, Comparative Religion, Cults, Advantages and Disadvantages, Stages of Religious/ Spiritual/Psychological Growth, Examination of spiritual and religious beliefs, their history and their impacts on human rights and society.

UNIT • Rites of Passage and Stages of Human Growth to Maturity (physical, mental, spiritual and social, cultural). Symbolism. Dependence, Independence, Interdependence issues. Their relation to alcohol and other drug use, mental health, violence, etc. Examination of the SA program used in some schools, called The Rite Journey (a unique educational programme designed to support the development of self-aware, vital, responsible and resilient adults) – placement of School Chaplain trainees with this program – http://theritejourney.com.au/

UNIT • Role of Citizenship Celebrant - The role. Its benefits and limitations, support for the role:
* To access to "Welcome to Coming of Citizenship Age" kits from Canprint to distribute to the community
* To check the Birth Information etc. to complete the "Welcome to Coming of Citizenship Age" Certificate and record the information as required for government records
* Perform family based "Welcome to Coming of Citizenship Age" ceremonies
* To be a resource person for a local "Welcome to Coming of Citizenship Age" planning and evaluation committee and an "official" link as required to government resources.

UNIT • Role of School Chaplain - The role. Its benefits and limitations, support for the role.
A- adequately support the social emotional and spiritual development of all students" eg
Role is one of community development / generalist primary care youth worker; to be a role model for understanding and maturity that can see the good in other religions, and in all people, whether they have religious beliefs or not; to 'empower young people to take responsibility for the well-being of self and others; inspire young people to live life more fully, creatively, healthily and responsibly to self and others; to provide leadership / educate one is responsible as a member of a community and wider society to respect the rights of others and one's behaviour as an adult; to be able to identify, and develop a value // ethical system that serves them and others to live a healthy, creative life in community with others.
B- support (emotional/spiritual) includes non-judgmental positive regard, client focus, good listening skills)
C - being part of a well-being structure - like a generalist primary care health worker
D - 'problem' identification, referral (to appropriate resources for assessment and intervention - school and community) and follow-up (this aspect needs more focus)
E - liaising with community organisations
F - carrying a sort of community identity (or 'bridge' between school, family and the wider community.

Appendix 4 Summary - Anti-racism strategy table: