The Logo of The Celebrants Network
In 2019 the association adopted its current name and the new rose logo.
The logo honoured the history of the association by retaining the rose but updated with a more modern look and colours.
The infinity symbol from which the rose emerges represents the cycle of life.
A small heart represents the heartfelt ceremonies we all create.
The varied colours within the rose represent the diversity of the Celebrants, Celebrations, and people within the communities served by The Celebrants Network.
The Original Rose Logo of the Association
When the association was first formed in 2008 the symbol of the Rose was developed as the association's logo.
The Rose is a symbol of love and wholeness.

This original rose is not a bud, nor fully opened, to symbolise the fact that we are always in a state of becoming, and that we celebrate all ceremonies in the cycle of life.
Its colour is red its connection to passion and love. The bush is just out of sight on our Trademark, but is represented by the acronym on the ribbon.
The celebratory ribbon, often used to wrap gifts, expresses the joy of relationships, yet also the need for being held together, especially at times of loss and grief.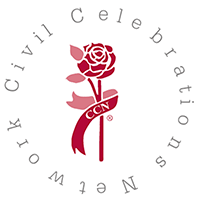 -