Certificates: Marriage vows with Australian motif
Certificates: Marriage vows with Australian motif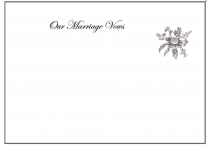 "Our Marriage Vows" in Gold or Silver on 150 gram A4 white acid free certificate card with Edwardian Calligraphy font.
These match our white Ceremony Certificate envelopes.

This article gives suggestions for using these certifcates together with a members only template
This unique Motif incorporates the official floral emblem from each of the Australian states and territories together with the Australian floral motif of the Golden Wattle.
Available with or without white "Ceremony Certificate" envelopes printed in Edwardian Calligraphy font.
---
A4 Our Marriage Vows GOLD certificate - BLANK
A4 Our Marriage Vows SILVER certificate - BLANK
A4 Our Marriage Vows SILVER certificate - BLANK x 5
A4 Our Marriage Vows SILVER certificate - BLANK x 5 with envelopes
A4 Our Marriage Vows GOLD certificate - BLANK x 5 with Envelopes
A4 Our Marriage Vows GOLD certificate - BLANK x 5