Stickers: gold & silver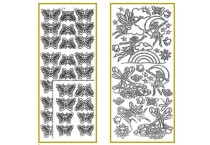 DUE TO SUPPLY PROBLEMS WE ARE CURRENTLY NOT ACCEPTING ORDERS FOR STICKERS
Call us on 0434 699 415 if there is something particular you are looking for and if we have anything suitable in stock we will be pleased to help.
The Celebrant Network's range of stickers can be used to great effect especially on our Blank Silver or Gold Bordered Certificates.
Each sheet is 10 x 23 cm, so the more stickers on a sheet the smaller they are.
Can be used for your invitations, cards, candles, envelopes or certificates.
TCN Members - don't forget to Log In for your 15% discount
---