Stickers: gold & silver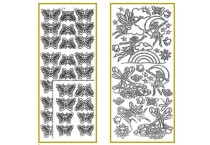 The Celebrant Network's range of stickers can be used to great effect especially on our Blank Silver or Gold Bordered Certificates.
Each sheet is 10 x 23 cm, so the more stickers on a sheet the smaller they are.
Can be used for your invitations, cards, candles, envelopes or certificates.
TCN Members - don't forget to Log In for your 15% discount
---