Conference Paper Delivered by Lyn Knorr second civil celebrant appointed in Australia and the first appointed in Victoria at a combined conference of the Association of Civil Marriage Celebrants Victoria (ACMCV) and the Australian Federation of Civil Celebrants (AFCC) in Melbourne 2005. Premission granted by the author to the The Celebrants Network (TCN) to publish.

Hands up all those who can remember the seventies!
While that decade was probably the most defining of my life, I must say I had forgotten what it felt like to be a celebrant in those early days. Talking with a few other old timers brought it all back – they were exciting times.

At the beginning of the seventies I was in swinging London, working at 10 Downing Street on the personal staff of the then Prime Minister, Harold Wilson. By the end of the seventies I was in Canberra, working at Parliament House on the staff of the Deputy Leader of the Opposition, Lionel Bowen. In between there were some enormous personal losses and some major character development required.

My darling mother, Nellie, died, and my precious little dog, Ben, did too, Gough won and lost, I married and divorced, served on my local council and worked for a federal member of parliament who was, for quite a time, Shadow Minister for Immigration. And my house burned down on a Friday 13th in the pouring rain.
From 24th July 1973, the constant in my life was that I could marry people in circumstances that suited them – and so that's what I did.
Some of you will remember those early years of the seventies – the music was fantastic, the clothes colourful, the DLP had kept the Labor Party out of office for two decades, here in Victoria and federally; there was no paid maternity leave, no parenting benefit, no organised child care, when women married they lost permanency in the public service, they had to leave teaching, women teaching in the Catholic system had no super; there was no compulsory super, there was a luxury tax on contraceptives. The feminist movement was in full swing, as was the counter culture. Ministers of Religion and Officers of the Registry Offices and some Clerks of Court in country areas were the only people able to conduct wedding services. They were all men. And love, honour and obey was the norm.
In 1973, Lionel Murphy was Attorney-General in the Whitlam Labor Government. Lionel was a wonderfully warm individual, a lover of humanity, a reformer, a visionary, a lateral thinker, and most importantly, a doer. In the relatively short time he was Attorney-General, his impressive list of legislative achievements resulted in changes for the betterment of the lives of many Australians, and he introduced a unique civil celebrant program that could respond to the psychological, social and cultural needs of those seeking to marry. He appointed people from all walks of life, male and female, young and not so young. I'd like to tell you a little about a few of those early appointments. Some of them are no longer with us and some I know more about than others.

You all know about Dally Messenger. His vision and commitment have been instrumental in the establishment of the two major celebrant organisations – the Association of the Civil Marriage Celebrants of Australia and the Australian Federation of Civil Celebrants, of which he was founding president. He was one of the first civil marriage celebrants, appointed in 1974, and the first civil funeral celebrant. Several updated versions of his original handbook have been the starting point for most celebrants. And his college, the College of Celebrancy, has produced many fine celebrants.
And probably most of you know about my dear friend, Kathy Hurley, certainly the class of '95 know her. Originally a funeral celebrant, Kathy pushed the boundaries of celebrancy. In 1995, Kathy and I established Celebrants at Southgate, hiring space in the Stuart Gertsmann Gallery to conduct wedding ceremonies. Her next venture was Funeral Planning. She was well ahead of her time as usual. When it was not possible for couples of faith to marry in their church, Kathy and Fr Gonzales Munoz provided a service to meet their needs. And she was farewelled with great affection in the chapel she leased for several years from the Adult Deaf Society.

Kathy was a generous mentor to many celebrants as Vice President of the AFCC and as Administrator of the AFCC office.
But I'm getting ahead of myself. The first celebrant appointed was Lois D'Arcy, a teacher on the Gold Coast and a mother with a young family. And there followed her in Queensland, Angela Burns and John Mayne.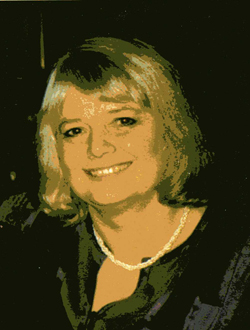 In Victoria there were four of us appointed in 1973 – Dr Bill Cook was an academic at the University of Melbourne, Secretary of the Rationalist Society of Australia and Editor of "The Rationalist" for twenty-five years. The aim of the Rationalist Society was to propound and advance rationalism, to stimulate free thought and religious freedom and to promote a secular and ethical system of education.
Vic Parsons was the Mayor of Sunshine. He was President of the ACMCA for seven years and President of the Victorian Branch of the ACMCA for nine years. Vic has been a very active Rotarian for many years and is currently involved in fund raising for the Researchers at the Murdoch Children's Research Institute in Melbourne's Royal Children's Hospital who are working on a radical new technique to treat people with liver failure. The procedure, called Liver Cell Transplantation, involves replacement of diseased liver cells with healthy cells by infusing them through the vein that leads to the liver. This eliminates the need for liver transplants, which are traumatic, risky and costly ($A150,000). As well as being a very busy celebrant in those early years, Vic was a bee keeper, a permaculture gardener and a computer buff. He wrote a program where he made only one entry to complete all his wedding documents – and on one of those huge old computers.
Jack Dunn was an extraordinary man, much loved and with a great sense of humour. He was a founding member and active executive member for many years of the ACMCA Victorian Branch, and he was also President of the Humanist Society of Victoria and President of the Council of Australian Humanist Societies.
Other organisations to benefit from his wisdom, wide ranging knowledge and his deep sense of social commitment were the Australian Labor Party, the Rationalist Society of Australia, the Rationalist Association of Australia, the Defence of Government Schools organisation and the State Schools Committees and Councils Association of Victoria. In all these organisations he served as an active member of their executives.He was a former lacrosse champion and his hobbies included bee keeping and lecturing on this subject, and he too was a computer whiz. As an engineer with the State Electricity Commission of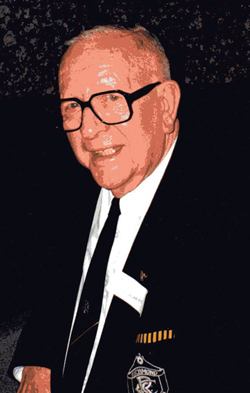 Another that followed in Victoria was James Loughnan, Mayor of Richmond. In a previous life Jim had been Principal Private Secretary to Ben Chifley.
Rick Barclay was Mayor of Croydon. He was involved in the local drama group and the football club and was credited with bringing the warring factions on the council together. He did that a bit in the celebrant organisations too.

Rick never takes himself too seriously; his philosophy is "don't sweat the small stuff". I think Rick has probably done more weddings and funerals than anybody else – and he made all his own clothes! He offered me the best advice over the years – in particular to always remember that the guests are peers of the bride and groom, and in other circumstances the bride and groom are just like them.
Frank Raggatt was always full of beans and he and I became firm friends. Frank was first Treasurer and then President of the ACMCV for a number of years. With Elizabeth Woodburn, he produced the first manual for civil marriage celebrants, and Frank ran one of the early courses for civil celebrants at Box Hill TAFE.
He had an interesting history - in 1949 he was co-opted by the Hospital and Charities Commission of Victoria to plan and co-ordinate the hospital and health services necessary to cope with the imminent influx of population to the Latrobe Valley, and subsequently located hospitals at Moe and Traralgon, and he also assisted the fund raising projects of their committees.
He was involved in the establishment of the Latrobe Valley Hospital and Health Services Association, and the Latrobe Valley Ambulance Service, and instigated an ambulance subscription membership.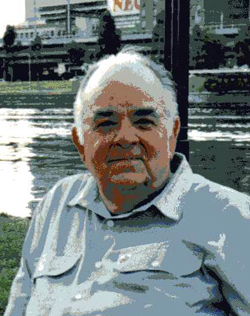 And when he terminated his involvement with the health and hospital service, he edited a chain of country newspapers, he sold life assurance for Prudential, and then he and a friend established a very successful travel agency in Morwell. He was a community activist in the Morwell area - he was in the Lions Club (Charter President), the Tennis Club, the Football Club, the Lawn Tennis Association in the Latrobe Valley, the Yallourn Orchestral and Choral Society, and the Co-operative Society, the Latrobe Valley Working Men's Club, the Latrobe Valley Pipe Band, and the Morwell Tenants Housing League.
But Frank wasn't just a member of these associations - he was President or Vice President in all those associations. In 1965 the family moved to Melbourne, and Frank became involved in the Lions Club of Bentleigh. He also became a Civil Marriage Celebrant in the early days of the program. He had been a JP since 1947, the youngest person ever to be appointed at that time. Frank was also involved doing good deeds for the Police Department, helping young people find their way back to the community, and also helping young people further their musical careers. Music was a very important part of Frank's life, as was acting. He appeared in musical comedies and films, ballet, and opera, Shakespeare and pantomime, on many occasions in the lead role. He won an Actor of the Year Award at the Victorian Drama League Festival, he also produced a prize-winning play, he was in television serials and television commercials, and he was Father Christmas for many years. Frank and I did not share the same political persuasion, but we agreed to disagree.
Frank took a keen interest in the behind the scenes activities in politics and was recognised as a back room power man. When Robert Menzies formed a new political party, Frank became a member of the draft committee which drew up the constitution which eventually formed the basis of the Liberal Party. He ran many successful campaigns for prominent politicians, including the late Harold Holt, the late Sir Arthur Warner, and the late T.D. Oldham. He and I liked to take afternoon tea at the Windsor from time to time. At all our social functions, Frank's wife, Iris, would play the piano and we'd all have a singalong.
Dorothy Wright is another celebrant that I remember with great fondness – and her dear husband Norman, who went to almost every ceremony as her support person, playing the music and generally making sure everything happened around Dorothy as it should – a very early "roadie". Dorothy trained as a teacher, a job she continued in before joining the Public Service in 1939. As a telephonist in Wangaratta during WW2, she became the first female Traffic Telephone officer in the PMG, as it was then, supervising an area covering most of country Victoria. Dorothy was the last one to leave Tallangatta when they flooded the area to extend the Hume Weir. She'd had to stay with the telephone exchange until the last minute, shutting it down as the publican folded up his table. When Queen Elizabeth and Prince Philip came in Australia in 1954, she met them as the trusted telephonist on the Royal Train.
Both Dorothy's parents had been Mayors of Wangaratta and she was very involved in community service. She married Norm, who was a widower, and cheerfully took on his four young sons. When the family moved to Seymour, Dorothy was always helping; feeding the firefighters with Red Cross during their twenty two years there; acting as a Probation Officer for young adolescents at the Children's Court between 1968 and 1986, an interest she and Norm shared. She was a Life Member in the Red Cross, receiving her Service Bar for fifty years service; as well as a Life Governor at the Seymour Hospital. Dorothy was marrying well into her eighties.
Ron McAlister was a particular favourite of mine – he married me and I married him – only celebrants would understand that comment. Ron was seriously injured serving on a destroyer during World War 11.
He was discharged in London as an Acting Lieutenant and decided to stay on, attending London University where he studied Physics.
When he returned to Australia he completed a Science Degree and pursued his love of horse racing. Ron also loved sailing his catamaran, and he'd race at Parkdale where he was a member. Professionally Ron worked for Riley Dodds for several years and then for Clyde Industries before establishing his own consultancy. He was elected to State Parliament in the early 70's as Member for Brunswick West but his seat was abolished in a redistribution.
It was at this time that he was appointed a Civil Marriage Celebrant. He was a councillor on the Brunswick City Council for several years and for all his life he was a dedicated supporter of the North Melbourne Football Team, serving for many years on the committee. And he returned to study, pursuing a PhD in Physics at LaTrobe University. Ron loved music; particularly Beethoven, and he loved the Blues and jazz, and he knew the classics and loved Shakespeare. And, Ron was a particularly snappy dresser. He suffered a great deal from the injuries he sustained during the War, requiring several spinal operations; he also underwent heart surgery on a number of occasions, and surgery on his eyes, he lost a kidney to cancer, and also his urethra and most of his bladder. Ron steadfastly refused to admit that these accumulated illnesses would kill him. He remained bright spirited and determined despite great physical discomfort and aggravation. And he continued to marry to the end of his life.
Another of my favourites was Elizabeth Woodburn - we served together on the executive of the Association of Civil Marriage Celebrants of Victoria for a number of years. And Elizabeth was a most effective secretary. The membership of the ACMCV was at its peak during her time as secretary. New members were always assured of a keen mentor. She and Frank Raggatt produced a comprehensive guide for new and old celebrants alike. And she was an innovative trail blazer in the area of baby namings. When many of us were reluctant practitioners in this area, Elizabeth embraced these ceremonies with great enthusiasm, and inspired us all to try harder, to put more into them. She ran several workshops for other celebrants on naming ceremonies.
Carol Astbury tells me that in Western Australia Laadan Fletcher was the first celebrant appointed - he was a Humanist. Bill McKenzie and Ute Quarter Mayne were appointed in Fremantle - Bill was Mayor of Fremantle. Carol was appointed in May 1974 along an old councillor from South Perth, Cliff Harris. By mid 1974 there were just the five of them. Maureen Bellett was also appointed in 1974, she was teaching in Darwin until the cyclone blew her down to Perth, which made six! Towards the end of 1974 Edwin White was appointed; he was the head of the Good Neighbour Council and another Humanist.
In New South Wales, Jill Ellen Fuller was modelling and teaching at the June Dally-Watkins Model Agency and Deportment School when she became the first appointment there. Nine months later she obtained a list from the Attorney- General's Department containing the names of the thirty authorized celebrants in Australia and extended an invitation to them to attend a meeting in Sydney to create 'The Association of Civil Marriage Celebrants of Australia'. As there were no funds for this association, Jill agreed to finance it for the first year. Jill says she could not have achieved this without the wonderful help of Maureen Barron, who handled most of the paper work. Jill was elected, National President and Maureen Barron, National Secretary. These celebrants are people of substance and deserve your respect. Many of them came through local government and were considered suitable candidates because of their confidence in addressing groups of people, their record of community service and their local knowledge. They brought all the skills gained in their other occupations to their role of celebrant.
In those early days there was a great spirit of camaraderie and cooperation as we exchanged ideas and ceremonies and gave each other moral support. We also had a public relations role to play. You would sometimes be approached by a wedding guest, usually middle aged and male, who would pompously ask on what authority you were conducting the wedding ceremony. There would follow an explanation that the authority came from the Attorney-General of Australia and how that had come about. More frequently though, people would confess after the event that they had come to the wedding with misgivings and had been pleasantly surprised when they found they had actually enjoyed the ceremony and had listened to every word. There wasn't much publicity about the program – just a poster with Jill Ellen Fuller as the model - which went into post offices - and so we had to create our own publicity. For the first ten years Jill made herself available to be 'guest speaker' at a number of organisations such as Rotary, Lions, VIEW Club, and Toastmasters.
One of my early weddings was on radio. It was held in the courtyard of what was then the Old Melbourne Motor Inn and I think the radio station paid for the reception for the couple.
In September of 1974 the Attorney General approved the lodging by individual celebrants of advertisements in the press, providing that such ads be no longer than one column by one inch. This was the case until 1st July 1994. This is from the Melbourne Sun 10th August 1974. "Civil marriage celebrants are well and truly in business – there are now more than 14 in Victoria and more than 80 throughout Australia. In May and June of this year 293 weddings were conducted by celebrants Australia wide, of which 73 were in Melbourne. The 14 Victorian celebrants are: Vic Parsons, Dr Bill Cook, Dally Messenger, James Loughnan, John Dunn, Ray Holloway, Robert Harle, Ron McAlister, Belinda Lamb, Beryl Gregory, Jean Howard, Patricia Kruger, Elise Julian and Lyn Knorr. The cost of a wedding is $10 during the week, $15 at the weekend, plus travel for the celebrant." At that time the notice period was seven days.
By the mid seventies, with a change of Government, there were those who were advocating the scrapping the entire civil marriage celebrant program and the abolition of civil marriage celebrants other than those in the registry offices and court houses. Attorney-General Ellicott lengthened the time of the notice period from seven days to a month in an effort to combat the rising divorce rate. A testing of public opinion revealed that Australians in general had accepted and warmly embraced this social innovation of civil celebrants and to cancel the program at this point would result in adverse political consequences.
In the very early days, Vic Parsons, Jack Dunn and I met occasionally at a coffee lounge in Latrobe Street and talked about what to do next. We had been to the Registry to collect our documents and handbooks and sent on our way – not much support or cooperation there!
I found a book at the Hill of Content Bookshop in Bourke Street that was a great boon. It's called The New Wedding, Creating your own marriage ceremony, by Khoren Arisian, published in 1973. It became my bible. Everything old is new again! In it he writes … "As a permanent institution marriage is dignified and strengthened by ceremonial observance." And … "Candour is the New Wedding's psychological keynote; consciousness, self awareness, is its spiritual keynote; equality is its moral keynote." These sentiments had strong appeal to me.
I still use some of the words from that book today. And still sometimes my throat tightens and a feel a quiver as I look into the eyes of a bride and groom and say … "We wish that in witnessing each other's lives, as you have chosen, the various experiences will be enriched for being shared ones. Be grateful for having each other. Nurture the bond between you through devotion ... of time together, for disclosing feelings fully, for expression of love freely, and for listening to each other actively. Above all, enjoy each other."
In those early years we travelled the length and breadth of our states; certainly of our cities. When I looked back over my old registers I was delighted to see that I could recall many of the weddings from those days. I think I did my first rehearsal in May of 1974 – it was a rarity but it did happen. And while the ceremonies we conducted then were sometimes shorter than what we offer today, they were still able to capture the essence of what people felt about each other and the important life choice they were making – and we did include some wonderful poetry.
Our organisation, the Association of Civil Marriage Celebrants of Australia, was structured with state branches and a federal executive and state delegates. One state hosted the federal body. During the time I was secretary of the ACMCA and the ACMCV, the membership met quarterly and the committee more frequently. Many meetings in those years involved a guest speaker, plus some aspect of professional development. Minutes of committee meetings and member meetings were distributed to all members, as was a regular newsletter. We operated under very strict conflict of interest provisions and were rigorously secular in our presentations – any religious reference was not permitted. The interpretation of these requirements led to some fundamental differences of opinion and personality clashes, with those strong feelings still resonating today.
Carol Astbury tells me that after some prompting from Junie Morosi and Dally Messenger, she called the first meeting of the ACMCA in Perth - around September '74. Things went well until 1976 when suddenly there was an influx of new style CMCs – many JPs were appointed then.
This WA group was not happy about 'belonging to the east' and wanted to break away, which they subsequently did.
Victoria eventually severed its ties with the ACMCA too, becoming the Association of Civil Marriage Celebrants of Victoria, co-host of this conference. The state branches of the ACMCA formed their own organisations and the national body was no more. Other smaller regional groups – about nine of them I understand - still operate in one form or another today.
In Melbourne something really good for society was achieved with the introduction of the funeral celebrant but there was a lot of resistance from some marriage celebrants because of those differing views. Some celebrants were not happy that we could perhaps be regarded as a secular ministry of sorts and saw our role as being strictly representing the state in witnessing marriages. Melbourne is the only city in the world where for a period of over thirty years a group of active celebrants has officiated at well prepared funerals. The family is interviewed at length, eulogy and ceremony creatively prepared, the complete ceremony carefully checked by a representative of the family, with a beautiful and meaningful funeral tribute resulting. Rick Barclay played a major role in the early life of the Funeral Celebrants Association of Australia which was formed in 1978 and in turn became the Institute of Civil Celebrants – he was president for many years - and in the early nineties it became a national body - the Australian Federation of Civil Celebrants - under the presidency of Dally Messenger.
In 1993 Don Grant, President of the ACMCV, reported that: "In Victoria there are 160 civil marriage celebrants, who conducted 8,375 marriages in the calendar year 1993. Civil celebrants in Victoria that year did 79% of the total number of marriages performed - an average of one ceremony per celebrant per week. This would indicate that the state does not need additional celebrants. Recommended fee: $95." There followed another influx of celebrants in 1994/5 – about seven hundred - and the program gradually became more commercial and more competitive. Many of these new celebrants were not welcomed with good grace but the organisations rose to the occasion, offering membership and assistance. Performance improved, fees increased and with the fresh eyes and new ideas of this group setting a new benchmark, enthusiasm was again the order of the day.
In 2005 Barry Densley AFCC President reports: "Number of Celebrants performing only civil ceremonies, Victoria Capital Region 374, Victoria Rest of State Region 157", ie, there are 531 civil celebrants in Victoria today. I don't think there are many more marriages now than there were in 1993. Obviously not all these new celebrants are members of the AFCC or the ACMCV. Quite a number of alumni organisations have been established by the various teaching authorities and I guess most graduates would belong to these groups. I hope they can see some advantage in joining us as well. It can only be to our advantage to have all organisations speaking with one voice in dealing with government and promoting our unique program, and it can only be to the advantage of all of us to share our ideas and talents.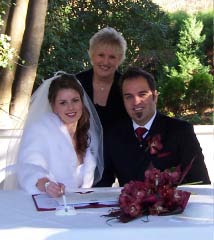 The experience of the second year of the new appointments has not been quite so rewarding for many previously busy celebrants. The currency in 2003 was that only those who did not keep up, who were not perhaps quite as good as they could have been, who were old timers, would be affected by yet another influx of celebrants in a diminishing market. This has not been the case. Nobody has been immune from the impact of new celebrants attempting to establish their business and be absorbed into what is now a marketplace. I wonder about those standards we have shouted about for years when we are only performing ceremonies for our relatives and friends. And I wonder if what has happened to Lionel Murphy's dream – that people would be married by community activists, with words of their choice, at a time and place of their choice, in circumstances that suited them – is for the best.
Like all of you, I have fantastic stories to tell – some wonderful, some inspiring, some very sad, many humourous. Our couples continue to challenge us, our funeral and naming families continue to challenge us, and we continue to challenge ourselves to make our ceremonies more relevant and memorable.

Thank you … Lyn Knorr, August 2005