Sharon M Milsome
Always give more than is expected!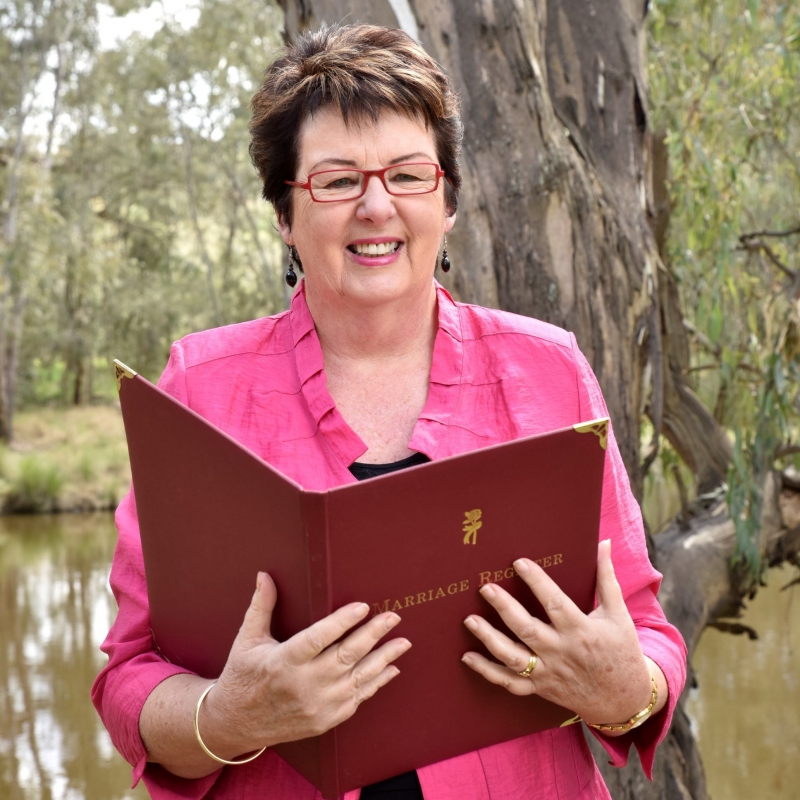 Celebrant background:
My career has been in teaching. I have been a Primary teacher -forever! I am also a teacher Librarian, have been a deputy Principal, as well as an Acting Principal. I then went onto be an Education Officer, and now a part time lecturer at Charles Sturt University.
All this "training' has helped enormously with my work now as an Authorized Celebrant.
I am a confident speaker, organized and have personal skills that help me relate well to people.
Why I'm a celebrant:
I became a Celebrant initially as my daughter was getting married, and she knew I was interested in doing the course to be qualified, so she convinced to do the course, and then I conducted her ceremony, as well as my son's ceremony.
I was also interested in setting goals for myself and having a business in place when I fished my teaching career. I had no idea just how involved I would become with some couples, and how over the years have built up amazing friendships and have watched them grow as a family.
I am delighted that my couples keep recommending me, and I love to keep in contact and am excited when they turn up as the bridesmaid at my next wedding.
Treasured memories:
I have now conducted just on 400 ceremonies over the past 8 years, and I can honestly say that no 2 weddings have been the same.
The couples are all so different and they hav different wants and needs, and it is wonderful to creat a ceremony just for that particular couple. I love it when after the ceremony someone comes up and says "Wow that ceremony was just soooo them" I think well I listened to what the couples story was and have interpreted their wishes.
I have had so may WOW moments, from cows breathing foggy misty breaths over us while we stood on the side of a hill one very foggy morning in winter, to my very first weeding in the Botanic Gardens in Sydney with the Opera House and Harbour bridge as our background. I have had wonderful ceremonies on the banks of our beautiful Murray River, up at Fall's Creek, and beautiful intimate moments in back yards.
Tips :
Brides please be on time, I know for some reason people think it is traditional, however it puts extra strain on the Celebrant, and the poor Groom. I have witnessed Grooms going completely 'under' as the stress and tension is too much. It puts all the food and drinks behind, and the cuts down on the photographers package.
and I'd like to say:
Thank you to all the couples who have trusted me so far to deliver a beautiful ceremony and the couples that have booked for for following year, it is wonderful.
Areas serviced:
Southern NSW and North East Victoria, however mainly Albury/Wodonga
Celebrant Town/ Suburb:
Lavington. Albury