Funerals & Memorials with Vicki Portelli
Funerals & Memorials with Vicki Portelli
Symbolic Ceremonies ... Remember, It's all about love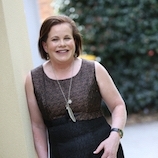 Celebrant background:
My family fully supported my shift out of the corporate sector three years ago to pursue my lifetime ambition to become a celebrant. Without doubt this has been the most exciting and rewarding career move of my life.
Celebrancy, also compliments and enhances my world that is enriched by my time spent with my family, working within the community as a member of Lions and cherished moments with my husband and our dogs.

My greatest joy as a funeral celebrant is the warm embrace of family members at the conclusion of the service. These moments speak volumes about the love I was able to help voice, at a time when it matters the most.
Why I'm a celebrant:
Bringing to life the meaning of peoples love for one another is the most wonderful gift I can give and receive.
Helping people find the right words, bringing to life wonderful stories and memories, embracing rituals, trinkets, colours and music that create lasting memories. These moments are captured in time in a treasure chest of love held within our hearts.
I am honoured to have the privilege to craft these moments with clients.
Treasured memories:
When the children were small, we took an annual Christmas holiday at Port Fairy. A week at the beach. Flying kites, creating monster long sand snakes, a trip to the Grampians followed by a hike and family BBQ's. It was fun, laughter, togetherness and most of all the precious heartbeat of family.
Tips :
The right celebrant can deliver your message with the right words and with your voice.
and I'd like to say:
Remember ...... It's all about love. Why not visit my Symbolic Ceremonies website and learn more about me and the variety of services I have on offer.
Areas serviced:
Melbourne City and Suburbs, Macedon Ranges and Spa Country, Ballarat, Bendigo and the Goldfields VIC
Celebrant Town/ Suburb:
Romsey