Funerals & Memorials with Vicki Portelli
Funerals & Memorials with Vicki Portelli
Symbolic Ceremonies ... Embracing the meaning of your ceremony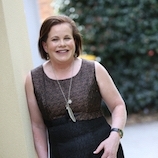 Celebrant background:
An important point in my life took place when I first met my husband at the local gym and we became close friends. Over time we became best friends and then life partners. When my children were young and I went back to university as a part-time student and slowly completed a Bachelor of Business and a Graduate Diploma in Marketing. I then spent the next 25 years working in finance and Office Management positions.
Two years ago, I decided it was time to pursue a lifetime ambition to become a celebrant. To compliment my new career change and ensure I had tapped into a well-honed creative streak I completed a short course in Creative Writing at RMIT in 2016.
Why I'm a celebrant:
As a celebrant I am a friendly, warm, gentle person who loves talking with people and sharing in their interests. I aim to exceed client expectations through thoughtful listening and attention to detail and deliver a ceremony that will always be held close to peoples' hearts. My theme is symbolism and it is important that I assist couples and families to embrace what symbolism means to them when planning and developing the ceremony. Whether it is a Wedding Ceremony, Naming Ceremony, Commitment Ceremony, Renewal of Vow Ceremony or Funeral. Therefore, regardless of the ceremony being conducted I believe I can address the important messages that need to be imparted with empathy and ethical considerations. It is important that clients leave me feeling wonderful about themselves, the ceremony and their memories.
Treasured memories:
When the children were small we took an annual Christmas holdiay at Port Fairy. A week at the beach. Flying kites, creating monster long sand snakes, a trip to the Grampians and a hike and family BBQ's. It was fun, laughter, togetherness and most of all the precious heartbeat of family.
Tips :
The right celebrant can deliver your message with the right words and with your voice.
and I'd like to say:
Love life ...... live life and speak from the heart.
Areas serviced:
Melbourne Western Suburbs, Point Cook, Geelong, Great Ocean Road
Celebrant Town/ Suburb:
Point Cook