Trevar Alan Skillicorn-Chilver
Trevar Alan Skillicorn-Chilver
A celebrant who celebrates you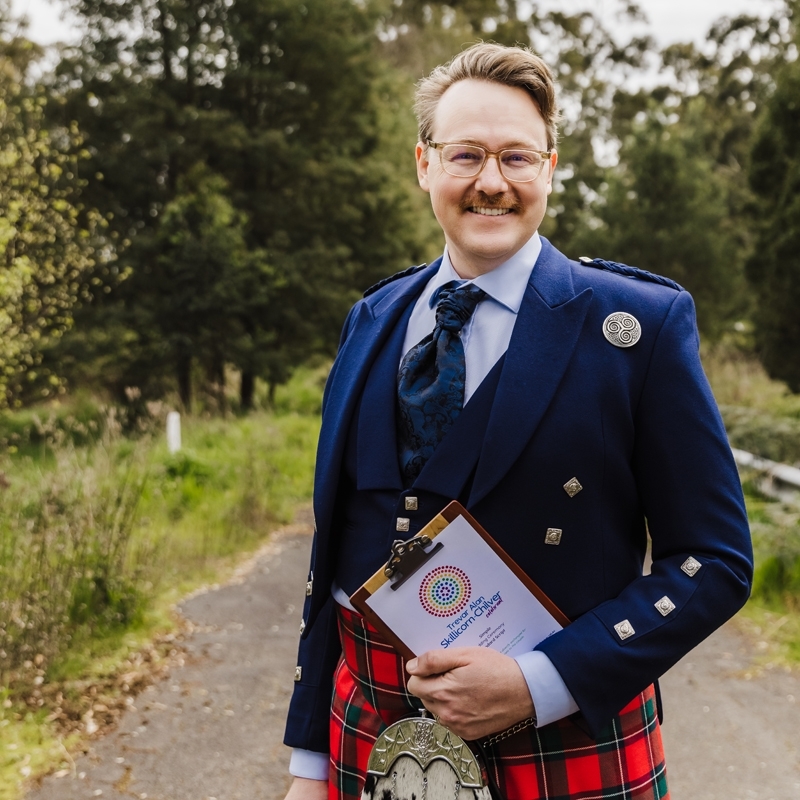 Celebrant background:
Trevar is an Authorised Celebrant equipped with the skills and experience to solemnise baby namings, transition ceremonies, legal marriages, memorial services and other rites of passage.
He is a father of three splendidly weird offspring, and husband to one wicked drag queen. Descended from four generations of Gippslanders, Trevar was born and raised in Sydney's west. After two decades in the rather more humane environs of Canberra, he has finally been liberated from urbanity, and finds himself ensconced among the sublime hills of South Gippsland.

Trevar has worked in education, theatre and the community sector most of his adult life. He relishes the opportunity to celebrate with lovers as they make a lifelong commitment to each other, welcome new members of their family, and to support families through the grieving process.

He has written over forty feature length and short plays for the stage, which have been performed in Canberra, Sydney, Brisbane, Hollywood and London.
Why I'm a celebrant:
Trevar is an out-and-proud member of the rainbow community, deeply committed to supporting queer Australians to take advantage of their hard-won equality. He is eager to celebrate the journeys of trans folk and to support and celebrate the commitments of the polyamorous.
All this, as well as his Scottish-Australian heritage, gives him a strong sense of ceremony, just the right amount of irreverence and a fabulous sense of humour that will strike the right balance between solemnity and joy on your special day.
Areas serviced:
South Gippsland, Bass Coast, Latrobe, Baw Baw, Cardinia, Frankston and Mornington shires
Celebrant Town/ Suburb:
Leongatha