Helen Pearce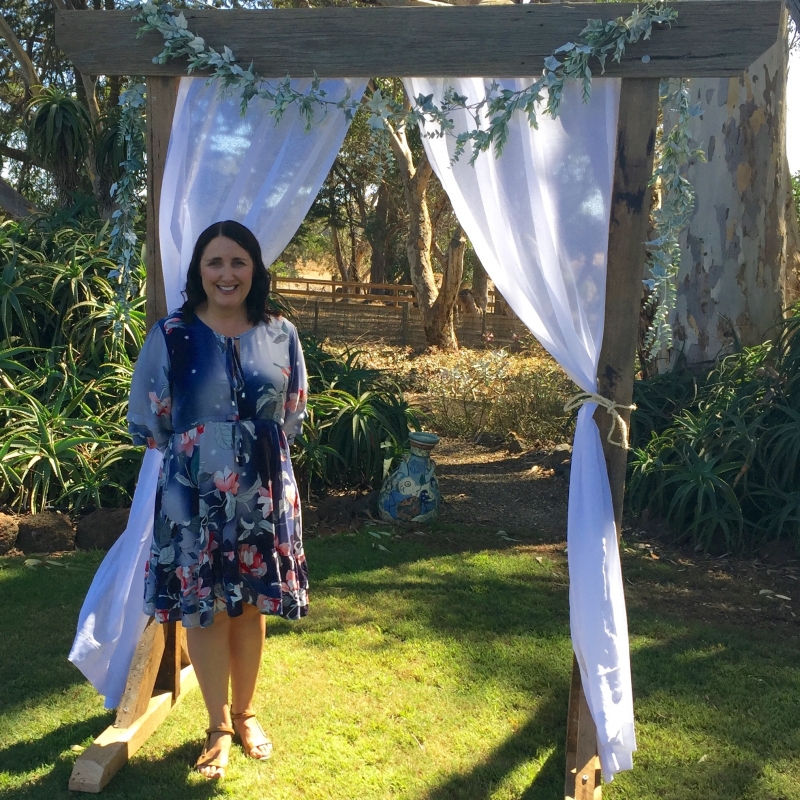 Celebrant background:
I worked for nearly 30 years with people from diverse backgrounds and all age groups in the area of health care and management. Tact, sensitivity, energy, enthusiasm and flexibility were essential.
My husband and I are extremely proud of our four children, and we have been blessed with two grandchildren so far!!
My family is my life.
And I try to volunteer as much as I can- with school activities, football events, "Look Good Feel Better" Workshops (which helps improve well-being for people undergoing cancer treatment) and "Lets Talk Colac" (help to reduce the stigma of mental illness).
Why I'm a celebrant:
I honestly believe that life is such a gift and is so precious. Life is about enjoying the journey and our relationships with loved ones are an important part of living our best lives. I want to empower and inspire people to appreciate and acknowledge, just what is important at this moment in time.Working from home is just the best way to live; you can plan "work" around family. I love being a full time family celebrant, and that is why I named my Celebrant business "Celebrate Our Lives".
Treasured memories:
I have a wonderful memory of celebrating the upcoming birth of my first grandchild by holding a Blessing Way Ceremony for my daughter; it is a ceremony my family will cherish forever.I am also very proud to say that I "married" two of my very good friends."Preparing your life story and pre-funeral ceremony planning" is something I am really passionate about. I have used my father as my "guinea pig" so to speak, and I have prepared his "life story and his pre-funeral ceremony" plan. It has been a wonderful experience for us both. I just wish I had had done this with my mother 18 years ago when she passed away. But I am so grateful I have this for my father.
Tips :
Try to enjoy the process of planning your celebration.
Explore the power of mindfulness and being positive, to learn to be in the present moment (it can help to overcome possible challenges).
Create a list of people to designate tasks too, to reduce stress and workload.
Set a timeline- set key dates to stay on top of the planning process.
Visualising clear goals can help to get the most from your wedding day or celebration (even if you haven't I can guide you).
Creating a wedding/celebration vision board can help- gather inspiration and create a visual reference for planning.
Check out my website and my FaceBook page for more information and tips.
and I'd like to say:
This "job" is my life. I have so many ideas and so much information and I would be delighted to work with you to craft a meaningful and personalised ceremony to honour your celebration. I promise your ceremony will be unique and individualised and one that will be remembered always.
No matter what size or shape your ceremony will take, I will put the same amount of time, professionalism and care into your ceremony. I will work with you to ensure you end up with a ceremony that reflects your life and values, and one that you will love and cherish forever. This journey to the lead up to your wedding day or celebration should be something you relish and enjoy.
Taking the time out to celebrate this special time in your life as you organise and prepare for your wedding or celebration is really wonderful. I can help take the stress out of the planning, so you can really enjoy your big day with gratitude and be in the moment. I would love to hear from you if you are planning a ceremony that "Celebrates Our Lives".
Please feel free to contact me to arrange for an obligation free quote and a chat.
Areas serviced:
Otway Shire & Great Ocean Road Victoria, Geelong, Ballarat, Warrnambool
Celebrant Town/ Suburb:
Colac