The Celebrants Network Inc - BLOG
This blog is updated by passionate celebrants. Make sure you subscribe so you don't miss the latest from The Celebrants Network

More Blog posts can be found in the Blog Categories to the right.
Creating Meaningful Ceremonies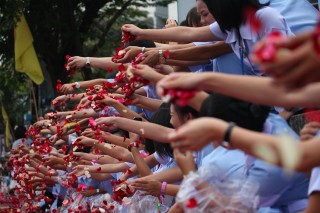 When you hear somebody talking about how meaningful the ceremony was, what does that actually mean?
Where does the meaning come from?

Does everybody who participates take away the same meaningful message?

Your ceremony might be more community centered, bringing the people of your town or city together to celebrate or to mourn or to remember. The meaning comes from the shared emotion felt amongst your community.

Perhaps your ceremony is about welcoming a new child into your family. The meaning of which will be intensely personal to you and your family members.
You might be holding a ceremony to celebrate the end of an educational pursuit - the meaning in your graduation culminates from all the hard work that you've put in. There are feelings of pride and acommplishment for what you've achieved.


When I started thinking about how we, as celebrants create meaningful ceremonies I wondered where we get our inspiration from and the answer is - from the very people we are performing the ceremony for.

The meaning comes from you; your story, your love, your loss, your dreams, your past and your future.


The meaning in a ceremony is different for every person, every couple and every family. No two ceremonies are alike, which is why your celebrant takes the time to get to know you and to learn your story. Creating a ceremony that is both unique and meaningful to the couple or family is not a simple task and takes empathy, knowledge, experience, care and time.

Here are some suggestions to how you could add meaning to your ceremony:

Add music
a favourite piece of the family member who has passed away; or a song that you and your partner love and feel tells your love story.


Add poetry
writing your own piece of poetry adds extra meaning becuase you have dedicated time and thought into how you feel. Although, sometimes you find just the right words, that explain exactly how you feel have already been written by somebody else - which is fine as long as you credit their work.

Add a ritual
for some people, participating in a ritual makes what you are celebrating or mourning much deeper and heartfelt; It can help you to feel more connected.
Add a cultural element
the meaning will come from the pride you feel about your home and the traditions that you can share.
Stay true to who you are
your wedding doesn't become more meaningful based on how much money you spend on your reception.


Meaningful ceremonies take place when you are together, sharing a moment with the most important people in your life.

Why not contact one of our fabulous TCN Celebrants and let us create meaning ceremonies for you.

* __________________________________________________________ *

Thank you for joining us....

?? We would love it if you would let us know what you think ?.

There is a comment section ? at the bottom ⬇ of the blog for you to do just that.

?Click on the word "Comment" and go for it!

? Don't forget to subscribe ? to this blog - the "subscribe" button is up the top of the page ⇞⇞⇞ and the blog will magically ?? appear in your email inbox ?.

Also please feel free to share ? our blog on your social media ? so we can spread the love ?!

Please use this ? link: https://www.celebrations.org.au/blog when you share. ?

Find us on Facebook & Twitter





By accepting you will be accessing a service provided by a third-party external to https://www.celebrants.org.au/