The Celebrants Network Inc - BLOG
This blog is updated by passionate celebrants. Make sure you subscribe so you don't miss the latest from The Celebrants Network

More Blog posts can be found in the Blog Categories to the right.
How can the cost of a great celebrant and ceremony be afforded?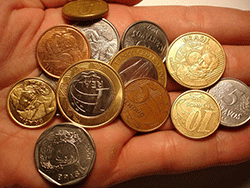 ASK A CELEBRANT BLOG: We can pool our money and other resources to buy something really special such as making the celebration THE gift.
We could pool our $$$$ to engage a professional independent celebrant, rather than everyone buying their own individual gift.

Like well designed stage play, a special event may cost from $ 600 to $ 2000 or more. This may seem a lot, but is it really if the price is spread across a lot of people and the event has longer lasting benefits.

A $ 600 ceremony package can be covered by
20 participants donating $ 30 per head OR
50 participants at $ 12 OR
100 participants at $6 per head
A $ 2000 ceremony package can be covered by
20 participants donating $ 100 per head OR
50 participants at $ 40 OR
100 participants at $ 20 per head
Comments
No comments made yet. Be the first to submit a comment
By accepting you will be accessing a service provided by a third-party external to https://www.celebrants.org.au/