The Celebrants Network Inc - BLOG
This blog is updated by passionate celebrants. Make sure you subscribe so you don't miss the latest from The Celebrants Network

More Blog posts can be found in the Blog Categories to the right.
It's Time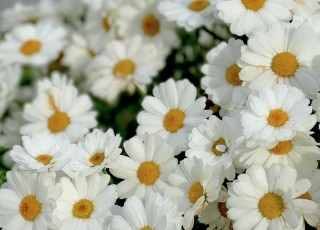 It's Time!

Spring equinox 23rd September 2017
It's officially spring....
the flowers are blooming...
new life is emerging....


Photo courtesy of The French Click
IT'S TIME to book your celebrant
If you are planning on getting married anytime in the next eighteen months (that's how long your NOIM is valid for) then call and book your celebrant soon and get that paperwork done.
You can still get married this spring if you're quick, the Notice Of Intended Marriage (NOIM) form must be lodged with your celebrant one month before the ceremony; plenty of time still for a November wedding.


Photo courtesy of The French Click
IT'S TIME to plan your summer celebrations

Clean up the garden, pack away the winter clothes, and make your bookings for festivals, concerts, holidays, backyard BBQs and beach weddings.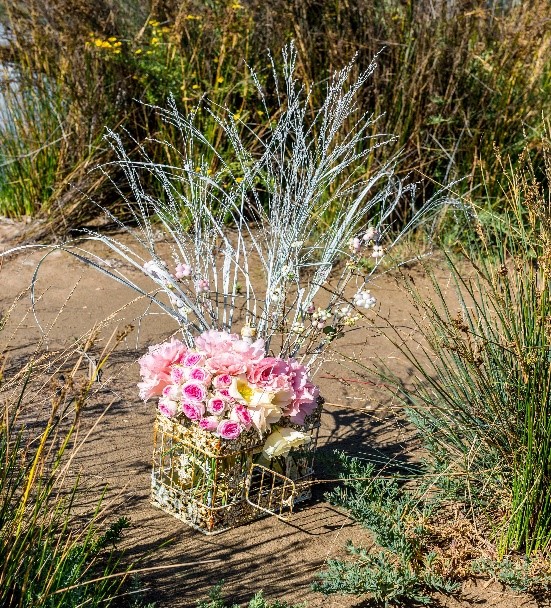 Photo courtesy of The French Click
IT'S TIME to have your say on marriage equality



Interesting Fact from Wikipedia: With several countries revising their marriage laws to recognise same-sex couples in the 21st century, all major English dictionaries have revised their definition of the word marriage to either drop gender specifications or supplement them with secondary definitions to include gender-neutral language or explicit recognition of same-sex unions. The Oxford English Dictionary has recognised same-sex marriage since 2000.



Haven't Voted Yet?
Fill in and post your Vote as soon as possible and if you would like more information visit
TCN's Marriage Equality section.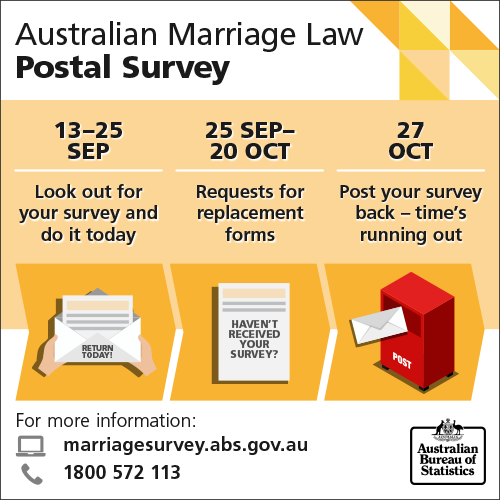 Remember not to add anything other than the response required (i.e. no comments, no glitter, etc) or your survey response could be invalid.
If you've lost or damaged your ballot, you can request a new one from the Australian Bureau of Statistics here any time before October 20th.


IT'S TIME to begin planning the final celebration
If you plan on living your life to the end, then you can start by talking to a celebrant about recording 'your life story' or filling in those important documents such as: Advance Health Directive, Enduring Power of Attorney and Enduring Power of Guardianship, a valid Will (who gets what) and emotional will (words of love and wisdom)



Don't leave it to your family to make difficult decisions at an emotional time, have the conversation now.

???


Passage of Time
Sadness passes with time




A hollow field blanketed with snow




Soon fills with swaying blooms A darkened sky suddenly illuminates




A weary traveller's way




And Spring follows a Winter's road




Which butterflies array




Somewhere, somehow, shadows




Give way to sunbeams




Life's fabric is painted with promised purpose




And each day new freshness springs




Laughter envelops an empty room




And a broken heart sings




With an abandonment of joy




As it finally kisses the dawn


Of a bright new day!
Little Pebbles and Stepping Stones, Compositions from the heart by Ruth Van Gramberg - 2005



For more information on any of the above or to contact a Celebrant near you visit
???
Thank you for
joining us....
?? We would love it if you would let us know what you think ?.
There is a comment section ? at the bottom ⬇ of the blog for you to do just that.
?Click on the word "Comment" and go for it!
? Don't forget to subscribe ? to this blog - the "subscribe" button is up the top of the page ⇞⇞⇞ and the blog will magically ?? appear in your email inbox ?.
Also please feel free to share ? our blog on your social media ? so we can spread the love ?!
Please use this ? link: https://www.celebrations.org.au/blog when you share. ?
Find us on Facebook, Instagram & Twitter
Comments
No comments made yet. Be the first to submit a comment