The Celebrants Network Inc - BLOG
This blog is updated by passionate celebrants. Make sure you subscribe so you don't miss the latest from The Celebrants Network

More Blog posts can be found in the Blog Categories to the right.
Mardi Gras Fair Day 2016!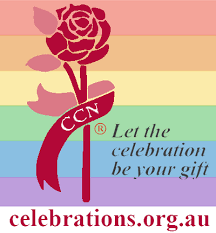 This Sunday, the 21st February 2016 is the Sydney Mardi Gras Fair Day.
10am - 8pm @ Victoria Park, Camperdown
It is a family day out with community minded stalls, music, food, friends and lots of fun!
This year, for the first time, The Celebrants Network - TCN will be maintaining a stall to share our vision for family celebrations.
Celebrants do more than just weddings and funerals and there are so many more opportunities throughout our lives to celebrate who we are, what we've achieved and what our future looks like because of the families or communities that surround us.
Come and visit our stall at Fair Day and meet some of our fabulous
Read more about how you can celebrate every stage of your life
Comments
No comments made yet. Be the first to submit a comment
By accepting you will be accessing a service provided by a third-party external to https://www.celebrants.org.au/