The Celebrants Network Inc - BLOG
This blog is updated by passionate celebrants. Make sure you subscribe so you don't miss the latest from The Celebrants Network

More Blog posts can be found in the Blog Categories to the right.
Marriage Equality - 1 year on...

We have a guest blogger today - Robyn Foster "Celebrations by Robyn". Robyn gave support, along with countless others, to the Australian Marriage Equality campaign and its leaders. Here is her story...
I have had a lot of trouble writing this Blog, mainly because I was asked to write about me and my journey with Marriage Equality. However, the MEq journey has been going on far longer than I have been publicly involved.
Way back before 2004, when a Bill was put to the Parliament to change the words in the Marriage Act 1961 to "Marriage ..... the union of a man and a woman" there had been many activists for Marriage Equality, in fact just for Equality, by those in the LGBTIQ community. The 2004 decision – was supported strongly by both major parties and continued to be so by successive Prime Ministers. This was to be a difficult journey for the years leading to the end of 2017.
Behind all of this many people were working for change, and I had another privilege a couple of weeks ago of attending a launch of a book written by Alex Greenwich and Shirleene Robinson called "YES YES YES Australia's Journey to Marriage Equality". On the cover are supporting words from Magda Szubanski: "A wonderful record of a huge and heart-warming moment in Australia's history", and I add this is a MUST read for all to get to know how difficult the journey was.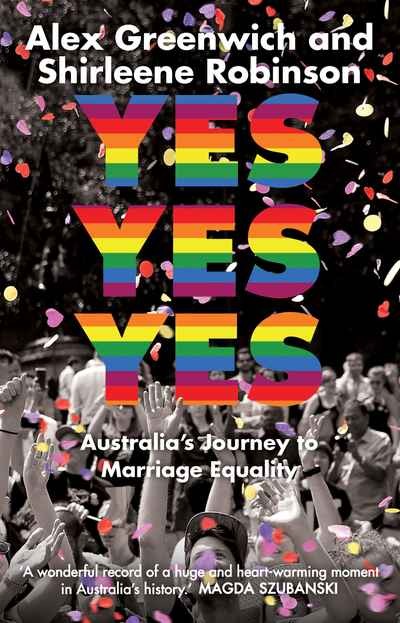 As for me – I came late to the MEq journey. As a Civil Celebrant I witnessed several situations at both funeral and wedding ceremonies I was engaged for. In 2014 I also got to know two women who had distressing delays for one of them an American, to be able to migrate here to join her Australian wife (they had married in Canada). The American lady had to migrate as a single person and during this time had some serious health issues and the delays caused much distress to both. This, in particular, pushed my sense of disgust that their marriage was not recognised.
In 2015 I heard of Shelley Argent and her work as a Mum and National Spokesperson for Pflag and I wanted to do something – but what? I asked myself as I sat and stared at my computer. So late in 2015 I sought approval, with help of three other Celebrants from Canberra & Batemans Bay, for Marriage Celebrants to put a float in the Sydney Mardi Gras in 2016 "Celebrants for Marriage Equality: working together to make a change" – and saw this as a way for my colleagues to support the campaign and we did this again in 2017 and changed the words to Celbrants Celebrating in 2018.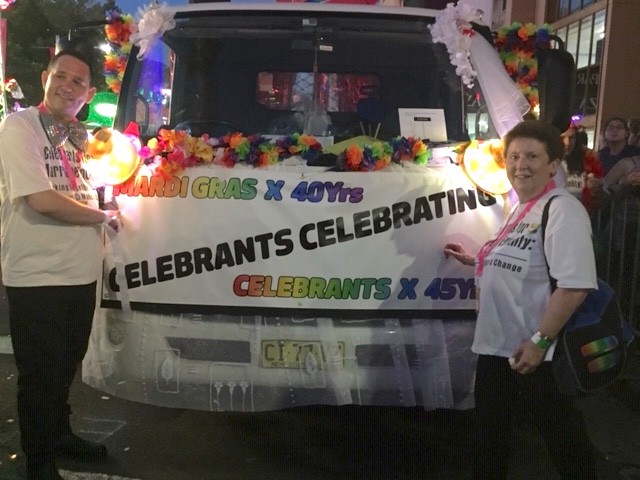 Another of my colleagues told me about a Marriage Equality Forum to be held in Nowra and that is where I met Dawn Hawkins – the non-sleeping, always running/driving somewhere person who rallied so many of us to action. She became known as Dawn Gilmore during these last few years knowing that the Gilmore Electorate had to be won over and it was with an eventual resounding result of Yes, Yes, Yes – mostly thanks to her extraordinary effort which is recognised in the book I have mentioned. Through Dawn I spoke at other forums, and talked to anyone who started a conversation with "but they ..."; and in my usual way of not backing off, I asked many people (or embarrassed them) to stop thinking about people in bed, but rather people in love.
People in my local community have commended me for the work I have done for MEq, but to put my effort into perspective: if you think of me occupying a tiny corner of a street on the South Coast of New South Wales vs the whole of Australia and the many, many, organisers of many years who drove themselves to the ground for the result that we heard with the bells ringing in Parliament late in the day on 7 December – that was my truly very, very small part in this amazing, annoying, frustrating, sometimes funny, sometimes sad journey. As a result of those bells ringing, I witnessed the signatures on a Notice of Intended Marriage of two lovely men on Saturday 9 December 2017 and solemnized their marriage in April 2018; and my own daughter (and my now daughter-in-law) were married on 22 September after 21 years together.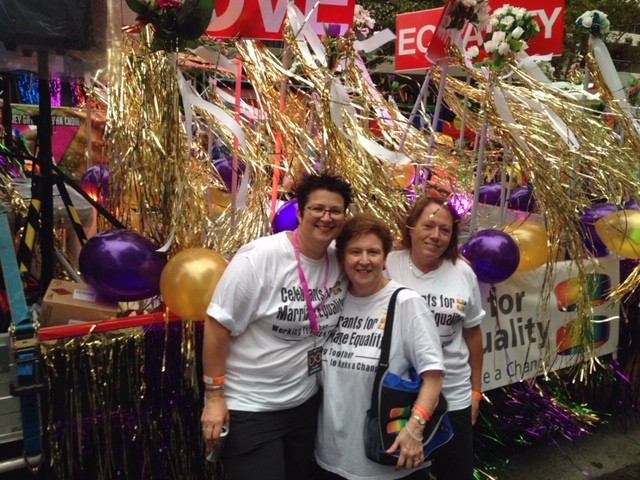 Already, many people have forgotten the dates of November and December 2017 – but I will not – I cried as I watched the bells being rung in Parliament on 7 December – not for me – but for the thousands of people who had their lives and their futures put in front of everyone for discussion over so many years. There is still a long way to go with some families coming to grips with all of this. I have two grandchildren – aged 6 and 8 – and I know that by the time they are adults, they will be asking what was all the hype about!!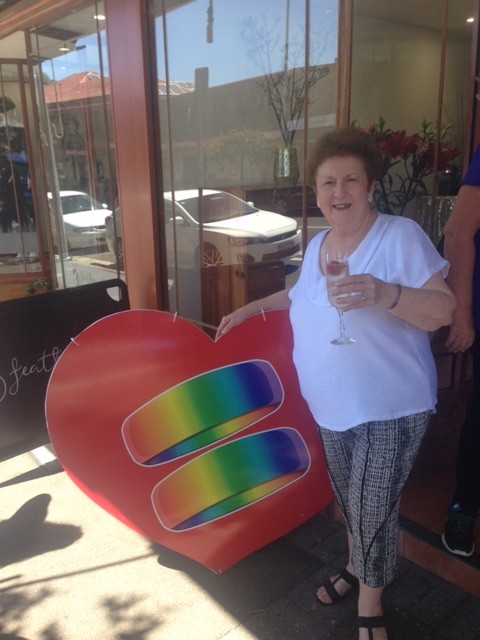 It is so beautiful to be able to say "Marriage is the union of two people . . ."
Thank you so much to Robyn for sharing her story. You can find her here on our website.
Comments
No comments made yet. Be the first to submit a comment
By accepting you will be accessing a service provided by a third-party external to https://www.celebrants.org.au/