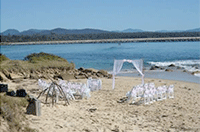 Many Australian couples and overseas visitors decide to take advantage of our beautiful beaches, parks and headlands for their wedding ceremony.
The result can be a beautiful ceremony with a stunning backdrop which delights you and your guests.
Here are my top four tips for an outdoor ceremony.
1. Have a plan for wet weather or extremely hot weather - both are common occurrences.
2. Try to have all the guests seated. Some councils limit the number of chairs you can set up on public land but it really is much more comfortable for guests if they are seated.
3. Think about your syle of wedding and location when choosing your outfits - very high heels and billowing long dresses and veils can be difficult to handle on the beach or grass.
4. Check the tides. At the wedding pictured we almost got our feet wet!!
What's your experience - do you have other good tips?