The Celebrants Network Inc - BLOG
This blog is updated by passionate celebrants. Make sure you subscribe so you don't miss the latest from The Celebrants Network

More Blog posts can be found in the Blog Categories to the right.
How to say 'Goodbye' to a loved one when you can't be there in person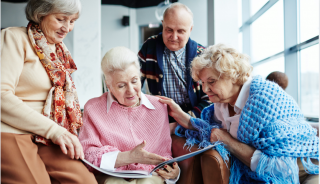 We are certainly living in a strange time where some of us at sometime this year have been or will be denied access to our loved ones when they are sick, dying or have passed away. Today we have Celebrant Susanna Jose from Canberra, ACT sharing her own personal story...

This is a topic very close to my heart. A lifelong friend recently passed away in another state. Because of Covid-19 I was not able fulfil my promise to conduct the funeral for her or even attend.
Through many tears and phone calls the friend's husband and I decided that she would have tiny basic funeral at the graveside. This would be followed by a memorial and celebration in the future when all of the loved ones could be there.
I wanted to say 'Goodbye' somehow even though I was not going to be there. So on the day of the funeral, I placed some flowers, photos and a candle on a tribute table. My daughter and her husband joined us for some stories, laughter and tears. We then had our own wake with food and champagne to toast the loved one who had passed away.


My friend was not a schmaltzy poetry sort of person, but she loved reading. I found some wonderful words from Alexander McCall Smith's Ladies Detective Agency series which were read as the coffin was lowered and as we had our tribute in the ACT.
We played one of our friend's favourite pieces of music, Rachmaninoff's Rhapsody on a theme by Paganini which we knew was being played at the funeral too.
Extract from The Limpopo Academy of Private Detection by Alexander McCall Smith,
'He was at a loss for words. Mma Ramotswe could see that, and so she continued. 'I could tell Rra Anderson, that you were unhappy when you came here. I could tell that it was because you were thinking of your late wife.'
'I was. Yes.'
'Of course you were. We must think of late people because I believe they're still with us – in a way. And so a late person can stay with you all your life, until it is your turn to become late too. And the late person doesn't want you to be miserable. A late person doesn't want you to think that your work is no use. A late person wants you to get on with life, to do things, to make good use of your time. That is well known Rra. It is very well known.
He said nothing, but she knew that he had heard her words.' p260
I think what I've learned from this experience is that your 'Goodbye' can be anything so long as it fits the person who has passed away and the people left behind. Photos, music, candles, sharing stories and memories, planting a tree, making a donation to a loved one's favourite charity, readings or poetry, drinking a toast or making a cake could all work.
Above all, trust your knowledge of the person you have lost, rather than Google to decide on a fitting tribute.

If you would like to find a celebrant in your area - click here

For more information about funerals and memorials - click here
Comments
No comments made yet. Be the first to submit a comment
By accepting you will be accessing a service provided by a third-party external to https://www.celebrants.org.au/